I like to think of my purse as similar to Mary Poppins' purse—the more things I can fit inside of it, the better. My work purse is really my lifeline for all things during the day, and I actually pride myself on fitting all of my necessities in my Rebecca Minkoff purse. It might take some time to fit everything together but it's definitely worth it to have all of the little things available throughout the day.
What are your work purse essentials??
Here are the following items that I always have in my work purse:
Prescription glasses—not only do my glasses help me see after hours of staring at a computer screen but Warby Parker's eye glasses are also cute AF.
Blackberry cell phone—even while out to lunch with my coworkers, I have to make sure that I'm always readily available in case there's an emergency call or an email that I have to respond to ASAP.
Lipsticks(s)—I always have 2 or 3 of my favorite Bobbi Brown lipsticks stashed away in my purse so that I can decide on my drive to work what color I'm feeling for the day. Plus I usually need a touch up after my morning snack of clementines!
Wallet—duh.
Business cards—I recently got new business cards and I always make sure to keep a few extras in my purse just in case.
Gum—because tea breath is not cute in the mornings.
Textbook—I'm studying to get my CPCU designation for work and so I've been utilizing the majority of my free time lately to study.
Bandaids—I love heels, and wear them to work almost everyday, but they don't always love me back. So because of this I'm always sure to carry a few bandaids with me in the case that I get a blister.
Chapstick—For days when I'm feeling too low maintenance for lipstick.
Sunglasses—These are absolutely necessary on my commute unless I want to completely blinded by the sun.
Reusable water bottle—Because, to be honest, who's still drinking out of plastic water bottles these days?? My Nalgene holds 32 oz., which means that I usually hit my water goal most days!
Hair ties—You never know when you'll have to throw your hair into a messy bun and go into full #girlboss mode!
Bobby pins—Bobby pins are clutch for pinning back my hair when it just won't cooperate, no matter how hot I get my straightening iron.
Phone charger—I usually forget to charge my phone at night and so I keep a charger in my purse so that I can give it a quick charge at work. I listen to podcasts and audiobooks while at work, so having my phone alive is pretty important to me.
Face wipes—I like to wash off my makeup before I go to the gym after work and face wipes make it quick and easy, without drying out my skin.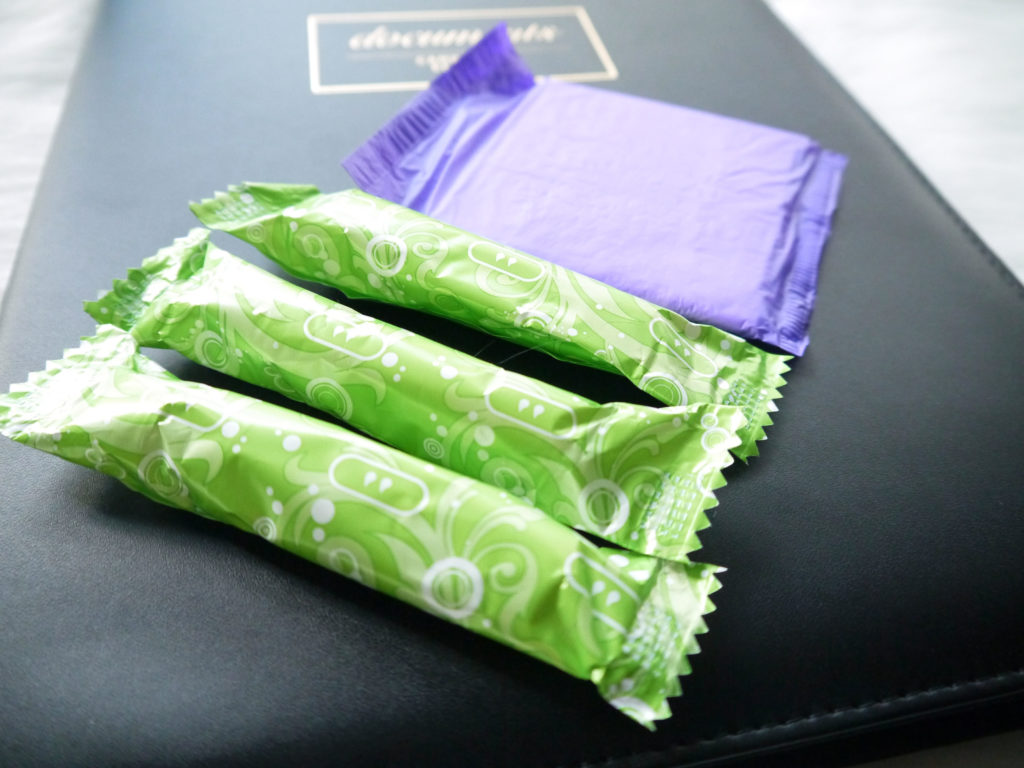 Veeda Natural Cotton Tampons and Pads—I try to eat organically as much as possible and so using natural sanitary products is just as important for me. I love Veeda products because not only are they safe to use but they also have a lower impact on the environment due to way that the company packages their products. Plus I'm always sure to have a few tampons in my purse even when I'm not on my period just in case one of my friends or coworkers need one (not all superheroes wear capes!).
*I was sent these Veeda products in exchange for a review, but all opinions are my own. If I didn't love it, I wouldn't blog about it!