I take my skincare regimen very seriously. I was very unfortunately not blessed with clear skin and so the fight to keep my face from looking like one giant pimple is one that I battle every night. And after years of trying out different moisturizers and being told what cleansers I should try by dermatologists, I think that I've finally perfected my nightly skin care routine. Obviously I still get pimples from time to time, but nothing as bad as it used to be in high school (thank goodness)!
Kate Somerville ExfoliKate Cleanser Daily Foaming Wash // Y'all this face wash is AMAZING and I would recommend it for everyone I know. I have pretty sensitive skin but this foaming wash never dries  my face out, which is tends to be a big problem for me. Instead Kate Somerville's ExfoliKate leaves my skin feeling smoother and leaves my skin glowing after I use it.
Alway Eye Makeup Remover Liquid // Removing makeup after a long day is something I always, always do before I head to bed. For the past few months my favorite makeup remover has actually been Boscia's Cleansing Oil but it is fairly expensive, so after I finished up my most recent bottle I looked for a cheaper alternative. Almay's Remover Liquid isn't quite as easy to use but it gets the job done and I really can't complain about the $6 price tag!
Lush Tea Tree Toner Water // I think that every dermatologist I've been to since high school has made sure that I'm incorporating tea tree into my skin routine. Tea tree toner contains antibacterial and antimicrobial principles in it, which is perfect for combating acne, plus I just adore the Lush brand. Let me know if you have any other Lush recommendations!
Murad Retinol Youth Renewal Serum // I got this retinol cream as a sample from Sephora and I've been in love with it ever since. It's definitely on the more expensive side (I'm still using my sample bottle), but I've noticed that my face started looking brighter after a few uses!
Clean & Clear Spot Treatment // This has been one of my favorite acne products since middle school and I still swear by this spot gel over 10 years since I first tried it.
Murad Perfecting Night Cream // This night cream is a staple in my night skincare routine in the summer and fall that I could not live without. This moisturizer is intensive and leaves my skin feeling hydrated, even after a long day of traveling, without waking up greasy in the morning.
Kiehl's Creamy Eye Treatment with Avocado Oil // Avocados are one of everyone's favorite superfoods to eat, so why wouldn't it be just as amazing to put on our skin?! I love that this eye cream is made with all-natural ingredients and I haven't experienced any flakiness under my eyes since I first started using this cream about a year or two ago!
GlamGlow Supermud Clearing Treatment // This charcoal mask is not only effective at getting rid of all of the stubborn blackheads that refuse to go away on my nose, but it's also weirdly fascinating to watch the charcoal absorb into your pores. I use this mask 2-3 times a week and my blackheads are pretty minimal because of that, which is a big deal for me!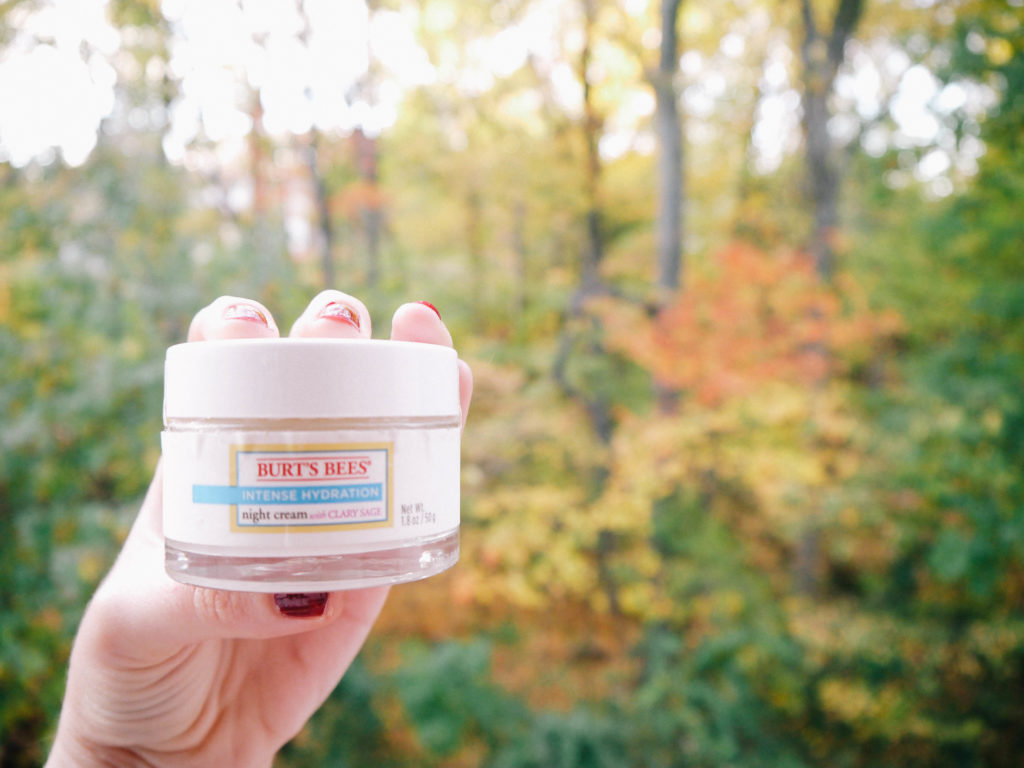 And now that the colder weather is just around the corner, it's almost time to switch to my favorite winter moisturizer–Burt's Bees Intense Hydration Night Cream! My skin can get pretty flaky and dry during the winter so this Burt's Bees moisturizer totally saves my life from November to March.
What are your favorite skincare products?