I hope that everyone had a wonderful weekend! I spent most of the past two days sleeping in, watching Netflix (they're taking Legally Blonde off of instant streaming in November, which is a total crime), and enjoying all of the sunshine on Sunday after a rainy couple of days. Matt came up to visit me for the weekend and we finally got to test out my brand new crockpot by making this beef stew recipe. Lots of ingredients but so delicious!!
Now that it's starting to get a little cooler, I've been on top of finding new sweaters and coats these past few weeks. And while I haven't actually had much use for them yet (and I'm sure that my credit card is getting too much of a workout), my closet is all ready for winter!
J. Crew Relaxed Wool Turtleneck // I LOVE this turtleneck. Which, considering the fact that I've always thought that turtlenecks make me look a like I'm 5 years old, is a big deal. The burgundy color caught my eye at the mall while I was shopping a few weeks ago and almost put the sweater back down, when one of the saleswomen insisted that I try it on but to be sure to roll the neck twice… Best advice ever! I haven't actually worn it in public yet since it's been way too warm to justify wearing it (even if it does look super cute on), but I'm weirdly looking forward to an excuse to wear it soon.
Merona Dorothy Suede Loafers // I had actually wanted to look around in DSW for a pair of loafers like these but traffic on the highway was horrible that day, and so I ended up just driving over to my local Target where I found these babies. So cute and probably like half the price I would have paid at DSW! They're perfect for work on Casual Fridays, as well as for meeting up with friends for lunch and drinks.
DW Home Autumn Candle // I'm a little obsessed with candles and so HomeGoods is my mecca for everything autumn scented right now. This candle smells like a perfect mix of cinnamon and pumpkin spice!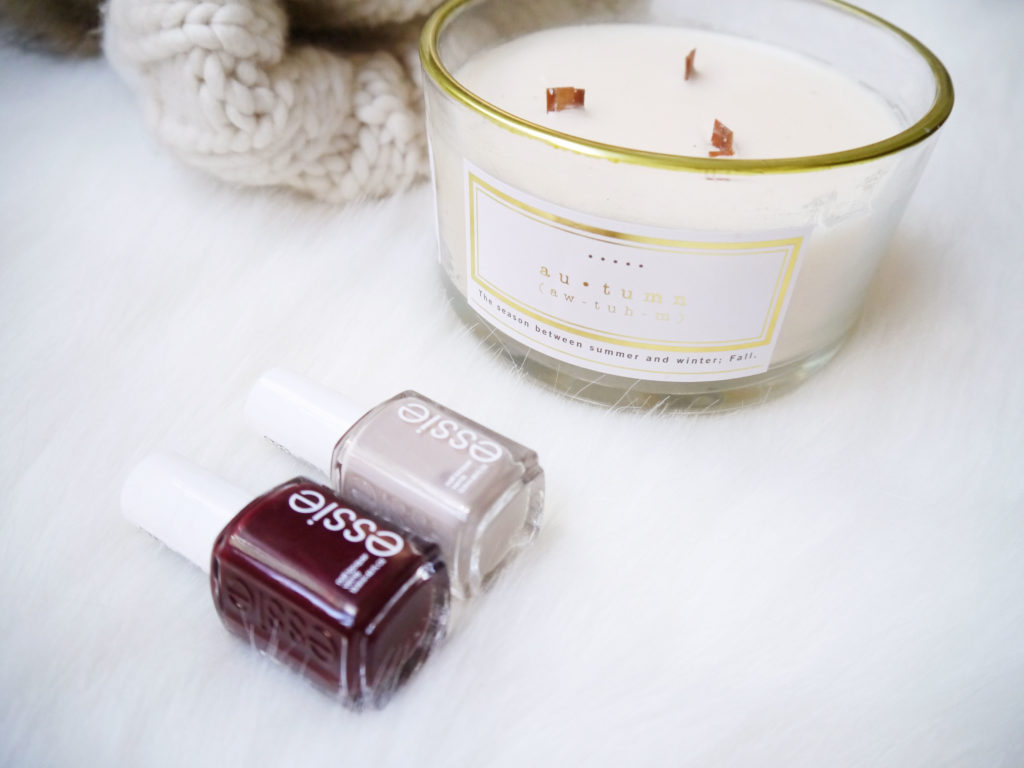 Fluffy wool hat // There's nothing I love more than a cute winter hat. I already have at least two others hanging up in my apartment but when my mom offered to buy me this one, I couldn't pass up the opportunity. I got this cap in a cute little boutique up in Portland, ME so I'm not exactly sure what brand it is, but I'm sure that there are a ton of similar ones out there. The fluffy pom on top is so cute and it's unbelievably warm, which will be perfect for my keeping my hair from freezing. Side note, my hair actually did freeze one time while I was skiing a few years ago!
Essie 'Berry Naughty' and 'Sand Tropez' nail polishes // Now that I've finally figured out how to paint my nails without getting nail polish absolutely everywhere, I've gotten a little obsessed with finding new shades and Essie is definitely my favorite brand! Berry Naughty is one of their new polishes from their fall line, while Sand Tropez is the perfect shade for a classic office look.
What have been some of your favorite finds so far this fall? I also got a Barbour heavy winter coat on major sale a few weeks ago from one of their outlet stores and I am so pumped to add it to my collection of coats!