Popcorn has been one of my favorite go-to snacks for years now. This is probably tied to my love of watching movies, but now I find myself munching on popcorn even when I'm at work.
And now that I'm (kind of) a real adult with a full-time job, I like to be a little adventurous in my popcorn flavors. My newest popcorn obsession is truffle parmesan popcorn, which tastes AMAZING and makes me feel very fancy because I'm finally using the truffle oil that I bought a really long time ago but then didn't know what to do with. Plus I've been talking about recreating the truffle popcorn we got as an appetizer at this restaurant in Charleston, SC almost a year ago, so yay me for actually getting around to it!
Depending on how ambitious you're feeling, you can either make the popcorn in the microwave (which is what I do when I'm at work) or make it on the stovetop (which is what I do at home). Super easy!!
INGREDIENTS:
1 package of microwavable popcorn, about 3.5 oz.
2-4 teaspoons white truffle oil (I'm sure you can use whatever kind of truffle oil you'd like but that's what I have in my kitchen)
Handful of parmesan cheese
Sprinkling of dried herbs (I used parsley!)
Sea salt to taste
INSTRUCTIONS: 
Mix together the truffle oil, parmesan cheese, dried herbs, and salt in a large bowl.
If cooking in the microwave, place the unopened package of popcorn into the microwave and heat as instructed. Once the bag fills with popped kernels and pops occur about 2 seconds apart, remove the popcorn from the microwave.
Pour oil mixture into the popcorn bag and shake until popcorn is evenly coated. Pour popcorn into individual bowls (or keep the whole bag for yourself if you're feeling ambitious), and enjoy!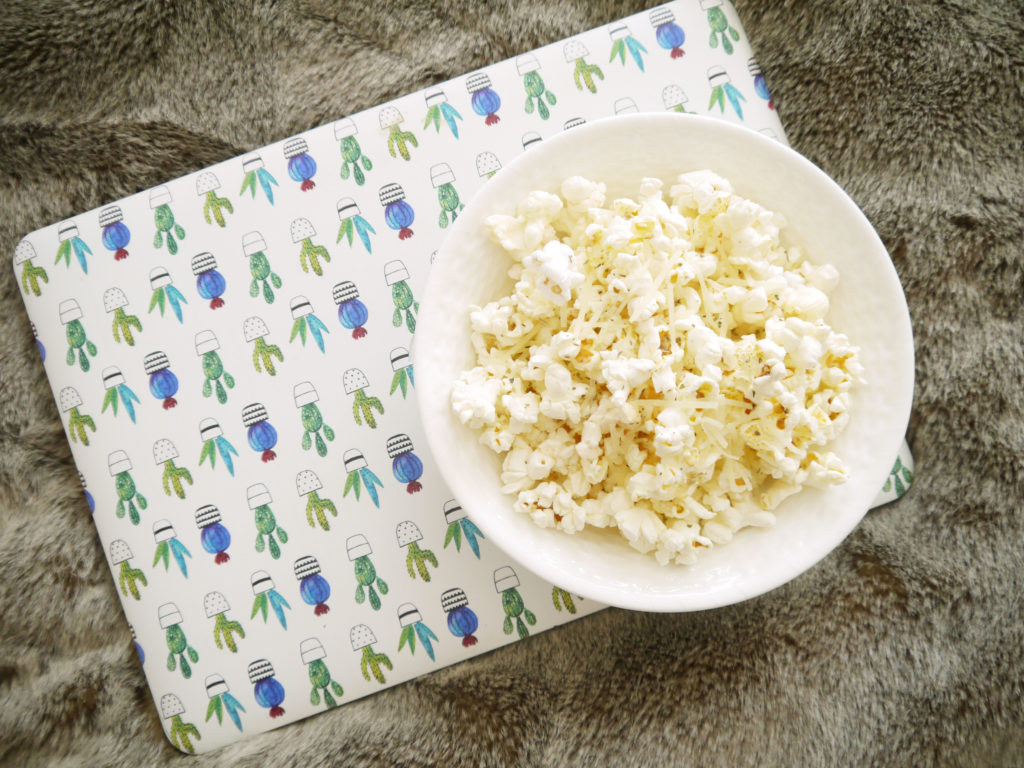 Do y'all have a favorite popcorn recipe?? I always loved cheddar cheese popcorn growing up so maybe I'll have to figure out how to make that soon!