Now that it's starting to officially feel like spring (the temperatures are supposed to get up into the 70s this weekend!!), I've found myself doing a lot of spring cleaning and redecorating. Most of which involves me gleefully folding away my heavy winter jackets and hoping that I won't have to even look at them until next winter. It's funny because by the end of summer I always find myself looking forward to wearing jeans and chunky sweaters, and now I'm in the exact opposite frame of mind. Get me a bikini and a pair of flip flops ASAP!
I've also spent a quite a bit of time in Target and Home Goods lately, trying to find the perfect apartment décor for the spring season. So lots of florals and blooms, as well as bright colors which makes me incredibly happy every time that I walk in my front door. Have you guys found yourself redecorating for the warmer weather?? I really want to get some fairy lights to hang around my bedroom window but I still haven't found the perfect string yet!
Sanctuary sweater // My mom actually found this sweater for me while we were out shopping this past weekend and I will be forever grateful to her for that. Not only was it super on sale, I paid $26 when the original price was $115, but the sweater looks super cute on and is incredibly soft to touch. I definitely plan on wearing it to work this Friday so that I can show it off to everyone!
Paper Source 2016 Calendar // Yes, yes I know that it's already April, meaning that I'm about 4 months late to getting around to finally buying a 2016 calendar for myself. I was actually just randomly snooping around the sale section for new stationary on Paper Source's website a few weeks ago when instead I came across this calendar on sale for, wait for it… $6.24!! SUCH A GREAT DEAL. All of the illustrations are absolutely stunning and it looks so gorgeous hanging in the entranceway of my apartment!
Etsy "Shhh… There's Wine in Here" mug // How fun is this mug?? I saw a mug similar to this on Instagram and just knew that I had to have one for myself. I've never actually drunk wine out of the mug (just tea!) but it still makes me smile every time that I pull it out of the cupboard.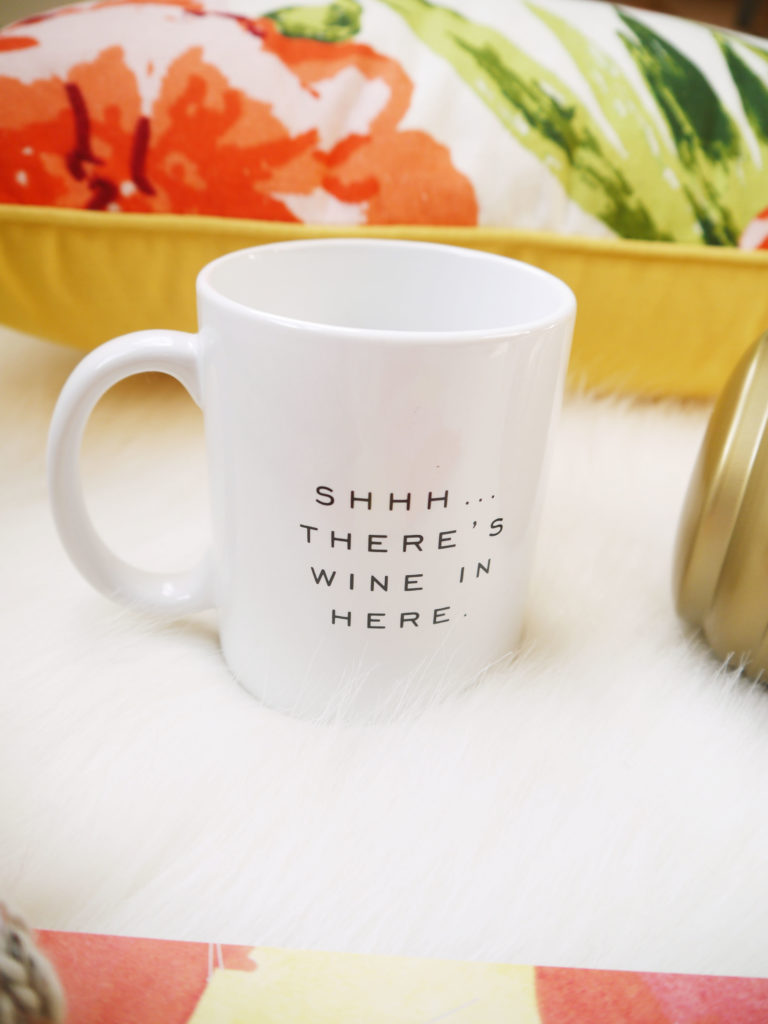 Bella 'Sweet Sangria' candle // Let me tell you, this candle smells absolutely amazing. The fruity scent sends me straight back to last summer and drinking sangria out on my porch, which I definitely plan on doing this coming summer as well. Plus the packaging itself is too pretty! I actually keep it on one of my bedside tables as decoration when it's not lit!
Target floral decorative pillow // Like I said before, I'm currently obsessed with anything floral at the moment. So when I saw this pillow while aimlessly wandering up and down the aisles of Target, I immediately grabbed it and threw it into my cart. I have a brown leather couch (shoutout to my parents for the free hand-me-down!) and so I love how the bright colors automatically brighten up the look of my living room. I'm definitely going to grab a second pillow the next chance that I get!