If you spend as much time on Instagram drooling over pictures of food as I do, you've probably heard of Momofuku Milk Bar. Their birthday cake is basically everything that I've ever wanted in my life and I was really intrigued by their cereal milk soft serve ice cream.
So when I was in Washington D.C. visiting one of my oldest friends for the weekend, we both knew that we just had to try the yummy desserts at Momofuku for ourselves. And while I didn't actually realize that Momofuku had a normal restaurant too before Grace made the reservation, we excitedly shuffled inside the restaurant, away from the rain on that chilly Saturday afternoon, ready for whatever came our way.
The interior of the restaurant is very hip and modern, and even at 2:30 in the afternoon the restaurant was still packed and humming with conversations. If you're interested in checking out Momofuku CCDC for yourself, I'd definitely recommend making a reservation well in advance because it's super popular. Grace made our reservation about 2-3 weeks in advance and the earliest lunch time that we could nab was at 2:30pm!
An easy (and quick!) way to make that reservation is to do so through OpenTable, which I'm not going to lie is probably one of my favorite apps that I have on my phone right now. Being able to search for a specific restaurant, make a reservation for your preferred date and time, and even leave reviews after your meal without ever having to pick up the phone and make a call has definitely spoiled me over the past few years. In fact, it's gotten to the point where unless I really want to eat at a restaurant, if they're not on OpenTable I usually look for someplace else to eat!
Now that I've finished my passionate rant about OpenTable let's get back to what really matters–steaming bowls of ramen.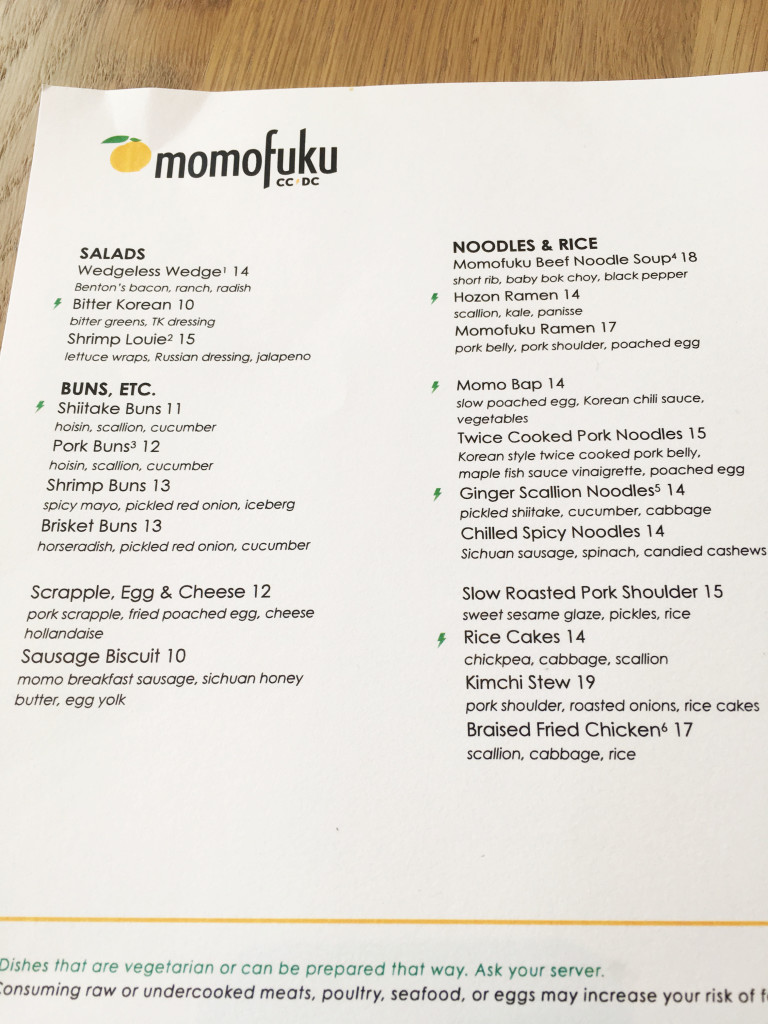 The menu at Momofuku CCDC is short and sweet, but I didn't feel limited by the choices at all. It was actually just the opposite; there were so many amazing options that I was worried that I wouldn't be able to pick just one!
We eventually narrowed our options, happily ordered our food, and then basically talked about how excited we were for our food until it was actually brought to our table. Hashtag foodie problems??
Grace went with the Beef Noodle Soup, which had the most amazing broth and short ribs that almost seemed to melt in your mouth with every bite. Definitely the right pick for a meat lover on a cold rainy day!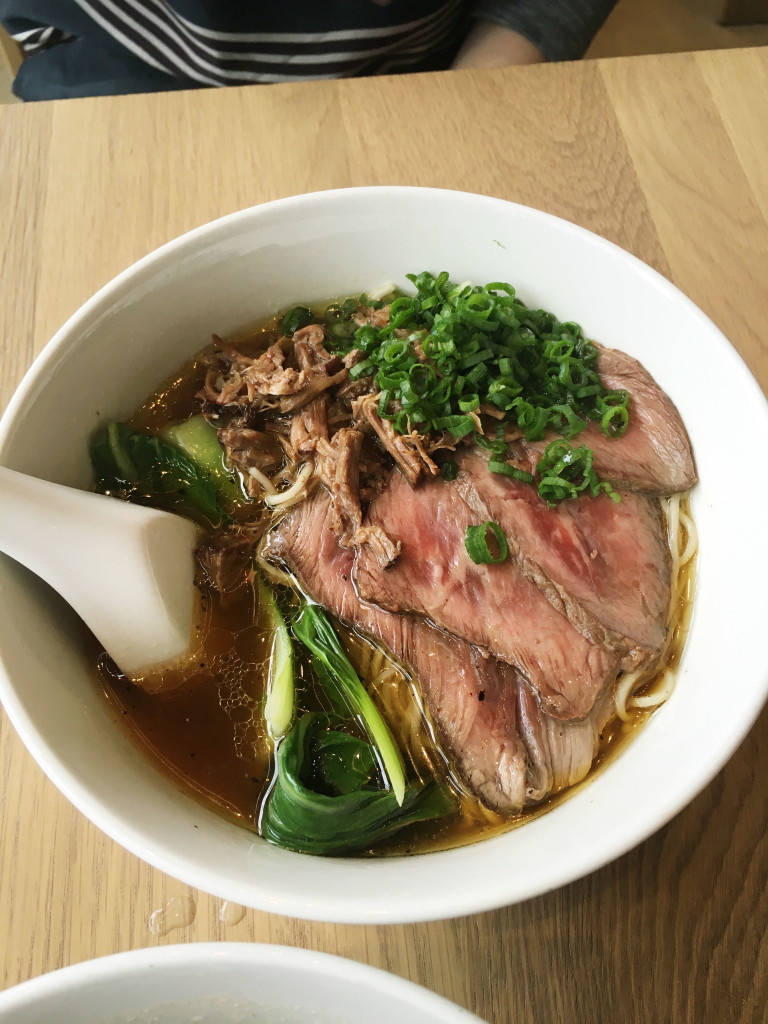 I went with a more classic (but infinitely more delicious and better prepared) college favorite, the Momofuku Ramen. Everything about my ramen was killer–the noodles were amazing, the kale made me feel healthy (yay superfoods!), and the broth was literally so good that I was tempted to just slurp it at one point. Plus the chickpea crackers on top made the dish so much fun!
After somehow managing not to spill anything on ourselves, we quickly moved on to dessert and I finally got to try the cereal milk soft serve. I don't know why I was so surprised about this but the ice cream literally tasted like the leftover milk that's always in the bowl when you eat cereal! So tasty!!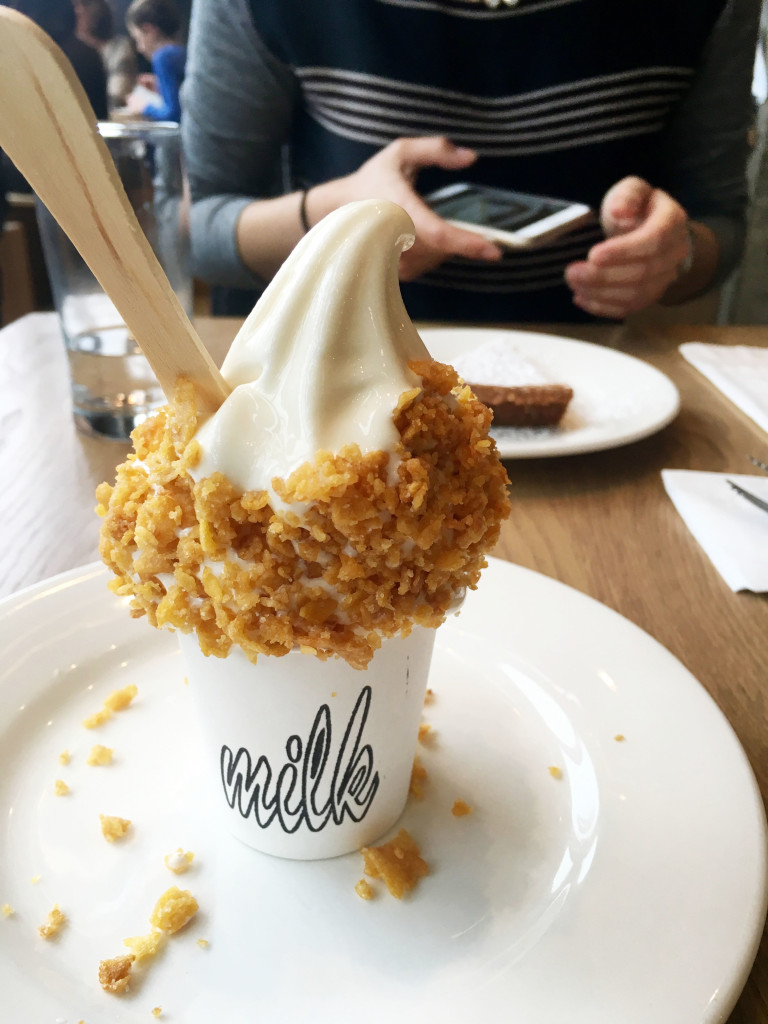 Have y'all ever been to Momofuku before? I really need an excuse to order their birthday cake as soon as possible!!
Momofuku CCDC
1090 I Street NW
Washington, D.C. 20001
*This post was written in collaboration with OpenTable.