What's the craziest thing that you've ever made a significant other do? While you're milling over that interesting thought, let me tell you mine—on Valentine's Day I practically dragged my boyfriend out of the apartment we were staying in and forced him to go to brunch with me even though the temperatures were below zero in New York City. Which actually now that I'm thinking about it, is probably more of an indication of my love for brunch rather than me being crazy (which I can be from time to time haha).
But how could you not brave the cold for the mouthwateringly delicious brunch spread at Egg Shop?? I'd been seeing pictures of their food on Instagram forever now (shoutout to food instagrammers because y'all literally help me plan trips), and so I knew that we had to go on our last morning in New York City.
After a short wait, we were shown to our table where we happily tugged off our mittens and warmed up our hands. Can you believe that it was so cold outside though that almost everyone in the restaurant still had their coats and hats on??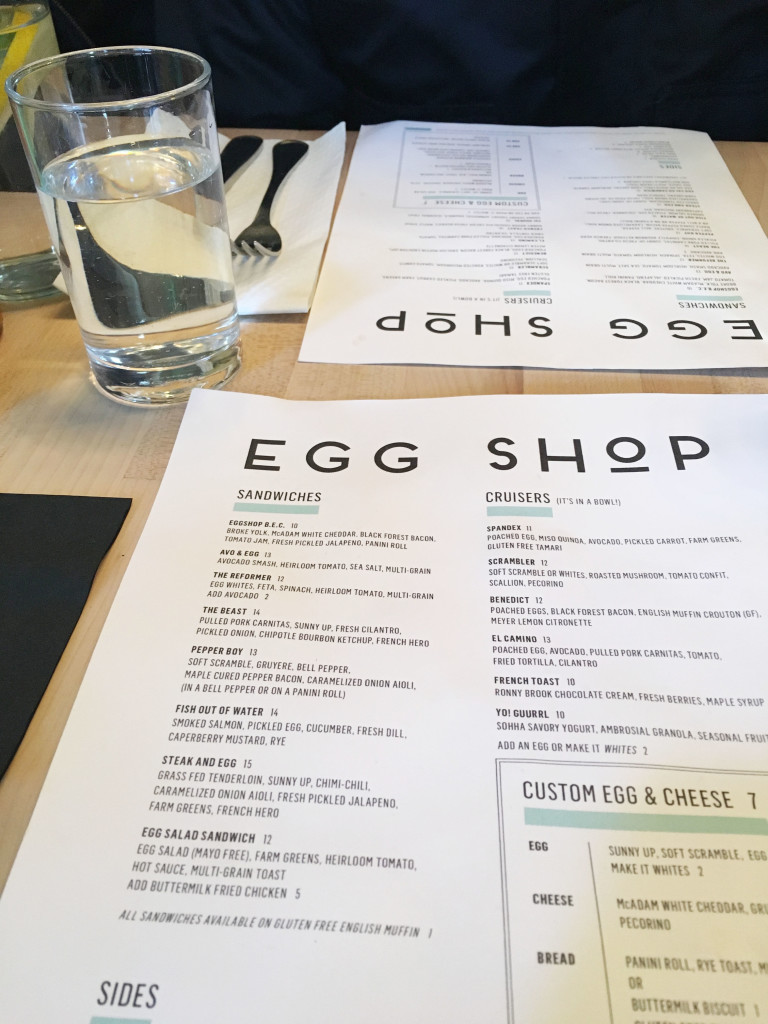 I'd already studied the menu before our trip, but mulled over whether or not to go with what I'd already decided to order or the brunch special of the day (salmon scramble on an everything biscuit, yum!!) while enjoying my tea. Are you guys more coffee or tea drinkers? I still don't like the taste of coffee so I'll typically drink a cup of English breakfast tea in the mornings and then a cup or two of green tea throughout the day.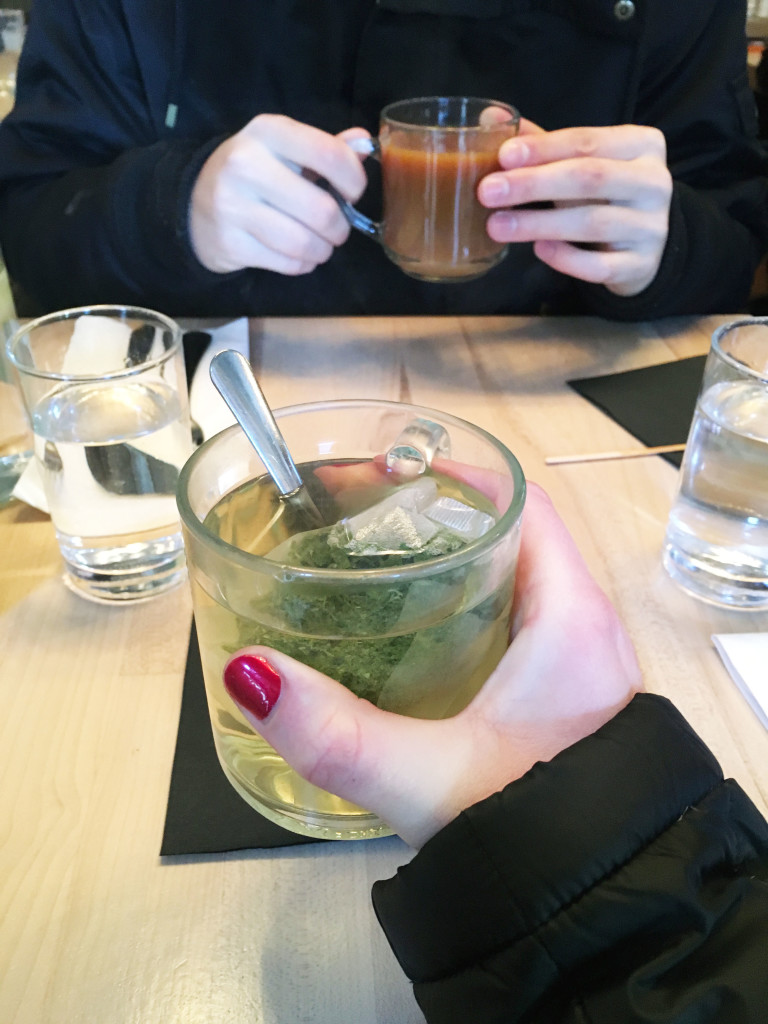 And though the temperatures were freezing and we'd lost feeling in our feet for a while, the two of us were all smiles throughout the day. Not going to lie, this was my first real Valentine's Day with M (we'd just recently started seeing in January of last year), and so it felt extra special to be able to spend the day with him, even if Valentine's Day is more of a Hallmark holiday.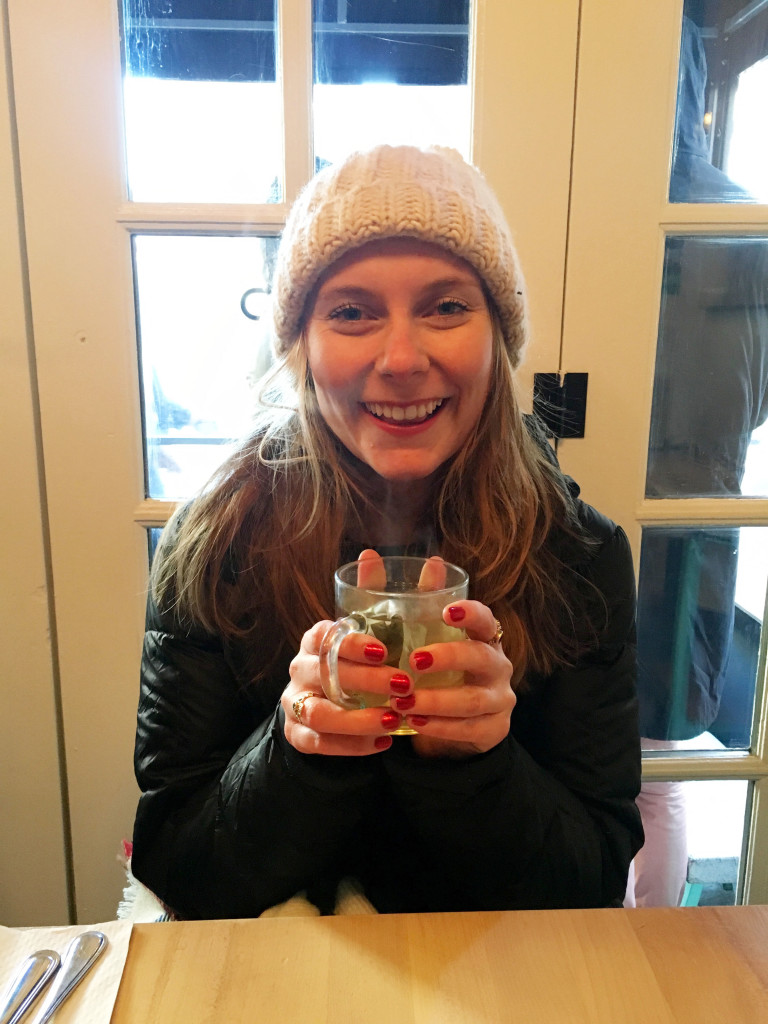 After much talk between us about what looked good on the menu, we finally made our decisions and put in our orders.
M went with "The Beast," which was pulled pork carnitas, a sunny side up egg, pickled onions, and chipotle bourbon ketchup (so tasty!) on a French hero.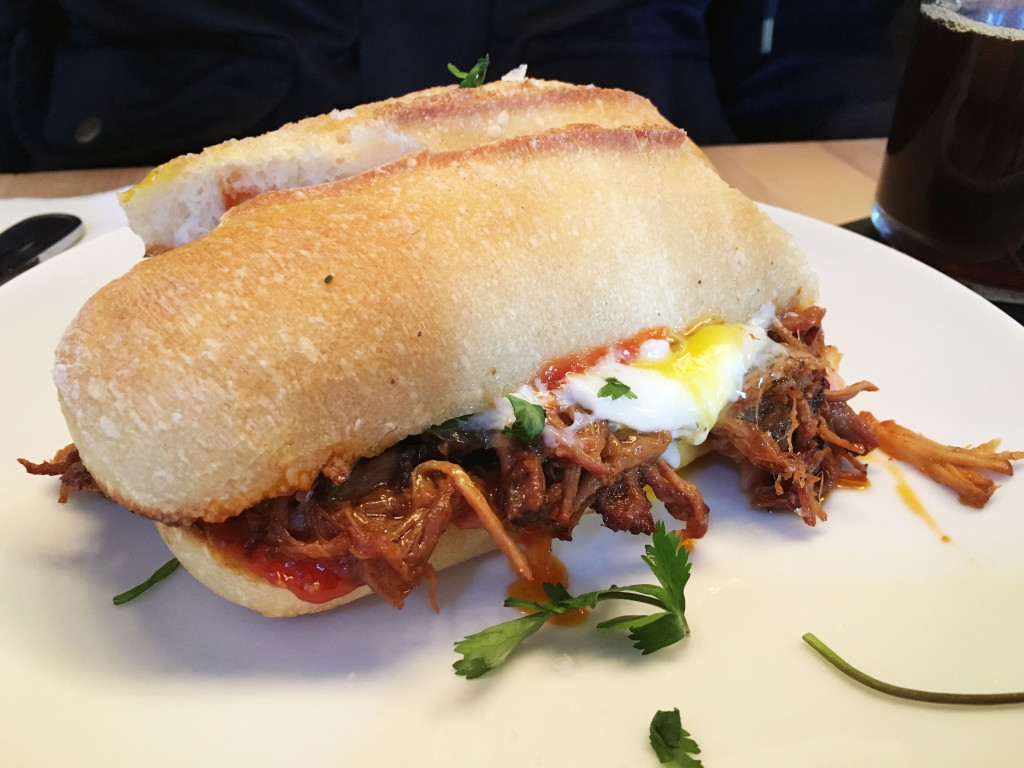 While his meal was delicious and I'm still a little obsessed with that chipotle bourbon ketchup, I was an even bigger fan of my "Eggshop B.E.C."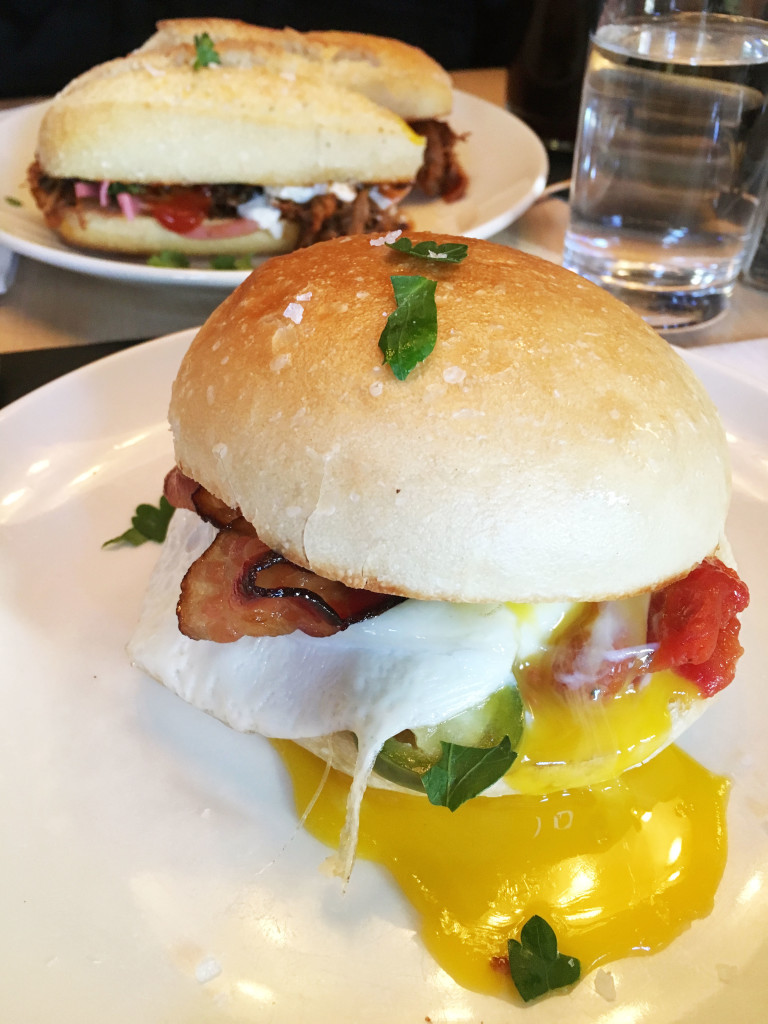 With a broken yolk, white cheddar cheese, black forest bacon, tomato jam, and fresh pickled jalapeño, this was the breakfast sandwich of my dreams. I literally drooled a little bit when the waiter put the plate in front of me and I saw how tasty the sandwich looked. I really need to learn how to make something similar for myself before work, but for now I'll be content with dreaming about my B.E.C. while drinking my normal green smoothie.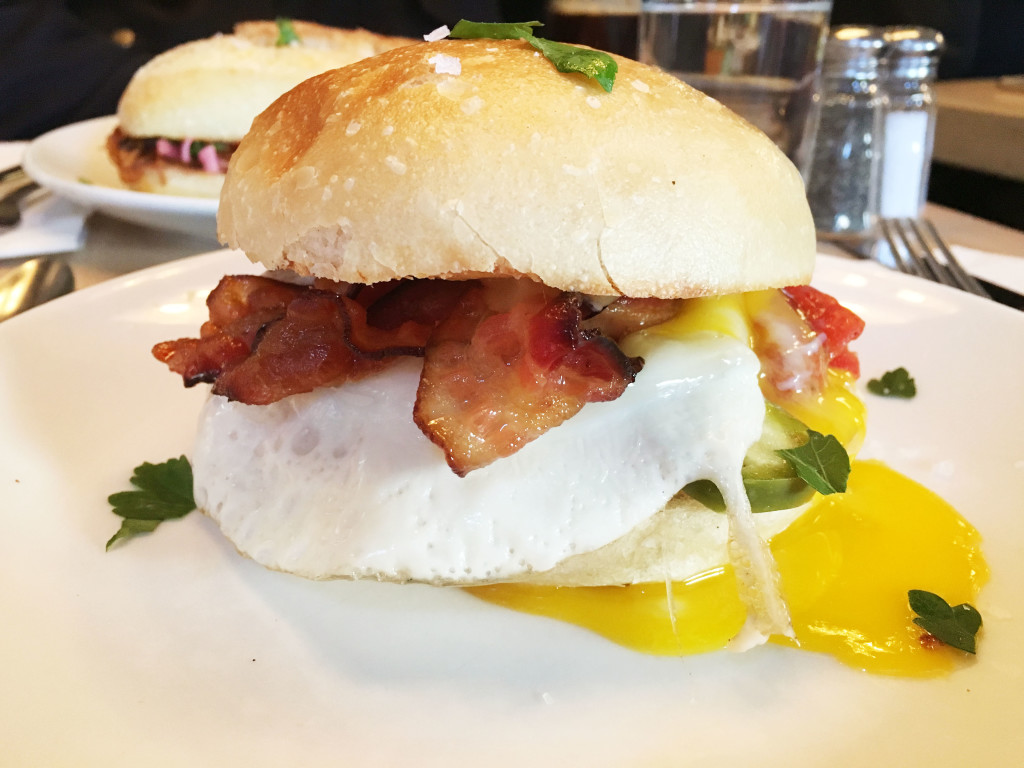 And let's not forget about the hashbrowns! I'm usually on the fence about hashbrowns (they're either amazing or gross and soggy), but these were so delicious. I'm not exactly sure how they were made, but they were mouthwateringly crunchy with every bite and devoured both before I had time to think about all of the calories that I was consuming. And M loved them so much that he's declared that he's going to find a recipe and make them for himself!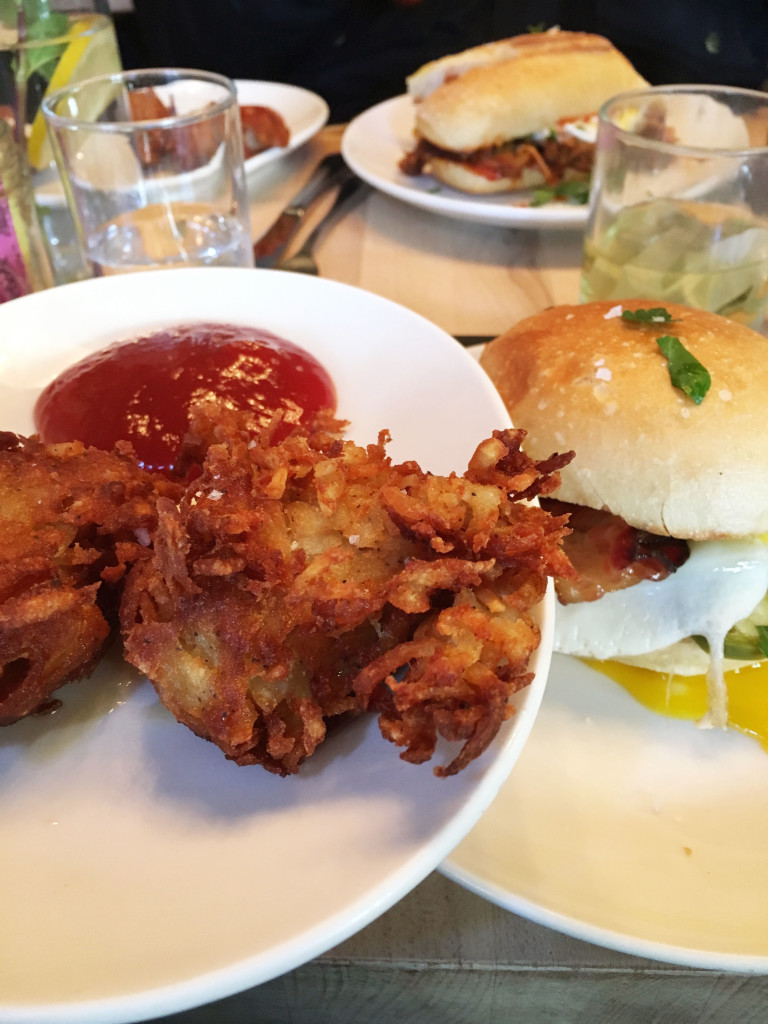 And you know what, even though the temperatures outside were freezing, the food at Egg Shop was on fire… Sort of like this hot sauce bottle suggests!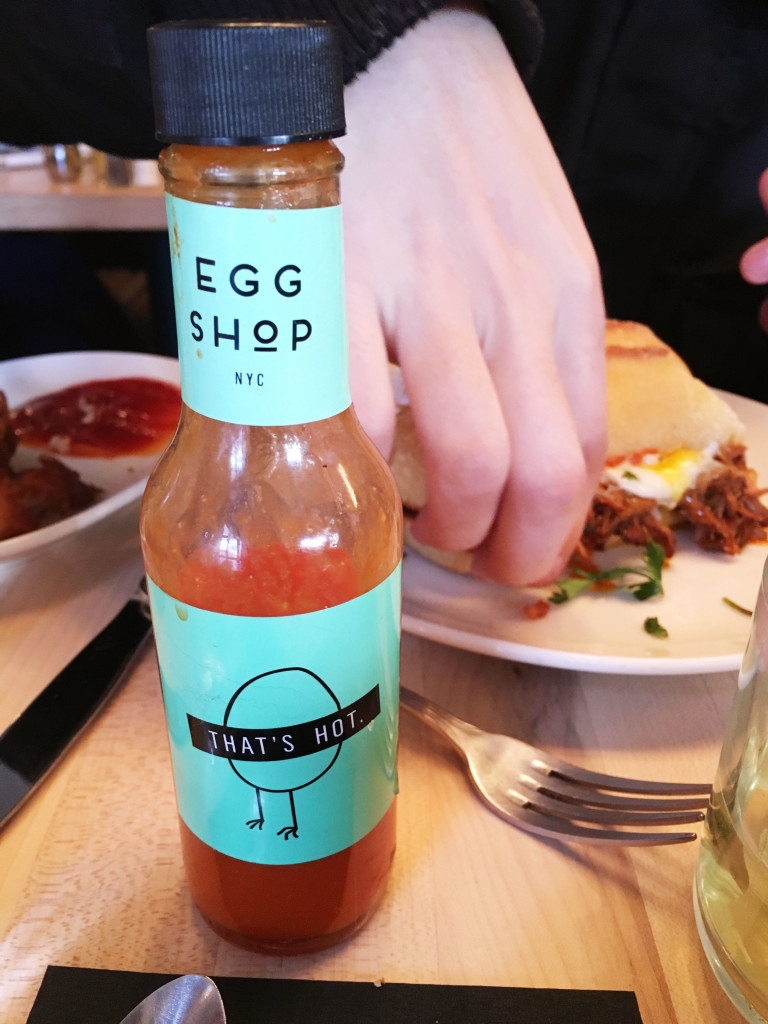 The next time that I stop for brunch at Egg Shop when I'm in the city, I really want to try either "The Reformer" or one of their "Cruiser" bowls.
What's your go-to meal that you always order at brunch?
151 Elizabeth Street
New York, New York 10012