To be totally honest, I didn't like homemade macaroni and cheese until I was in college. And even then I tended to stick with the instant boxed kinds from Kraft, preferably if they came in fun shapes or characters.
But now that I'm living by myself and have a much larger kitchen than in my previous apartment in college (where my living room, kitchen, and dining room were essentially in the same space), I've come to love creating new recipes and re-creating favorite childhood dishes. And now I think I've found my new favorite–my adult version of mac & cheese!
Rich, creamy, and unbelievably cheesy, this recipe is just the thing to hit the spot when you're craving comfort food. And what more can you want on a chilly winter night??
This recipe makes several servings, so it works for either leftovers or if you're planning on bringing it to a potluck-style dinner. I probably could have eaten at least 3 servings, but I'm trying to be at least somewhat healthier in the new year and so I stuck with just one serving.
Also, I realized as I was starting to make this mac and cheese that I did not have any macaroni in my apartment like I thought that I had… So instead I got creative and decided to use fusilli instead. Makes it seem more grown up, doesn't it?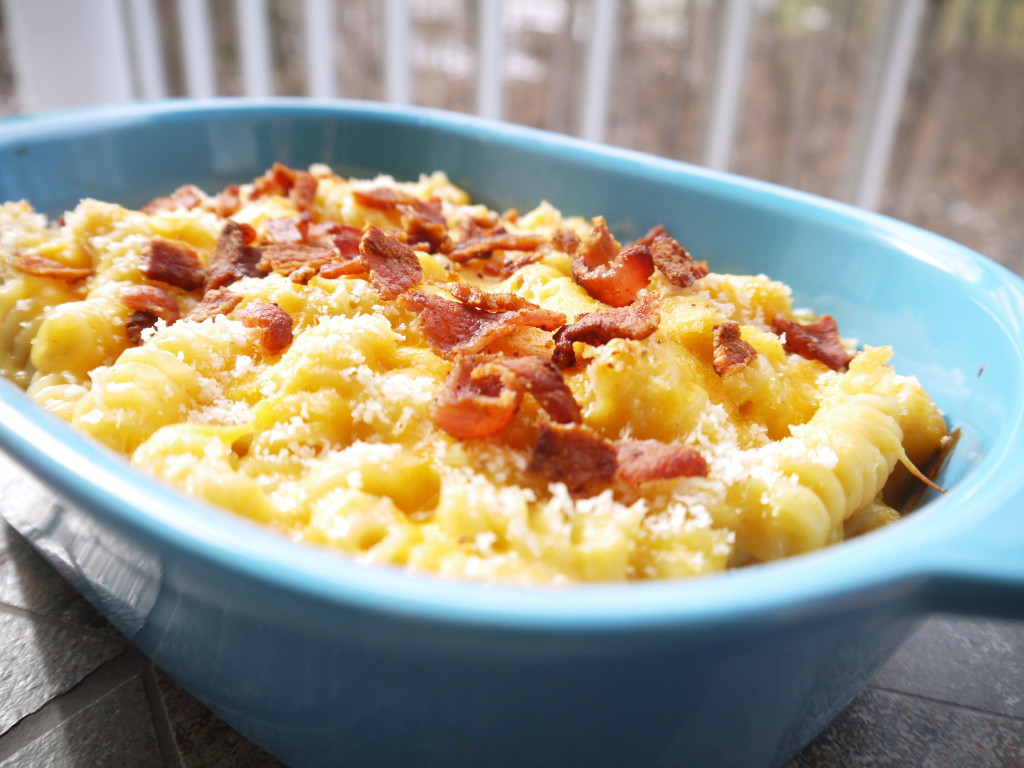 INGREDIENTS:
3 cups of fusilli (or about 2 cups of macaroni)
3 tbsp butter
1/4 cup flour
Dash of salt
Dash of pepper
Dash of smoked paprika
2 1/2 cups of 2% milk
2.5 cups of cheddar cheese (I used almost an entire bag of extra sharp cheddar… definitely a recipe for hard core cheese fans)
Sprinkle of panko breadcrumbs
2 slices of bacon
INSTRUCTIONS:
Boil the pasta until al dente. Rinse under cold water (to stop the pasta from cooking further) and set aside for later.
Preheat the oven to 350-375 degrees F.
In a medium saucepan over medium-high heat, add the butter. Once melted, add the flour, salt, pepper and paprika; whisk together.
Add the milk slowly while stirring constantly. Do so until the sauce thickens and then remove from heat. Add 2 cups of the cheese to the sauce and stir until melted.
Pour the cheese sauce over the pasta and coat evenly.
Add the pasta to a baking dish and add the rest of the cheese on top. Sprinkle a bit of panko for extra crunch.
Bake for 25-30 minutes. Remove from the oven and serve topped with chopped bacon.
I'm drooling a little bit just thinking about this macaroni and cheese! Do you guys have a favorite mac and cheese topping?