I'm a little embarrassed to admit this, but I didn't used to like avocados. Which is a little crazy considering how often I eat them nowadays… Aka at least once a day. I've even been known to bite straight into an avocado when a knife can't be found! Plus I've heard that the new Hollywood diet includes eating tons of healthy fats, which I am more than happy to do if it means I'll be able to look like Jennifer Aniston in 20 years.
Avocado "fries" are a play on one of my guilty pleasures–real french fries. With all of the flavor and none of the guilt, this recipe is perfect for when you want a hearty snack for a Netflix binge or atop a burger for dinner (which actually sounds like a wonderful idea now that I'm thinking about it)!
The sriracha aioli was a delicious last minute addition to this recipe and really gave a kick to the avocado. If you're looking for a healthier (aka less mayo-y) sauce to dip in, I'd recommend this smoky tahini sauce! I've made it and the parsnip fries quite a few times in the past few months and it's mouthwateringly good.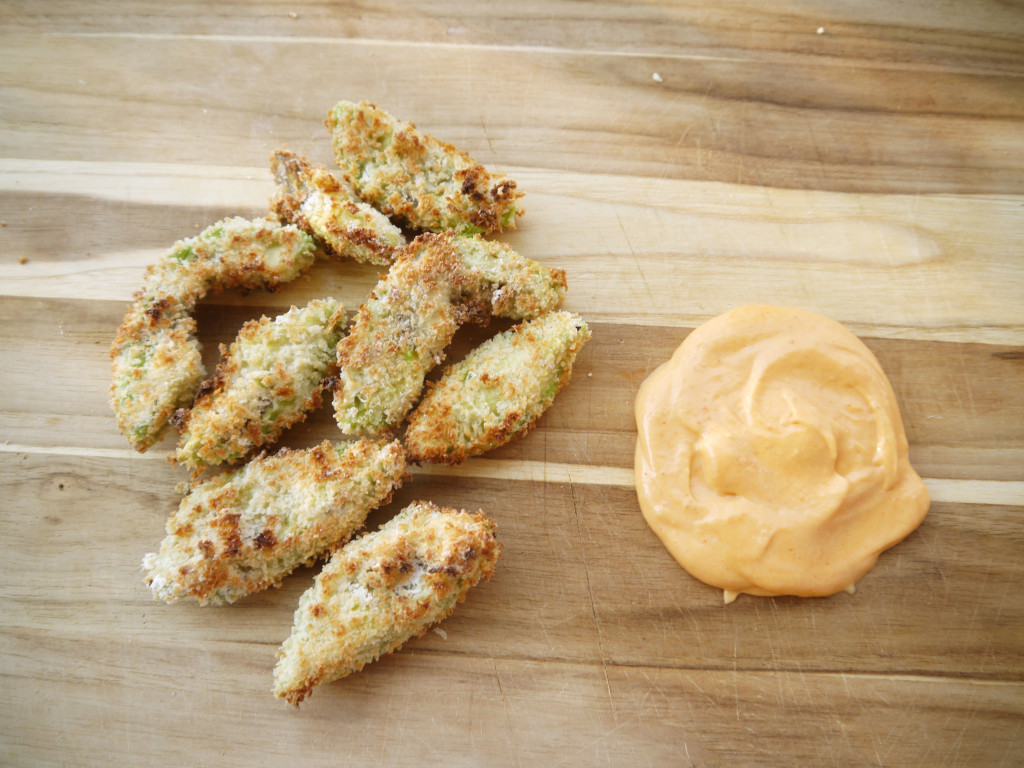 INGREDIENTS:
Avocado "Fries"
2 tbsp flour
Salt & pepper (Season to taste… I'm a fan of salt so I usually tend to use too much)
1/4 cup Panko breadcrumbs
2 egg whites (whisked until foamy)
2 avocados, preferably ripe but still firm (if the avocados are too mushy they'll be hard to batter!)
Sriracha Aioli
1/4 cup light mayonnaise
2 tbsp Sriracha sauce
Squeeze of lemon juice
Salt
INSTRUCTIONS:
Preheat broiler to high.
Combine the flour, salt, and pepper into a bowl and combine. Place both egg whites into a second bowl, and place the breadcrumbs into a third bowl.
Halve the avocados and remove pits. Slice each of the halves into smaller pieces (I cut mine into four slices so that I had sixteen slices overall).
Dredge the avocado slices into the flour mixture. Dip into egg whites and then dredge in breadcrumbs.
Repeat for each slice and then place onto baking sheet.
Broil the avocados for about 5 minutes, or until the Panko coating is a golden brown. Remove and let cool.
For the Sriracha aioli, all you'll need to do is combine the light mayo, Sriracha, lemon juice, and salt to taste. Super easy!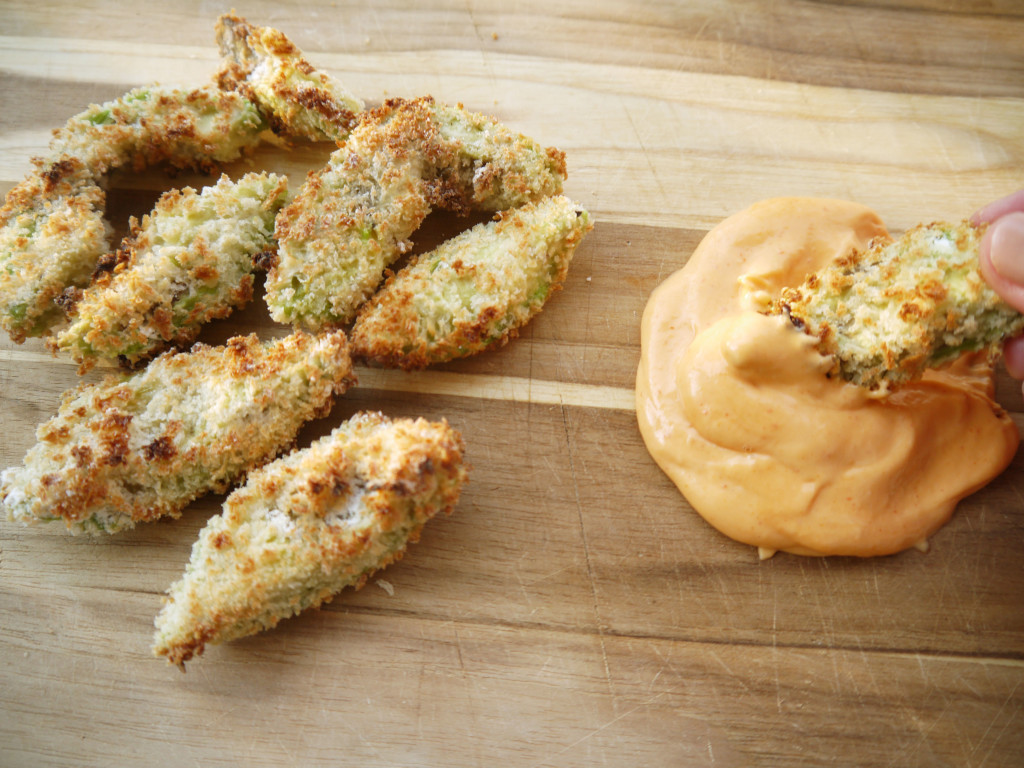 I chowed down on these babies while finally catching up on the end of this season of Scream Queens. Can you believe how the finale ended?? If you haven't seen it yet, I would definitely recommend checking it out!