I love brunch. And not only do I love to eat and drink at brunch, but I also love to talk about how much I love brunch.
So when I say that I had one of the best brunch experiences a few weeks ago, it should not be taken lightly. When my boyfriend and I were in Washington DC, we met up for brunch with one of my best friends from home at a restaurant that I've been wanting to try for a while now–Boqueria. They have locations in both New York City and DC, and I'm kind of surprised that I've never gotten around to stopping by before during one of my trips into the city since I live so close.
Anyway, the reason that Boqueria is amazing and one of my top restaurants to brunch at is because not only are drinks bottomless but so is the food! I can't believe that more restaurants haven't caught onto this trend because I'm a huge fan, and I'm sure most people would be as well!
Boqueria was a pretty short walk from the AirBnB we were staying in and the sun was shining, so we happily walked to the restaurant. Honestly, being able to walk everywhere is one of my favorite aspects of being in big cities.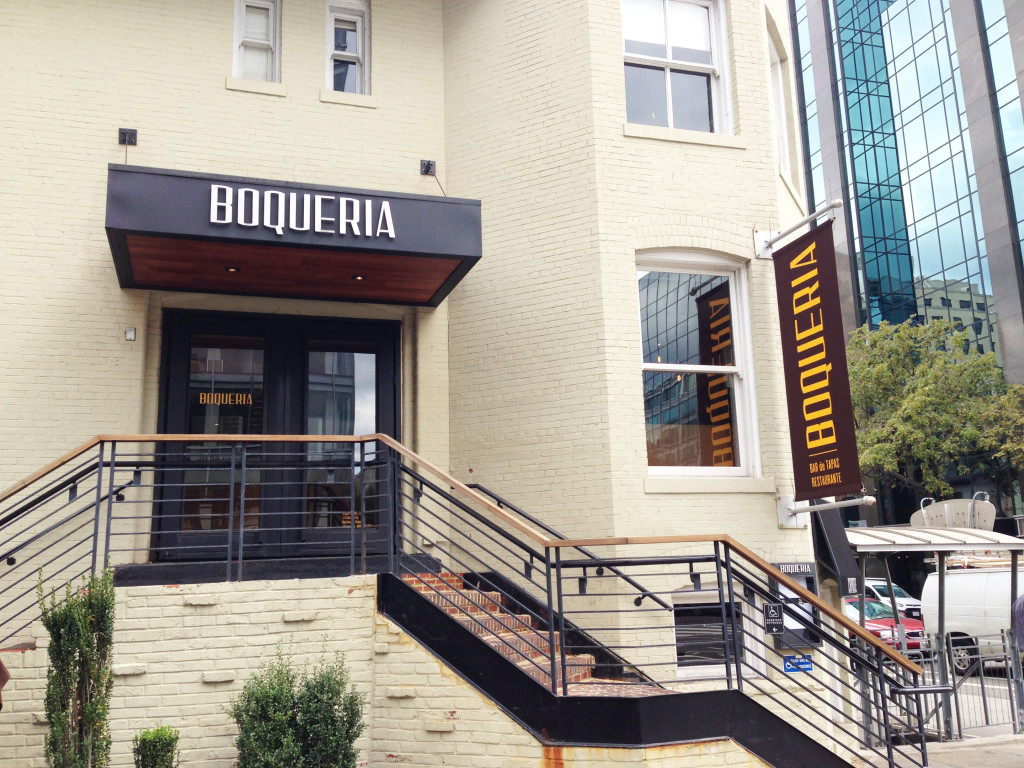 And the best part is that the food is made fresh and delivered right to your table. And the drinks are just as fresh as well!
I stuck with the red sangria throughout the meal but I would also definitely recommend the pink sangria, which was made with rosé wine. My boyfriend had a glass right before we left and I fell a little bit in love with how fresh and bubbly it tasted.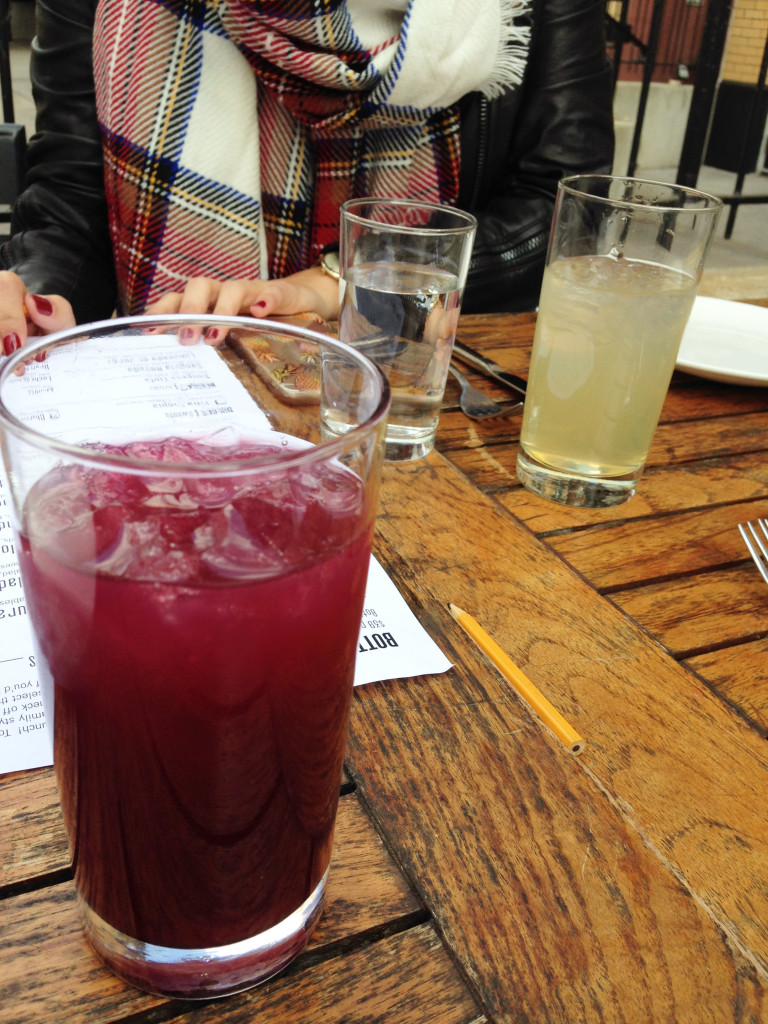 So onto the menu. We were a bit confused when we first sat down, but our waiter patiently explained to us that we, in fact, did not have to make any decisions about what we wanted because he would be more than happy to bring us EVERYTHING on the menu. Not going to lie, that was probably one of the most exciting moments in my life. Just kidding but I was actually super excited to taste everything.
All of the dishes are made in a tapas-fashion and there is just enough food brought out on each plate to keep everyone happy. Plus if you really like a dish, they'll bring out more if you ask! Which is exactly what we did for their heavenly french toast.
So without further ado, here's everything that we ate until we left stuffed and slightly tipsy from all of the sangria.
Coca de Recapte (Catalan Flatbread, goat cheese, fresh herbs, and seasonal vegetables). This was definitely one of my favorite dishes and I'm not even sorry to admit that I stole the last slice.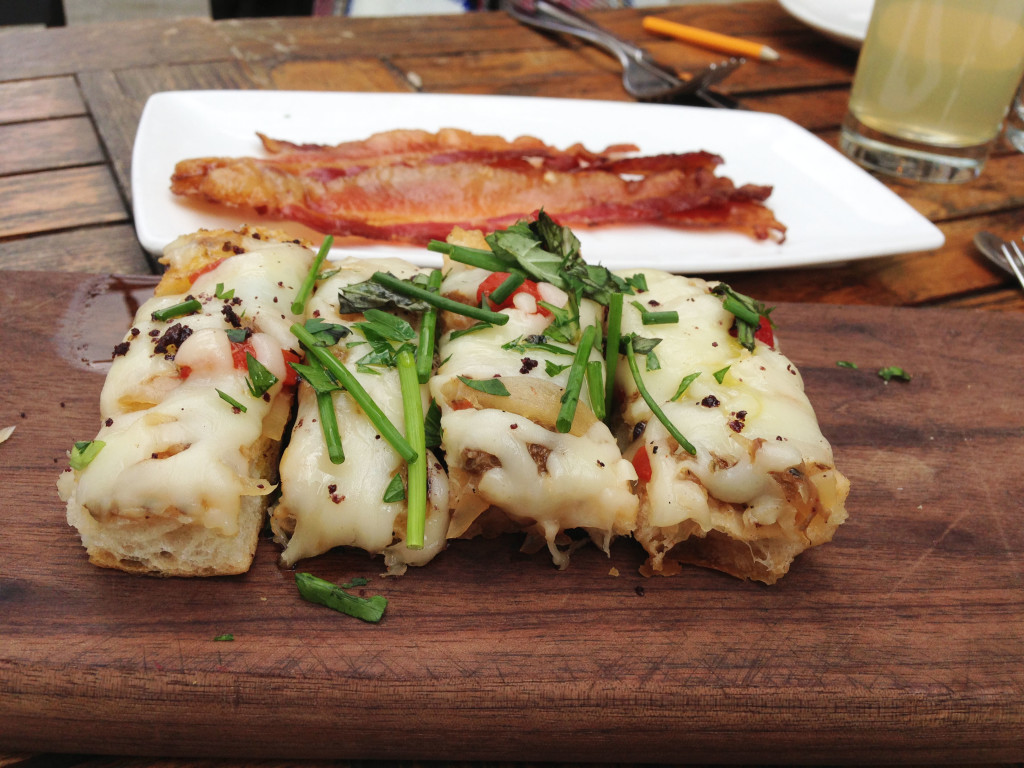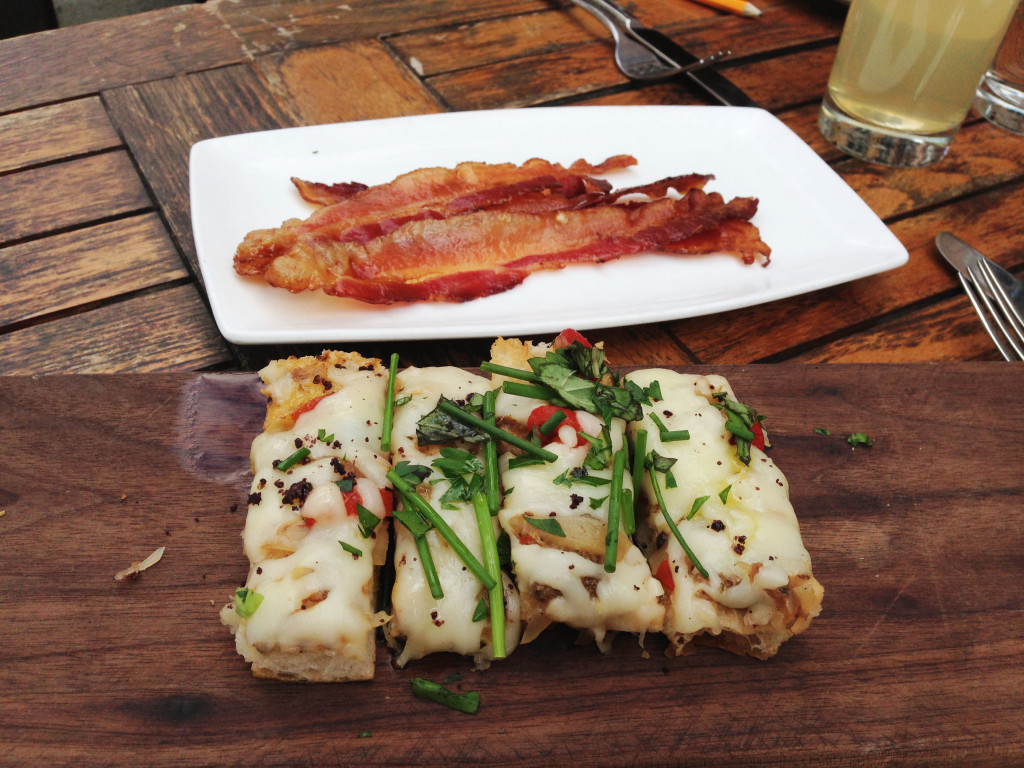 Pan Con Tomate (grilled bread rubbed with tomato, garlic, and olive oil).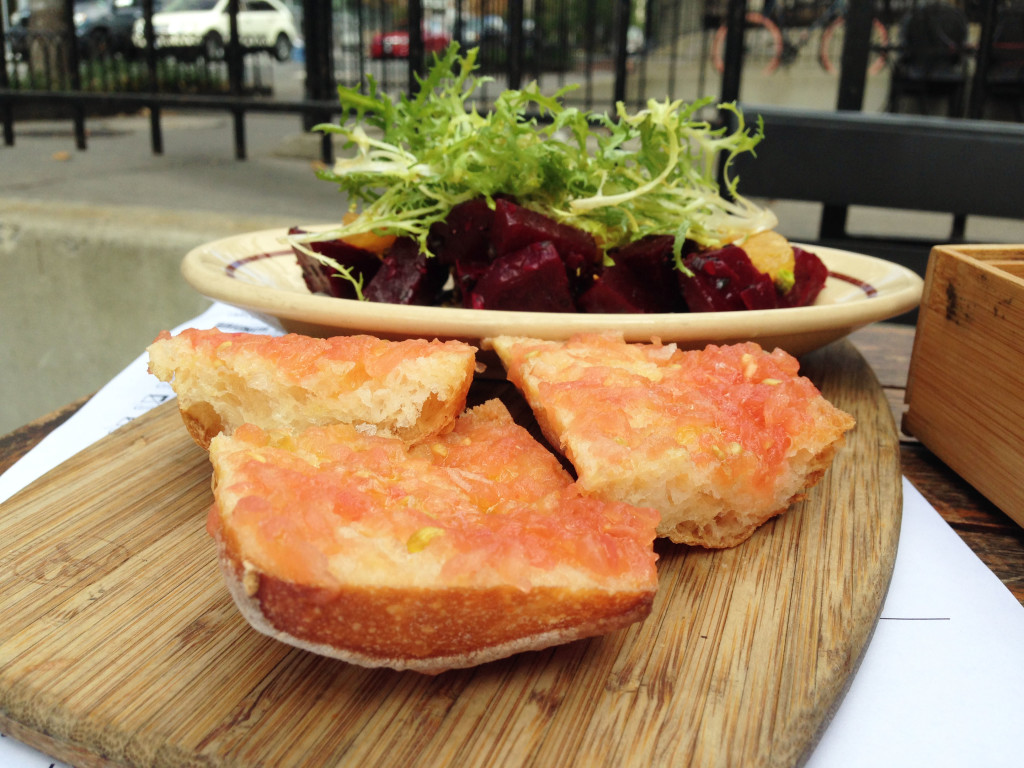 Surtido de Tapas (Manchebo cheese, Jamón Serrano, Spanish omelet and olives). I didn't know what to expect when these came out, but theses bite-sized omelets were to die for!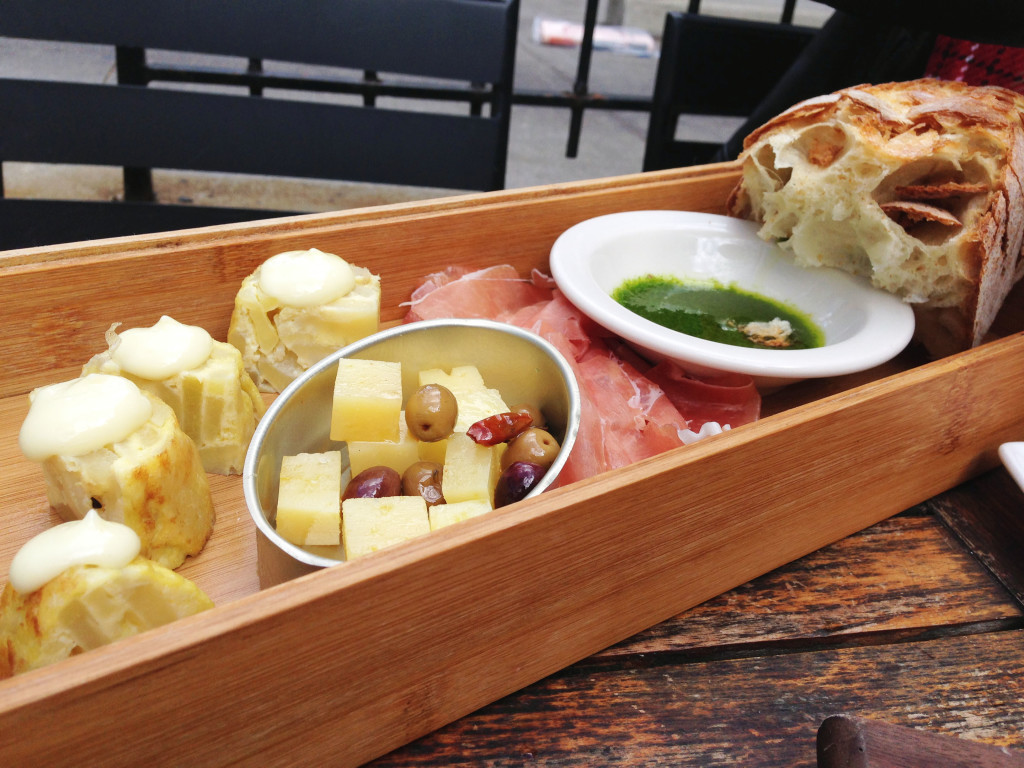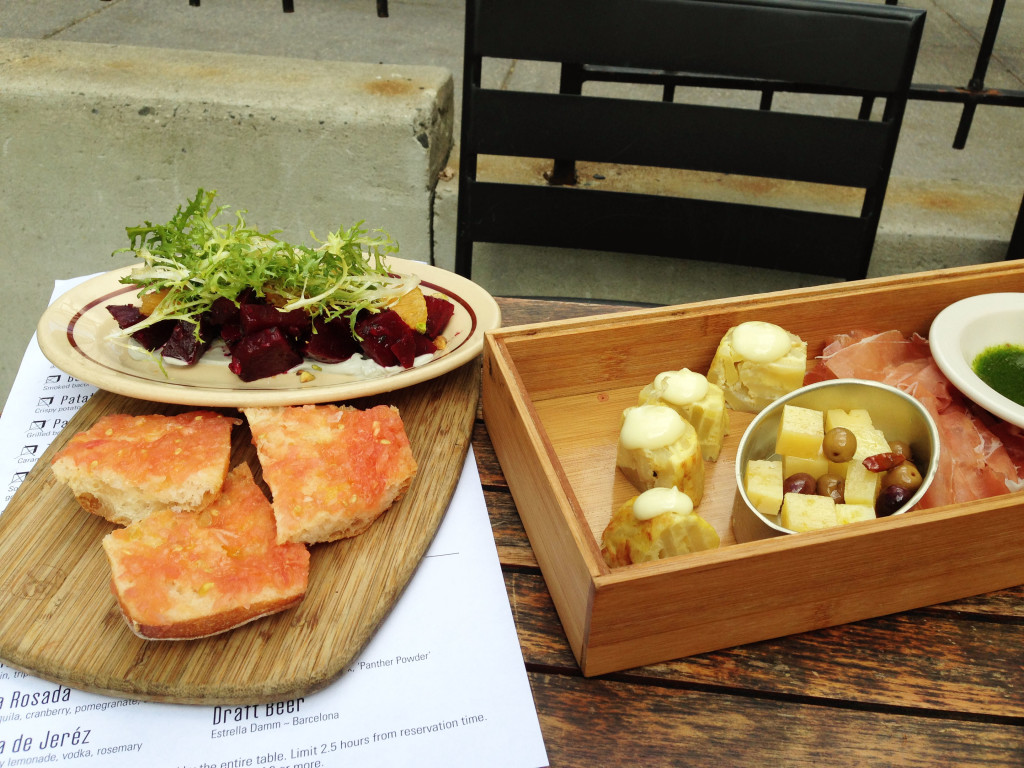 Torrija (caramelized french toast with caramel sauce). My boyfriend was very quick to order us a second round of this french toast after we'd basically licked the first plate clean.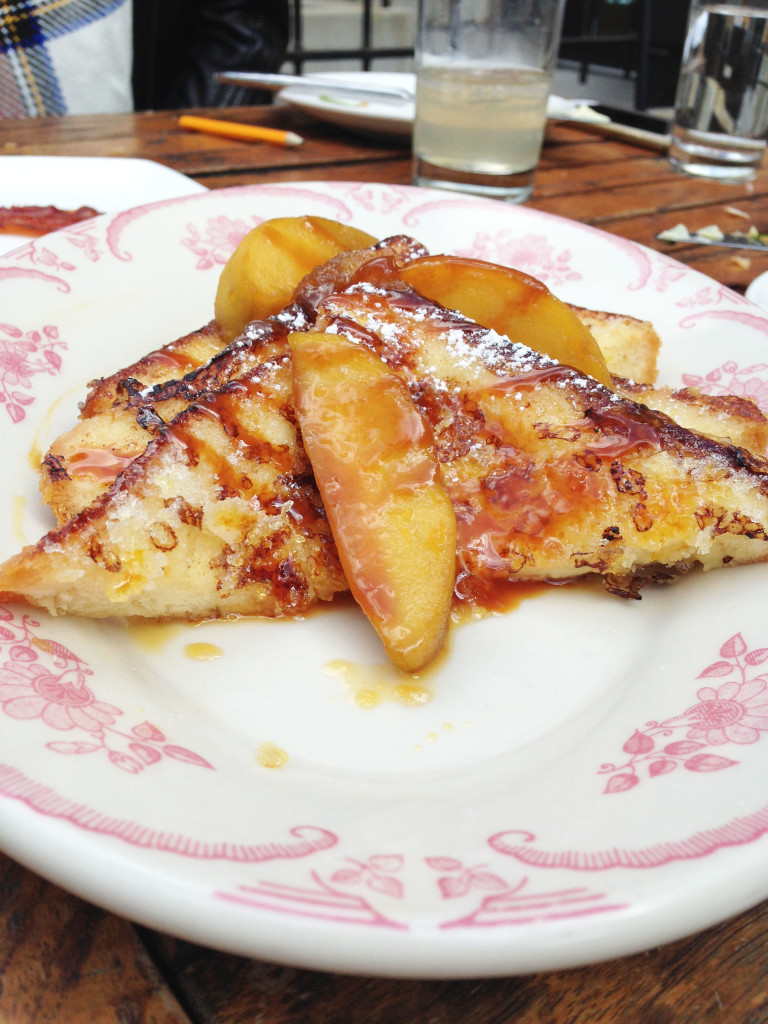 Huevos Benedictinos (Eggs Benedict with Serrano ham).
Albóndigas (lamb meatballs in tomato sauce, and topped with sheep's milk cheese). These were super flavorful and delicious.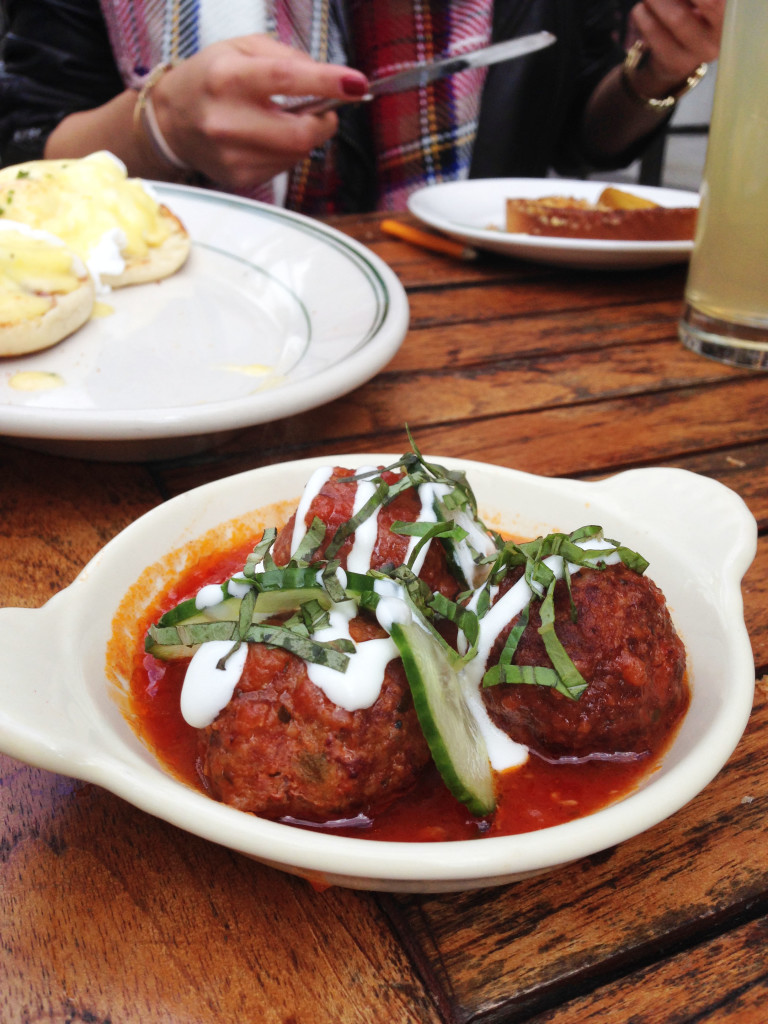 Soldaditos de Pollo (potato chip crusted chicken breast). I was really impressed with how good these chicken fingers were! I was expecting something super heavy and fried to come out, so I loved that these were light but still crunchy.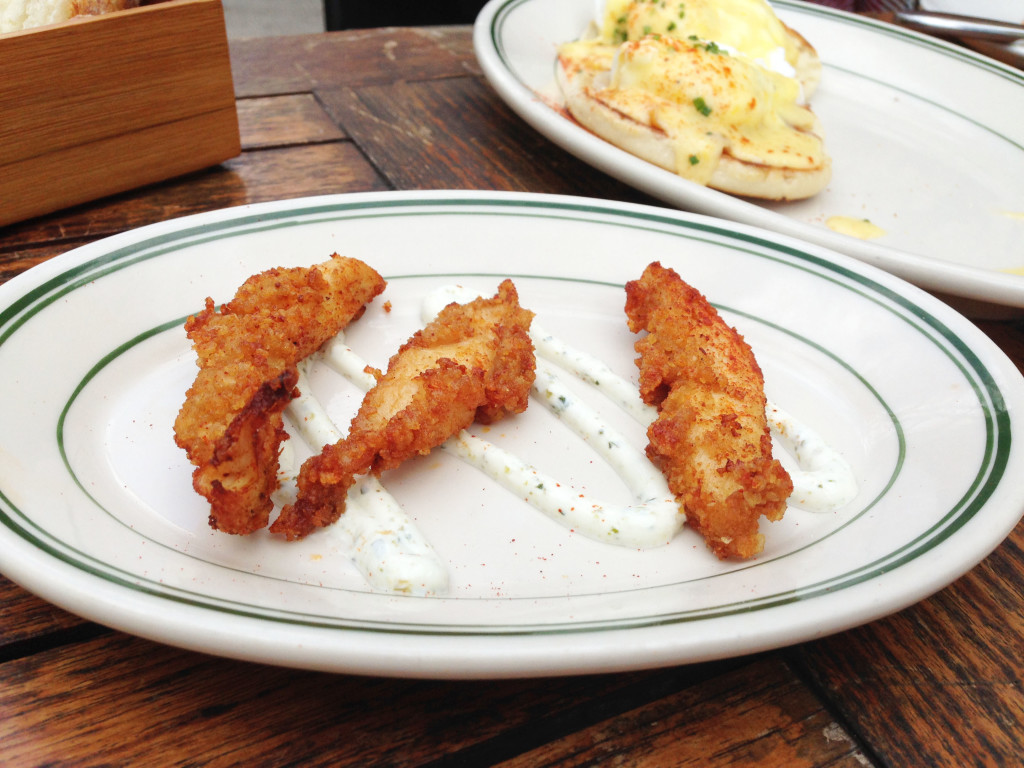 Patatas Bravas (crispy potatoes, salsa brava, and roasted garlic aioli). This has always been one of my favorite tapas dishes since I first tried them a few years ago, so I very happily tucked into them as soon as our waiter put them down on the table.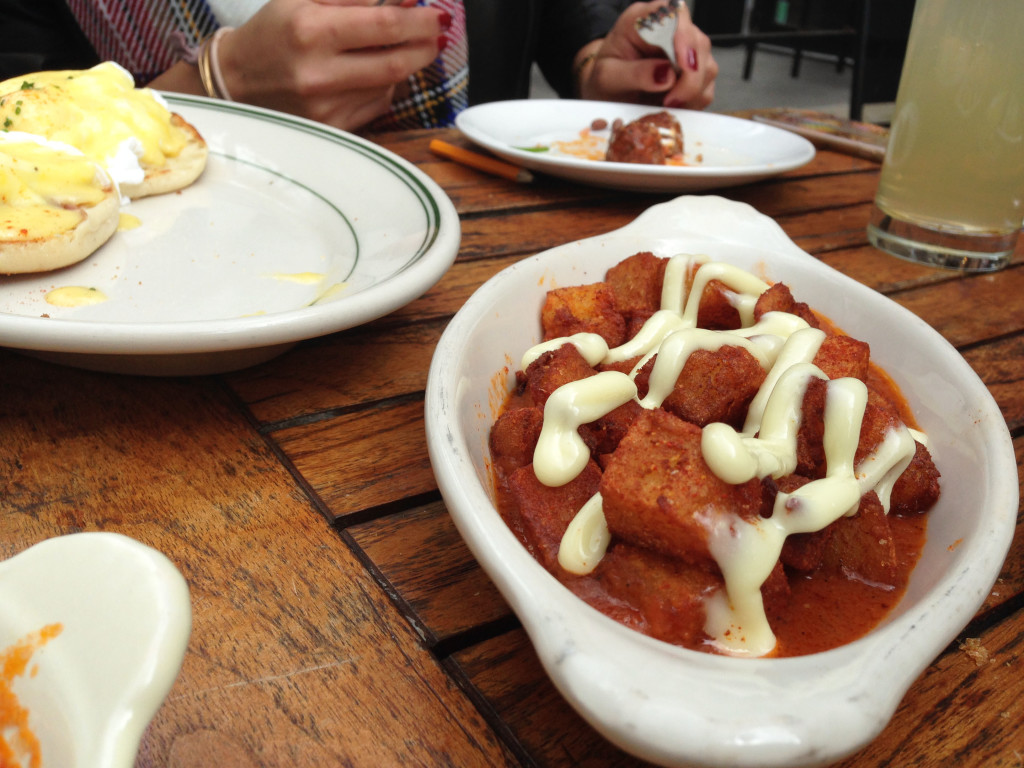 Revuelto de Setas (soft scramble of organic eggs, wild mushrooms, goat cheese, and cheese).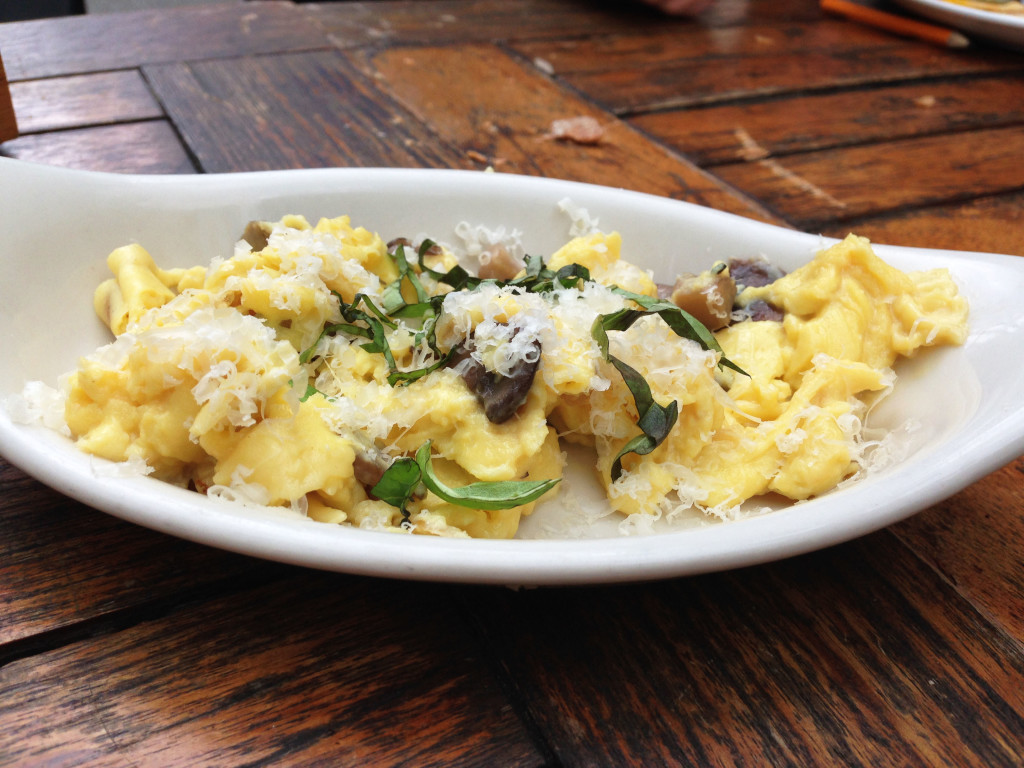 Verduras con Romesco (seasonal vegetables with hazelnut romesco).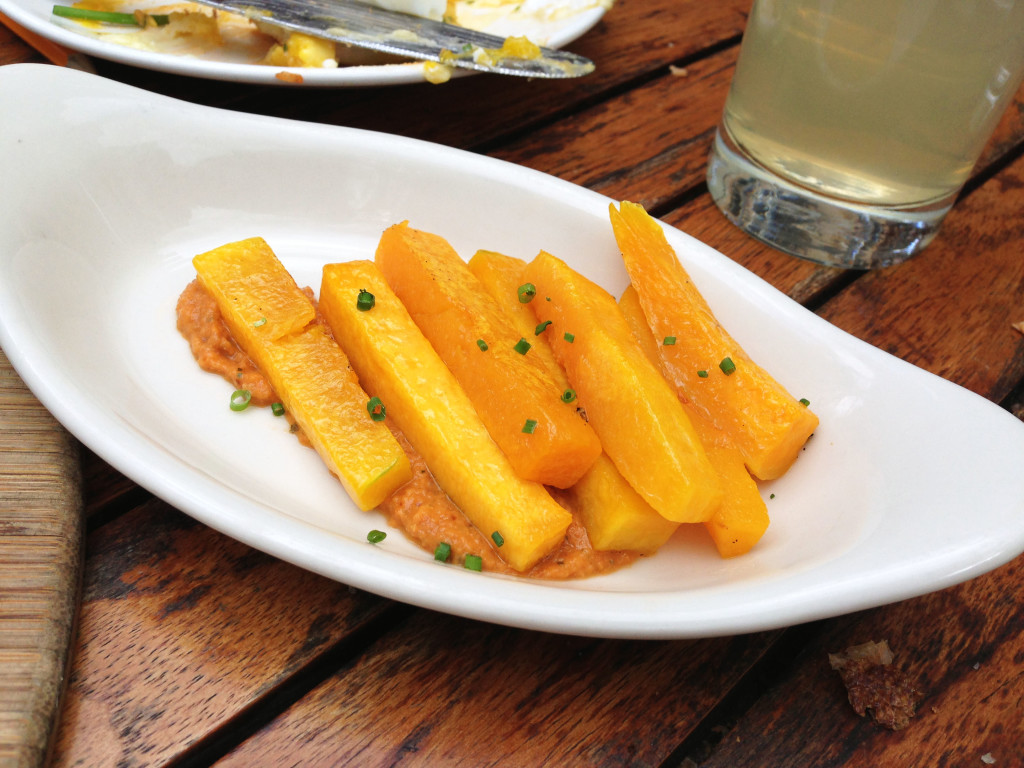 Mejillones con Salsa Verde (steamed mussels in a garlic sauce). Quick question… Do you guys eat mussels with a fork or slurp straight from the shell, like you would an oyster? My boyfriend and I had a disagreement about the proper way to eat mussels and I wasn't sure how other people eat them. I'm a fork kind of gal myself.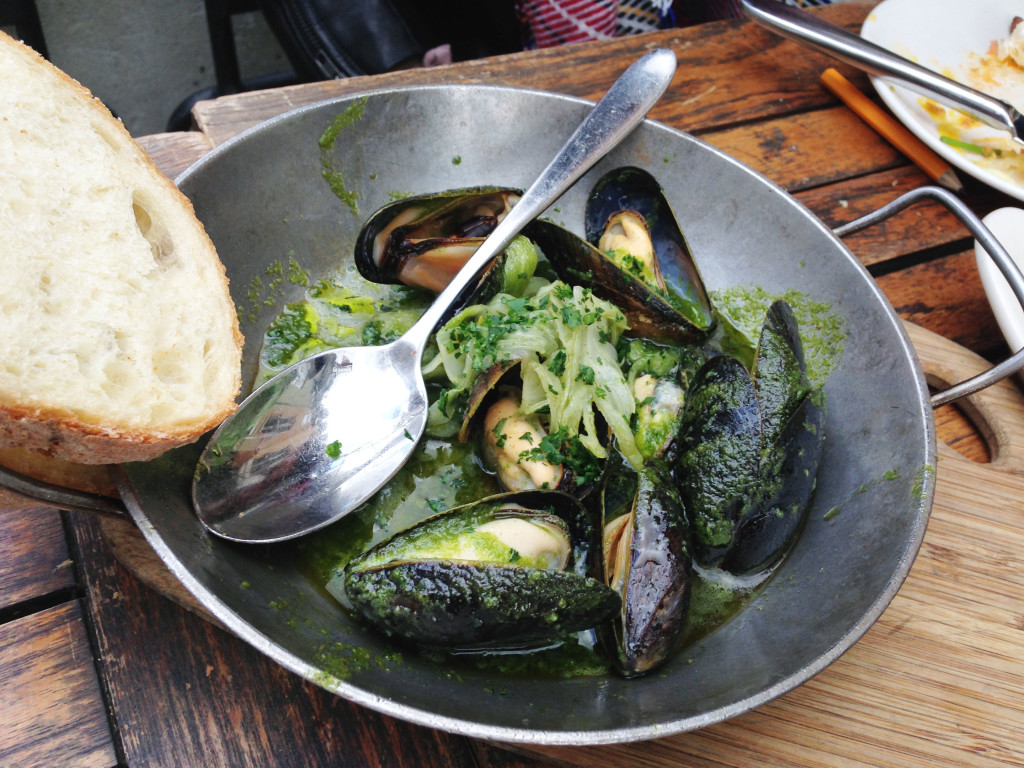 Cocido de Garbanzos (garbanzo bean cassoulet, chorizo, pork sausage, pancetta, and pimentón).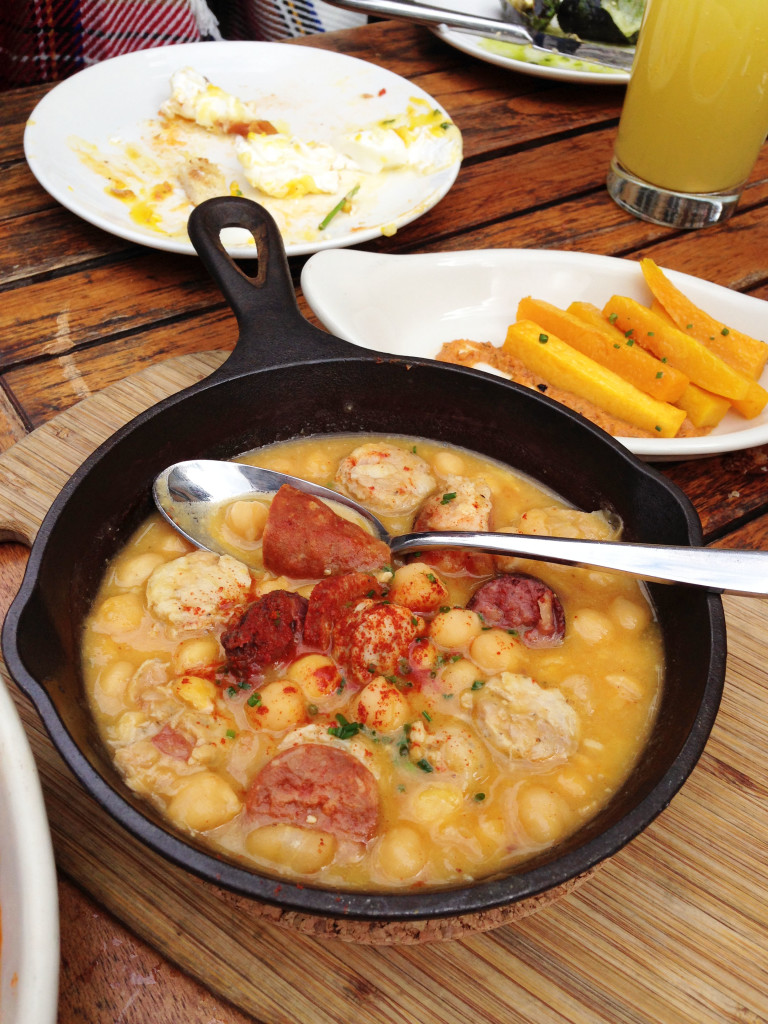 By the time all of the food had been brought out and we'd tried everything, we were definitely slowing down. Not only had we probably eaten too much, the multiple glasses of sangria probably weren't helping either. We were almost down for the count until our waiter brought us out the most delicious plate of churros. Crunchy and drowning in cinnamon (and soon enough the liquid chocolate), these churros were all that a girl could ask for.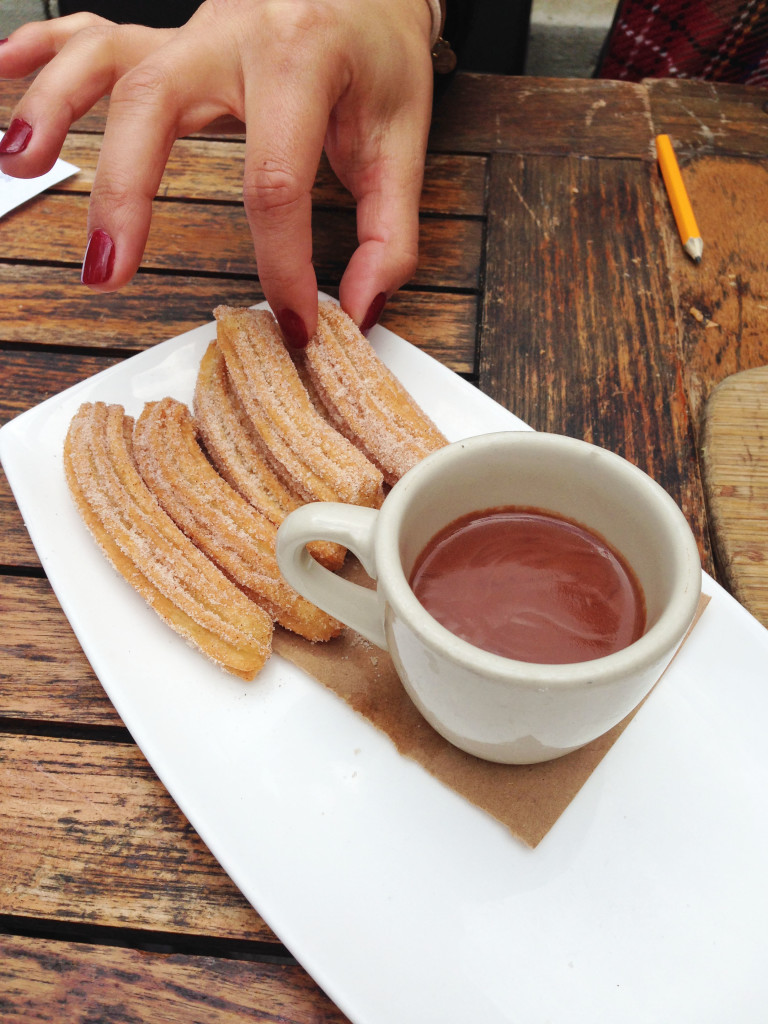 With all of the food in front of us, I'm surprised looking back that we even had time to talk. But because I pride myself on being able to multi-task (i.e. cook & watch Netflix at the same time, for example), we managed to laugh and stuff our faces for over two hours.
So the next time you're in DC, or even New York City, definitely check out Boqueria for a delicious and seemingly never-ending brunch! And be sure to grab a seat outside if the weather's nice, the view is perfect for people watching!
1837 M Street NW
Washington, DC 20036