A few weeks ago, I was in New York City with my dad for a long weekend to take a class at NYU and also to take the GOES TSA Precheck interview, so I was pretty busy and running from place to place. On our second night in the city, dad took me to a restaurant that he's always loved and that he wanted to introduce me too now that I'm a "young professional"–The Pool Room in the Four Seasons.
We took a cab to the restaurant, racing through Manhattan, watching as the rain poured around us. Am I the only one who thinks that New York is romantic in the rain? Obviously not when I'm with my dad, but the idea of walking down the street and sharing an umbrella with your significant other just sound like such a romantic idea.
The Pool Room has one of the coolest setups that I've ever seen. There are floor-to-ceiling windows and all of the tables and booths surround a small pool (hence the name of the room) that has a cute little alligator floating in the middle. My dad and I sat in one of the booths and spent most of the night spotting sports celebrities who were enjoying dinner at the same time that we were.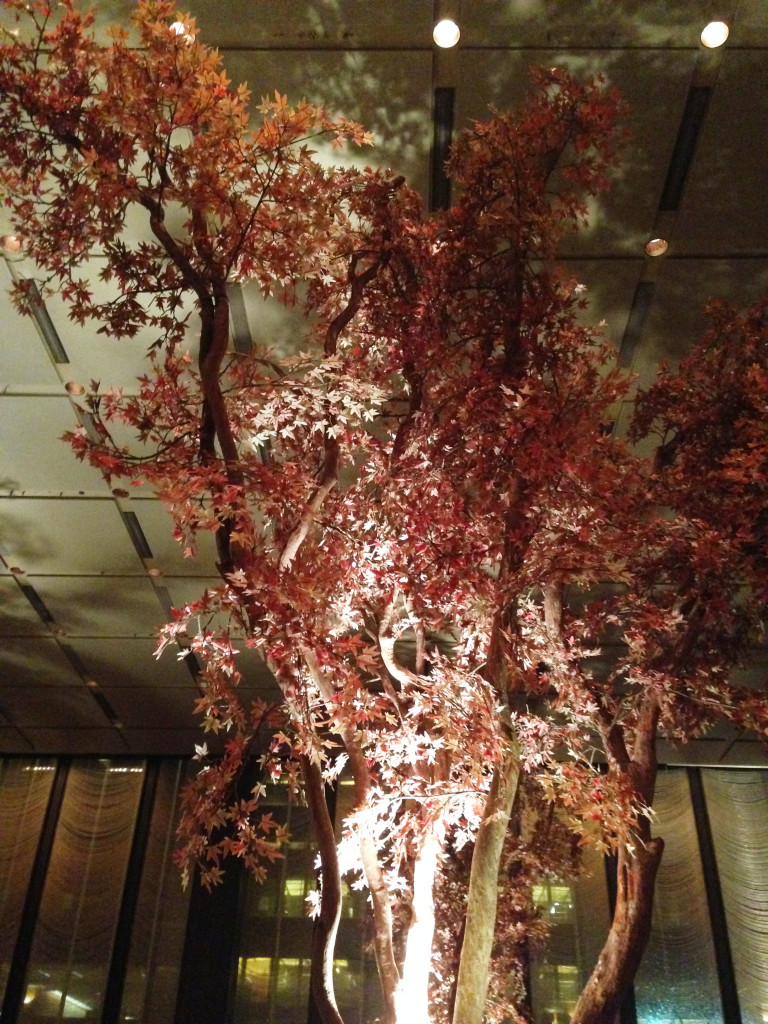 Another cool surprise was that the wine list came on an iPad, which somehow confused my dad despite the fact that he has an iPad at home that he uses quite regularly… Still pretty cool though!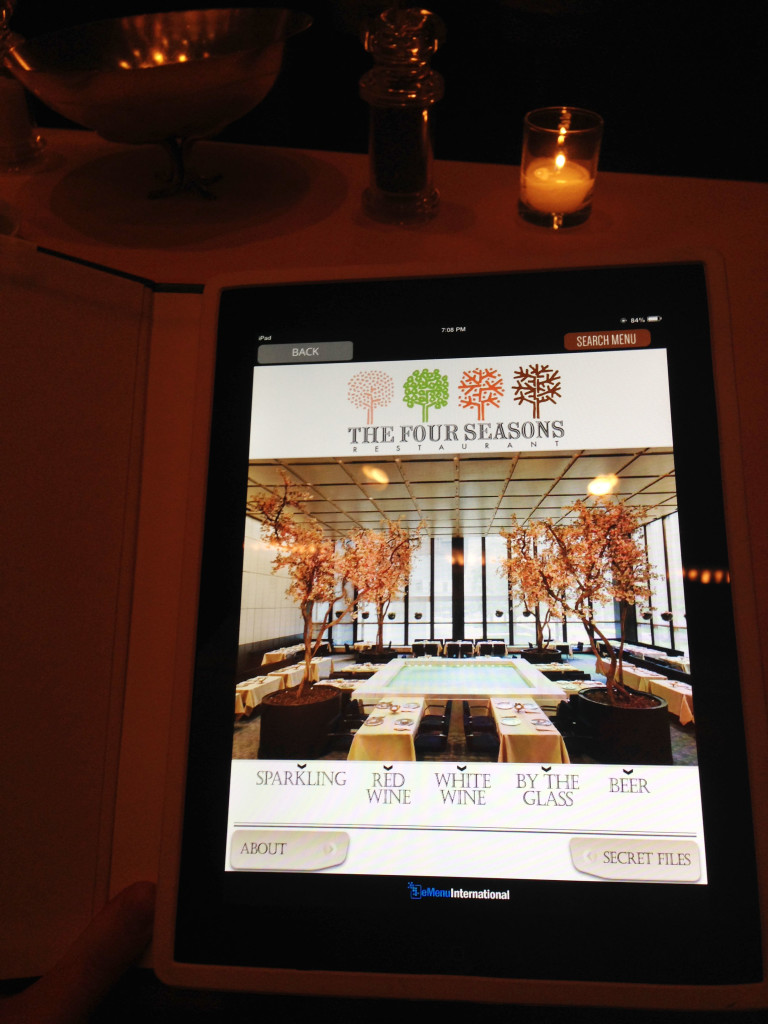 We, and by that I mean that dad did since I'm still clueless when it comes to nice wines, ordered a Syrah blend from Napa Valley that was light and fruity. Granted I've been known to drink boxed wine so I may not always have the highest standards, but this was some awesome wine.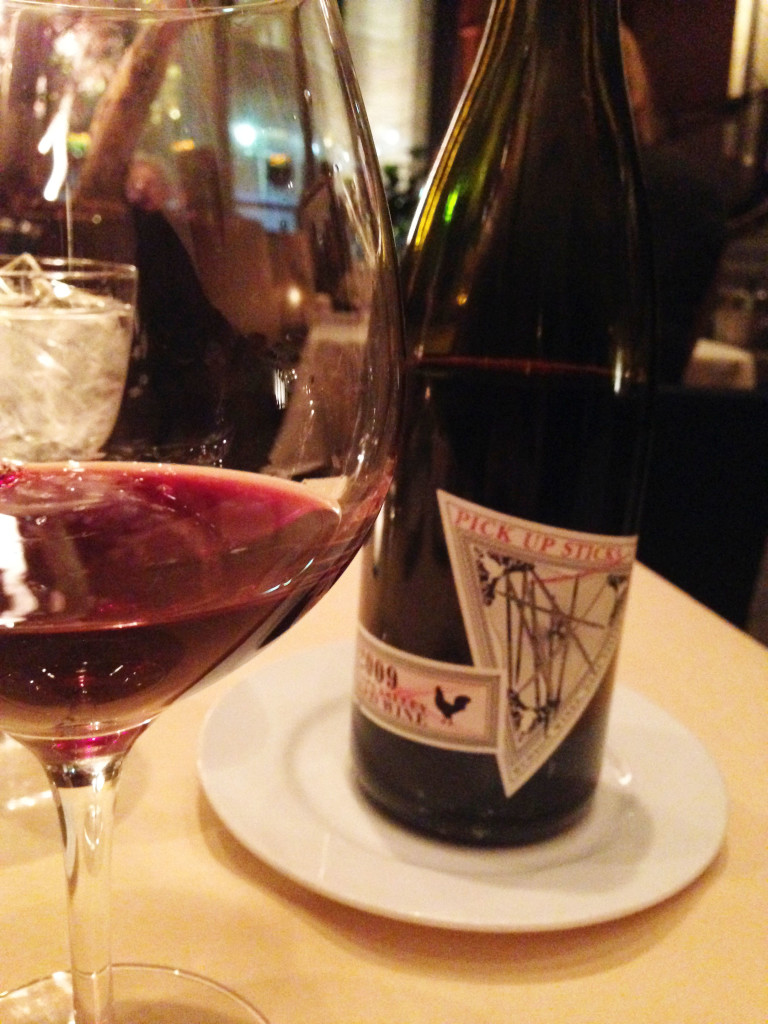 We perused the menu and decided that we would get two appetizers to split and then our own entrees. I'm a huge fan of ordering multiple dishes so that I can try the maximum number of dishes possible, which probably makes me gluttonous but who really cares when the food is out of this world?! I even got the waiter to take a picture of us before we started drinking which is always a good idea in my case because I tend to be a bit of a lightweight.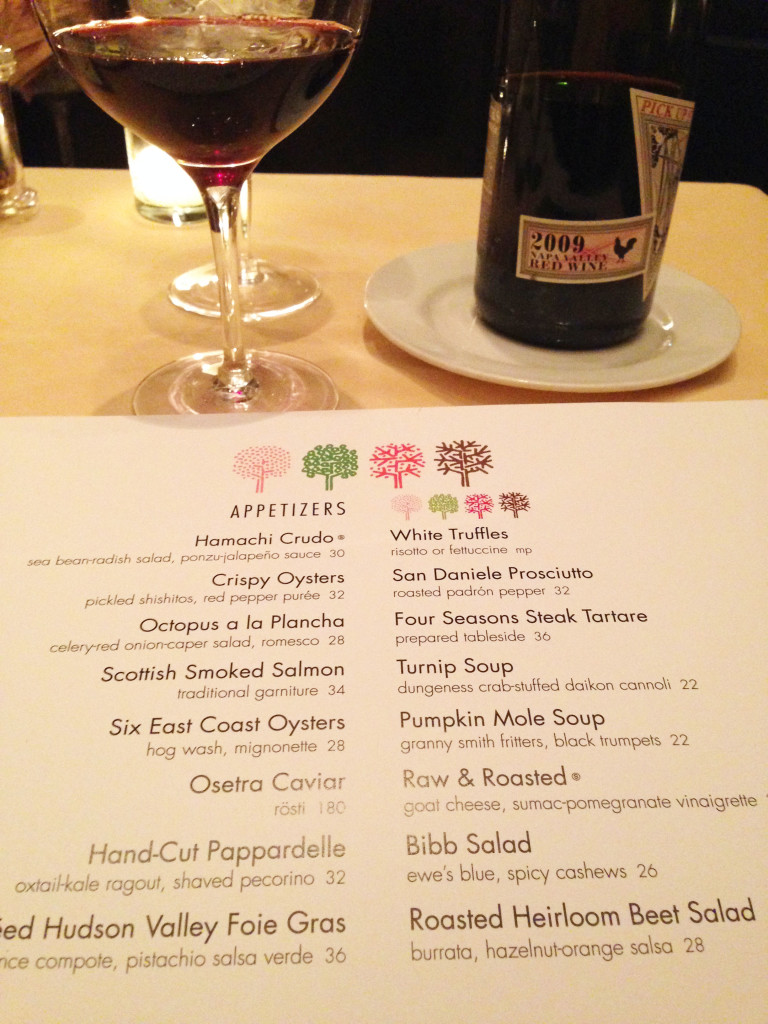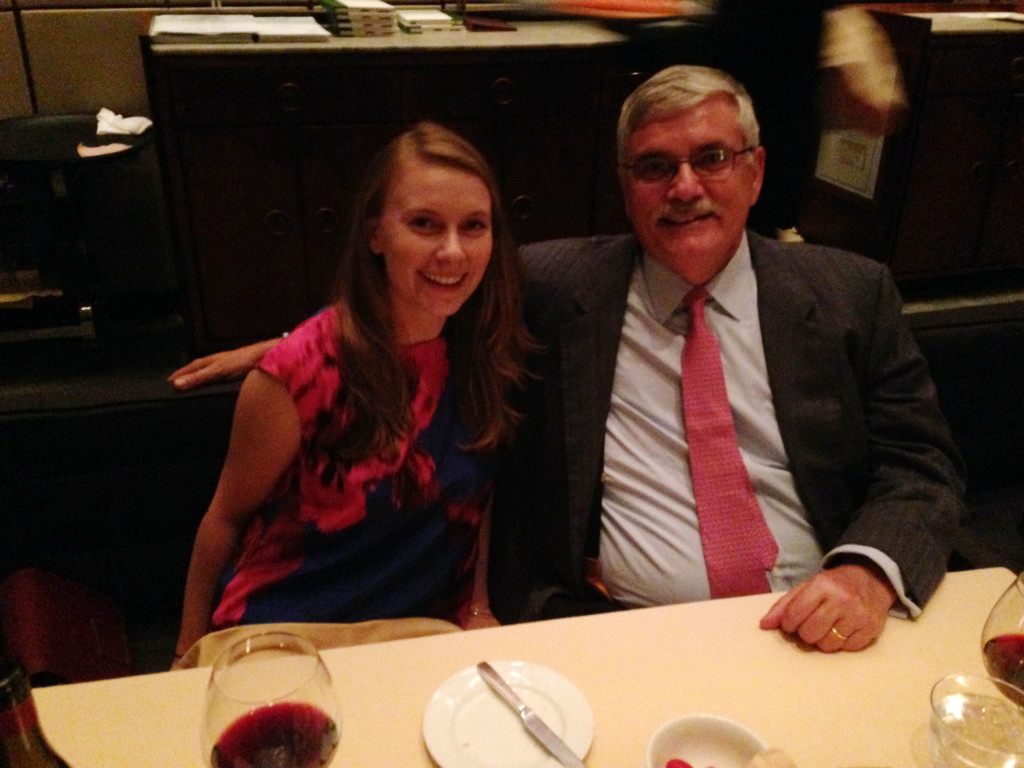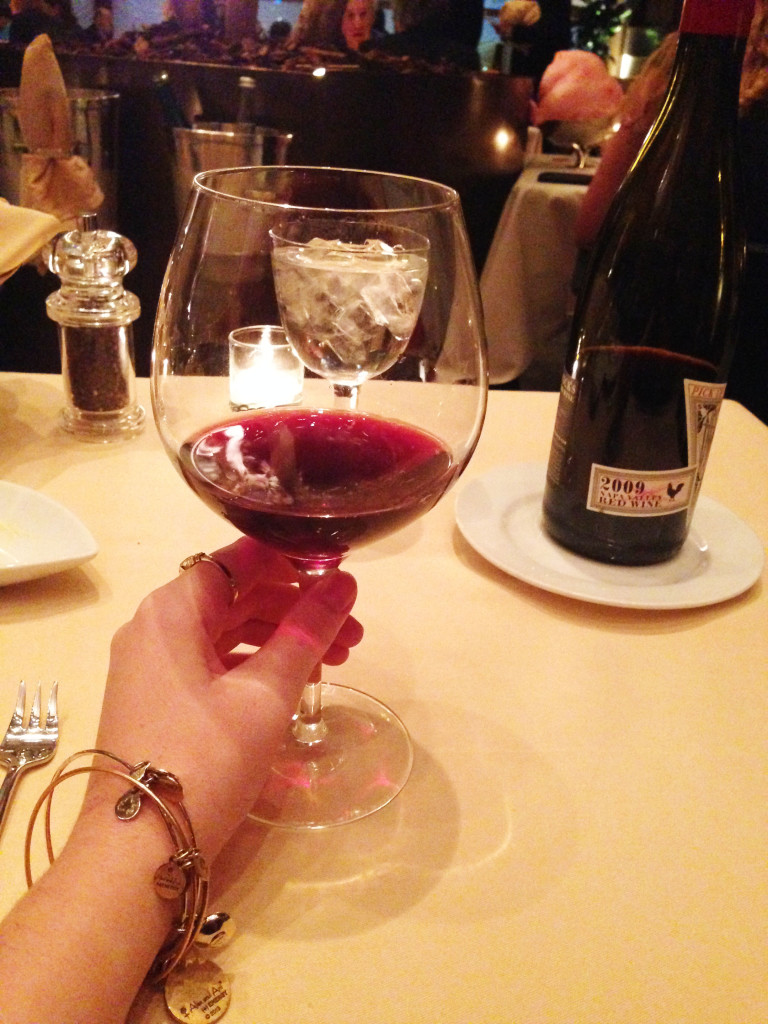 Dad ordered the Hamachi Crudo, which came drizzled with the most amazing jalapeño-ponzu sauce and fun little nibbly bits. I'm a big fan of raw fish in the first place, but the hamachi was so buttery and soft that I'd even recommend it to my non-fish loving friends.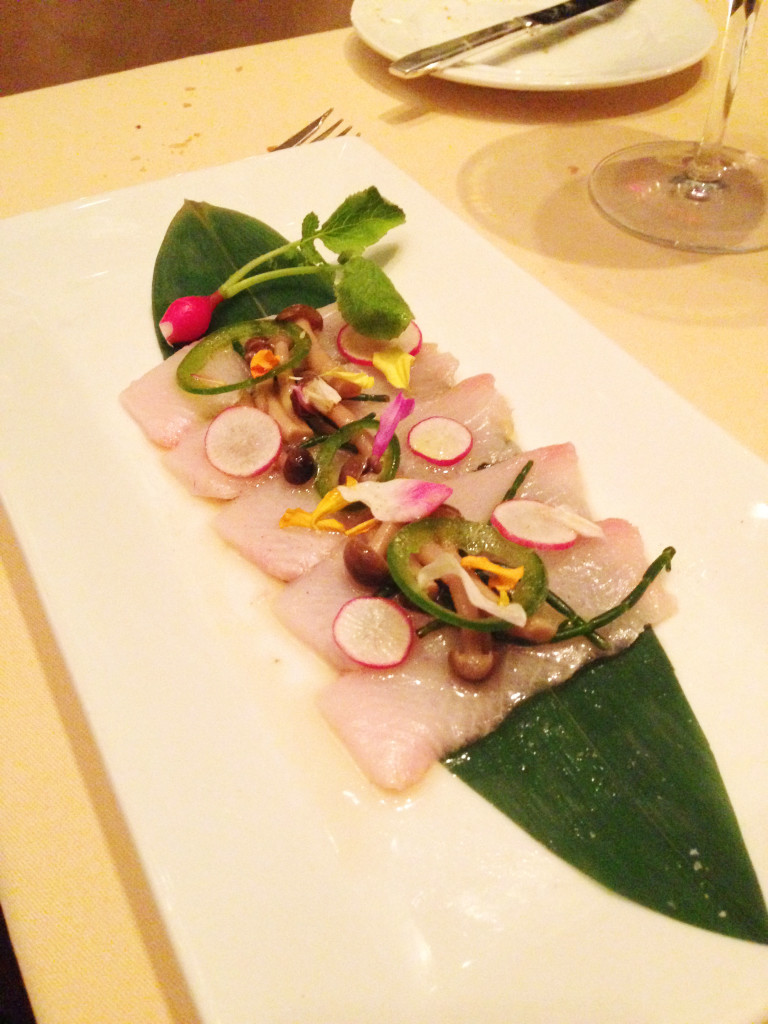 After much debate, I went for the Crispy Oysters and I'm not lying when I say that they kind of blew my mind. I actually hadn't tried oysters until this past summer and I've become a little obsessed with them since, which probably isn't always great for my wallet.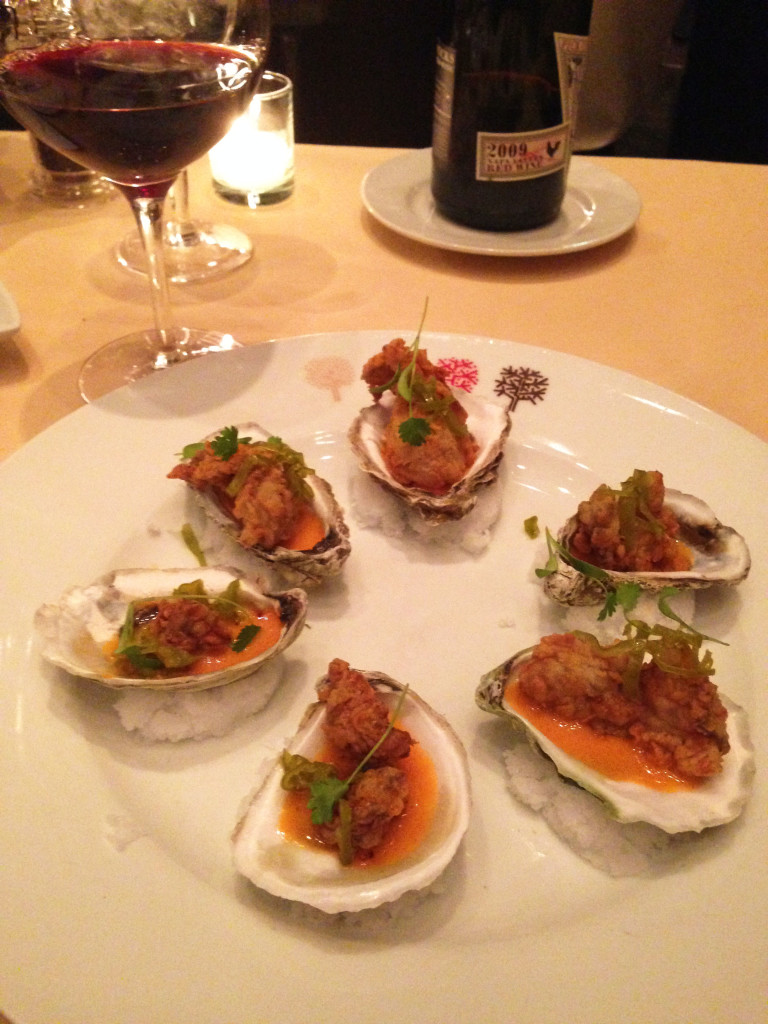 Sitting pretty in a red pepper purée, the oysters had the perfect combination of spicy and crunchy in each bite that I was sorely tempted to order another plate of them. Definitely not the right choice for those who are more health conscience but it was just one of those #treatyourself kind of nights!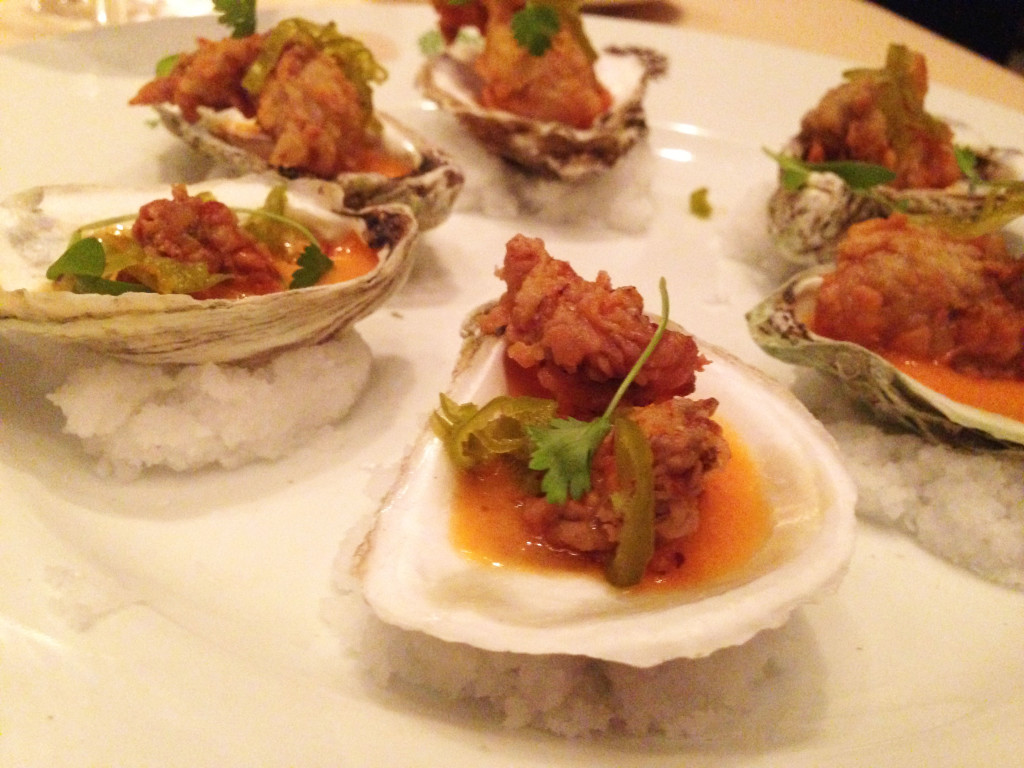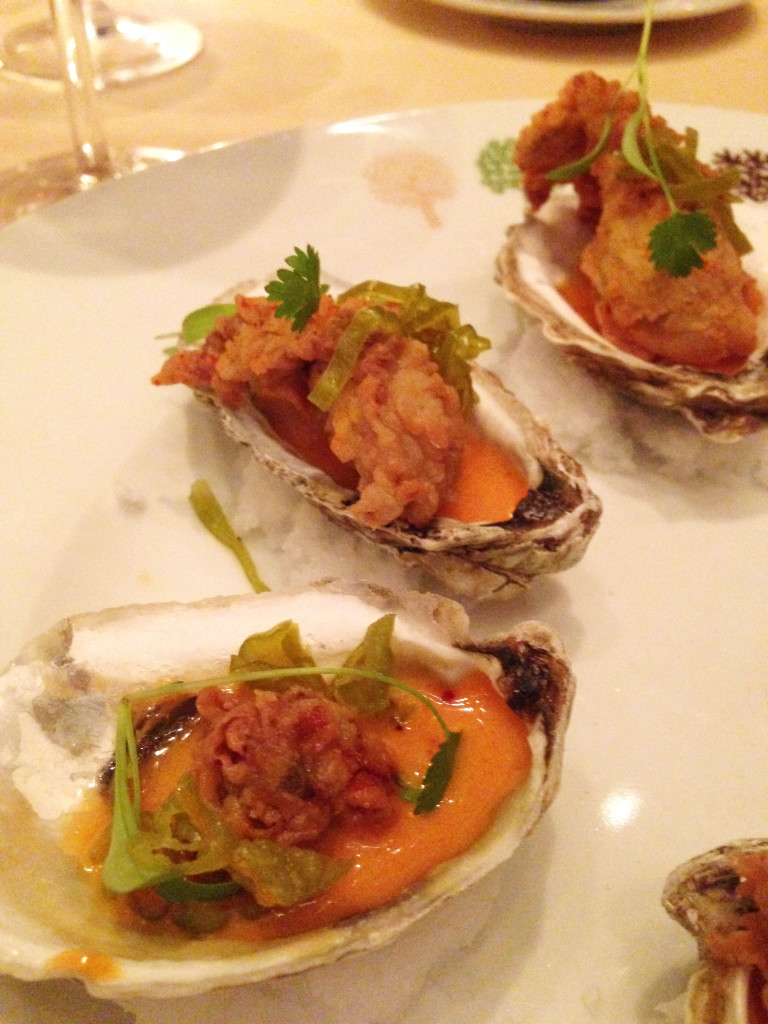 Between courses we drank our wine and talked about how although I felt completely lost at my job when I first started (I cried after my second day because I felt like I wasn't smart enough!), that I definitely feel like I'm getting better and smarter everyday because I'm constantly pushing myself to be the best. Which definitely makes me want to bang my head against a wall sometimes but I feel so much more accomplished each night when I go to bed!
Serious talk aside, our entrées were incredible. Dad ordered the filet of bison and I went for the quail. Both dishes were served with seasonal vegetables and the most amazing gravy-like sauces. Light but hearty at the same time, we were happy and very full by the end of the meal.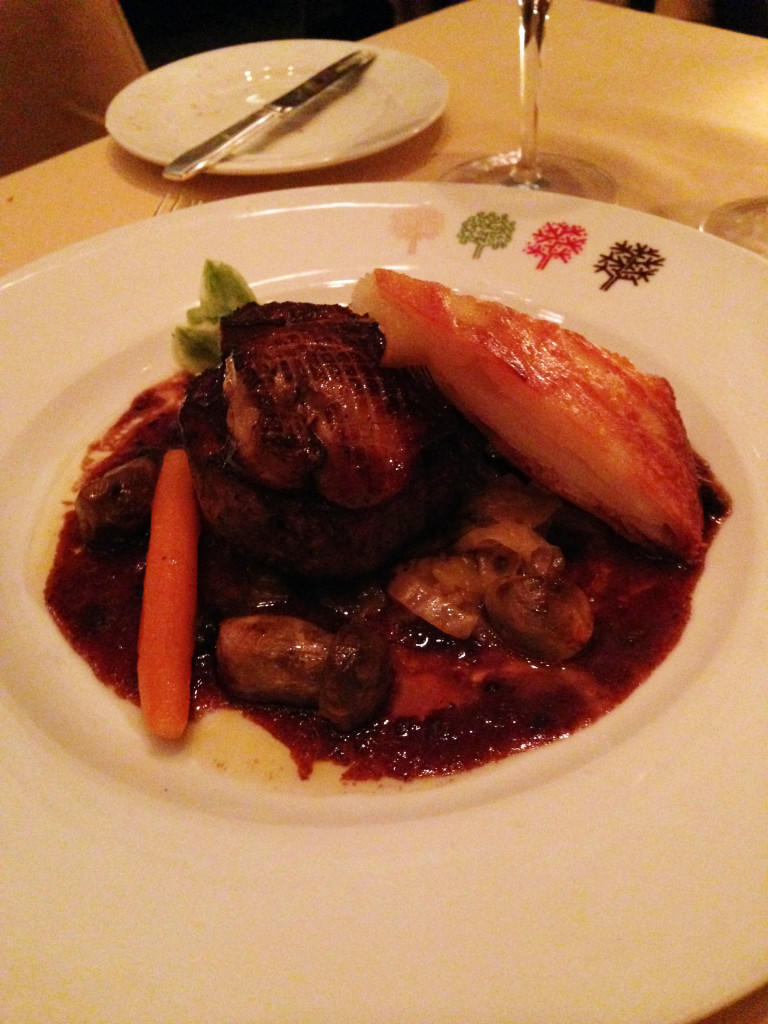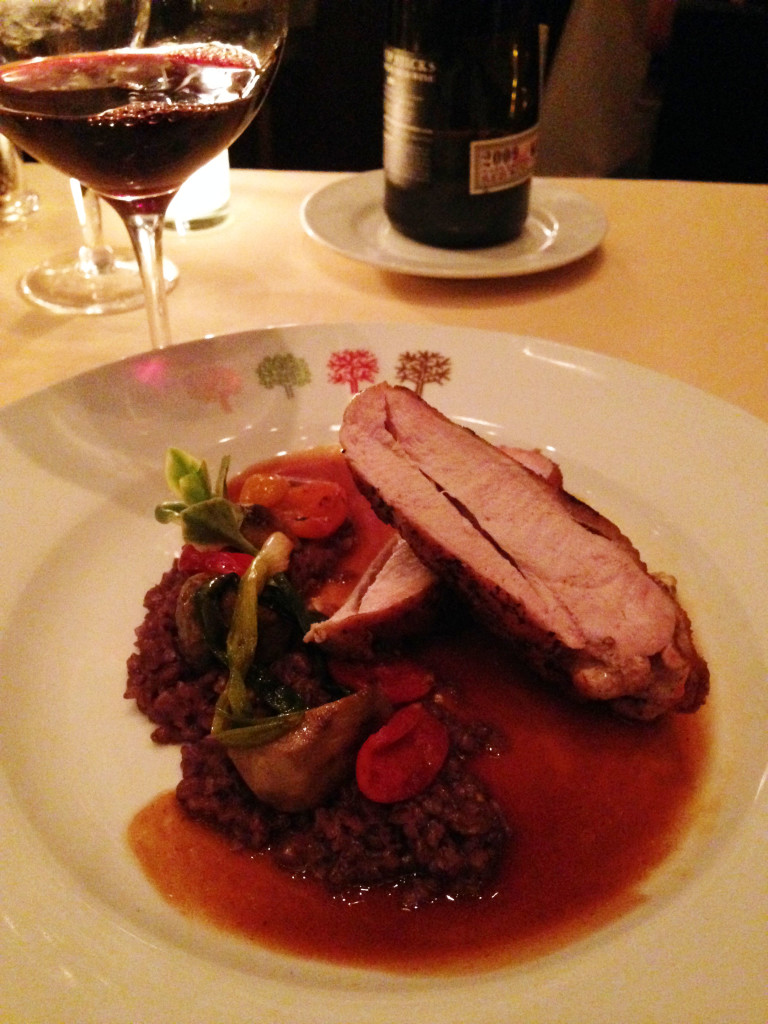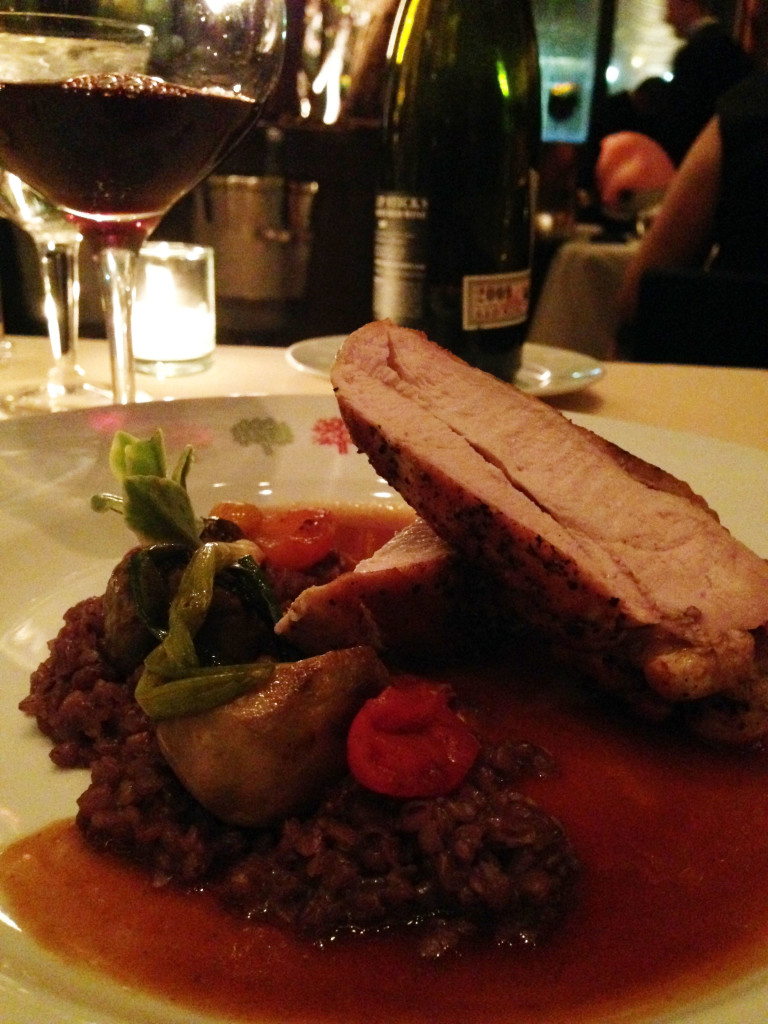 And now for the best part of the meal… the COTTON CANDY! The Four Seasons gives each table a massive ball of cotton candy for free after dinner, and to say that I was excited would be a total understatement. I'm pretty sure that my eyes got super wide when our waiter brought it to our table because he sort of chuckled and assured me that it was all just for us.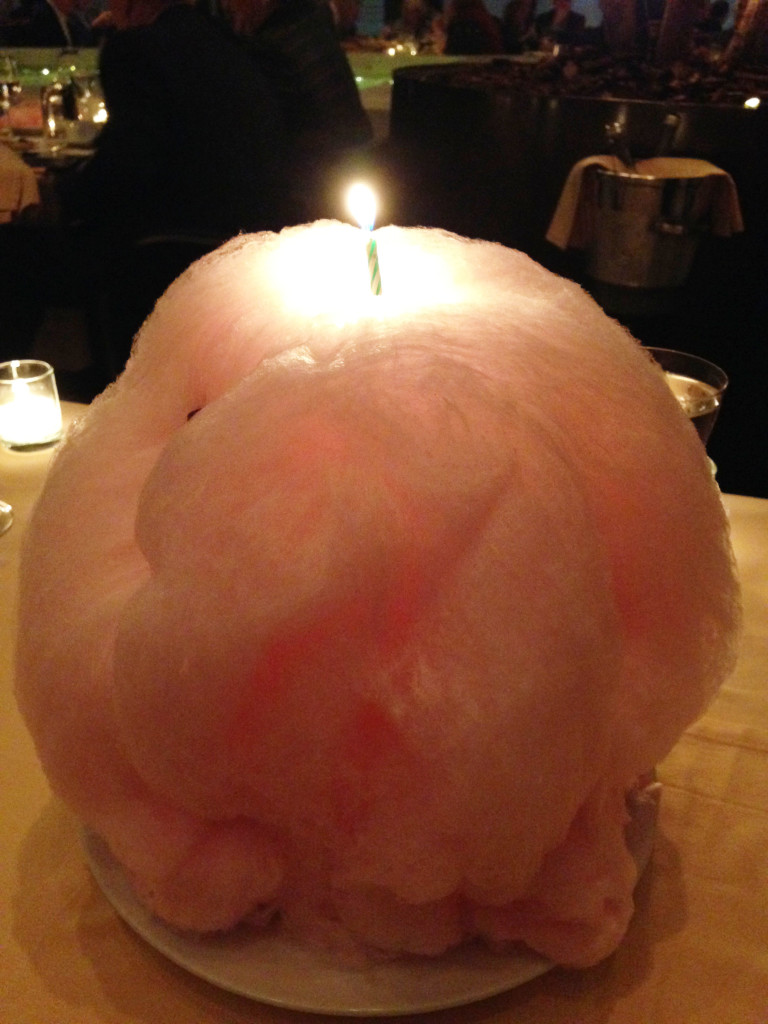 I even got to blow out the candle on top and it wasn't even my birthday!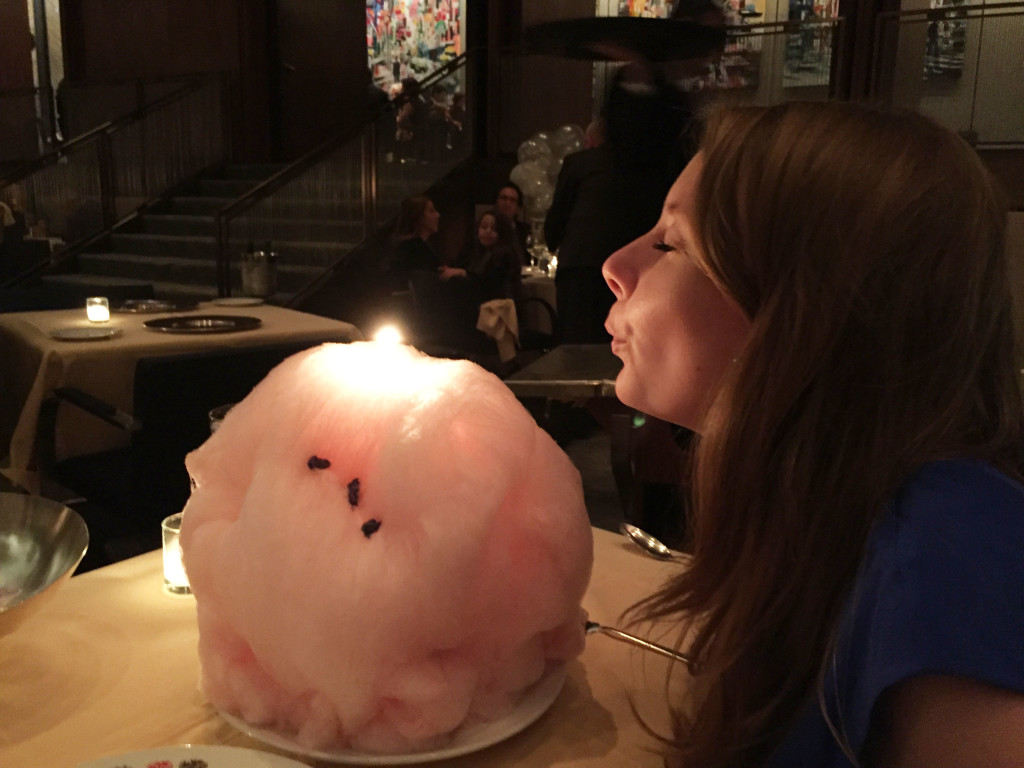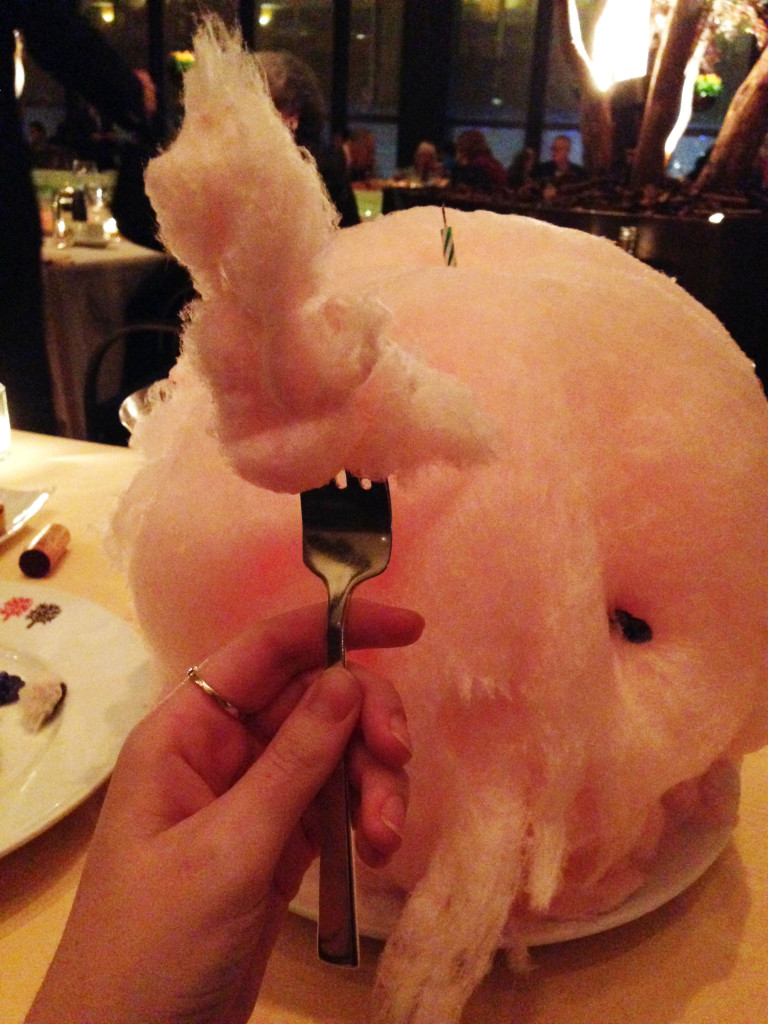 So the next time you're in Manhattan and looking for a swanky restaurant to impress relatives, business coworkers/clients, or just want a romantic setting for your next date night, you should definitely check out the Four Seasons' Pool Room!
99 East 52 Street
New York, NY 10022