New York City is one of those places that just seems to have it all. Stylish people, fascinating museums, and, of course, more food and restaurants than I think I'd ever be able to try in my life (even though I'd love to try!). In particular, there was one restaurant that I'd been dying to try for what feels like forever now after seeing countless blog and instagram posts dedicated to their food–Jack's Wife Freda.
So when my boyfriend and I were in the city, I knew that I'd have to drag him along with me for breakfast. And I even got to introduce the restaurant to his aunt who's lived in the city her entire life, which was definitely exciting.
Bright-eyed and bushy tailed, the three of us headed on over onto Lafayette Street for breakfast on our last day in New York. I would have loved to sit outside but all of the tables were filled and so we made our way inside. Maybe next time! All of the tables were situated close together, which I actually really liked because it gave the restaurant a cute homey vibe and plus it made it super easy to sneak peeks at what people around us were ordering. Do any of y'all do that as well?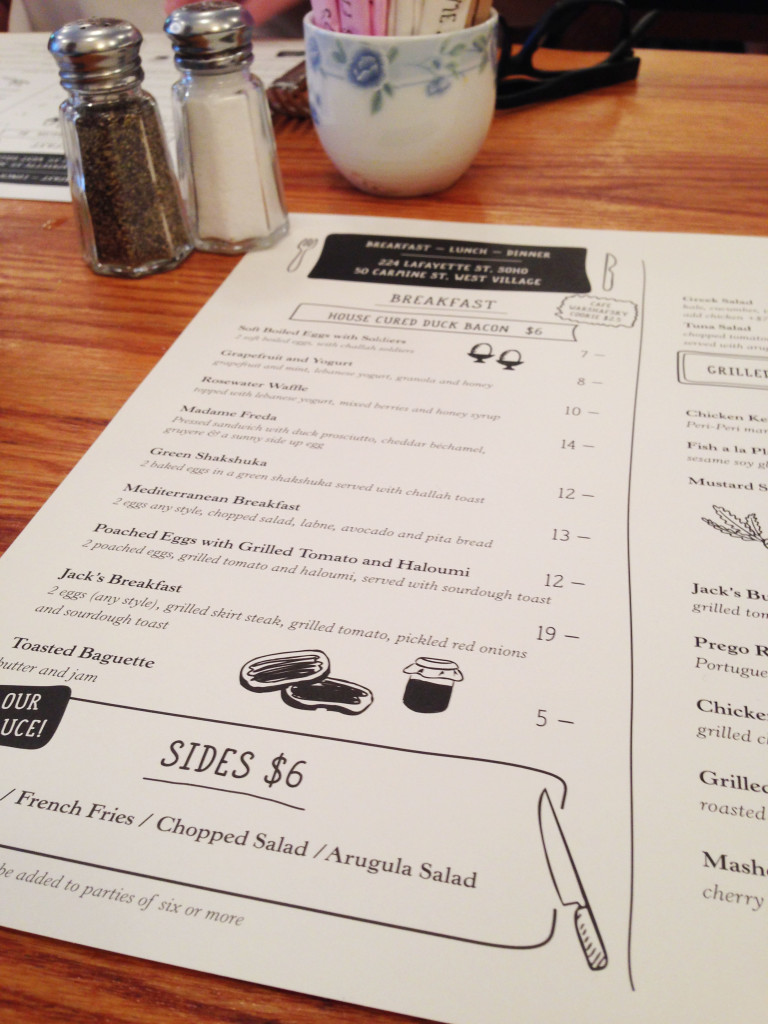 Jack's Wife Freda's breakfast/brunch menu has classic options with Mediterranean twists, so you don't find yourself eating a normal Eggs Benedict here like most brunch spots. Not to insult eggs bennie because they're near and dear to my heart, they just get a little monotonous sometimes and it's nice to have exotic spices and flavors to spice up brunch from time to time.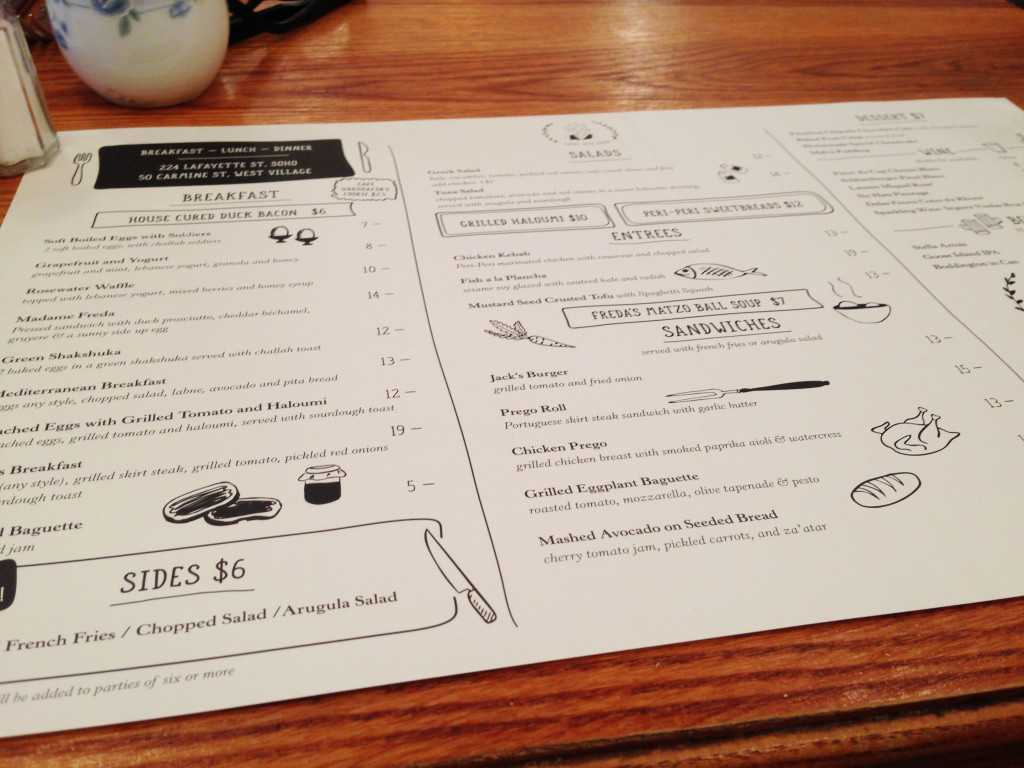 I'd taken a look at the menu online before we got to the restaurant, so I knew exactly what I was going to order. Does anyone else do that? I feel like I'm so indecisive about ordering food that looking at the menu ahead of helps me not take like 5 hours to decide what I want to eat!
Anyways, I ordered the poached eggs with grilled tomato and halloumi and let me tell you, it was delicious. I've been a huge fan of halloumi since studying abroad in London two years ago (I still make it for myself for dinner from time to time), so I was super excited to see that they had it on the menu. And because I'm such a big fan of both duck and bacon, I also ordered a side of the house cured duck bacon, which was totally the best of both worlds.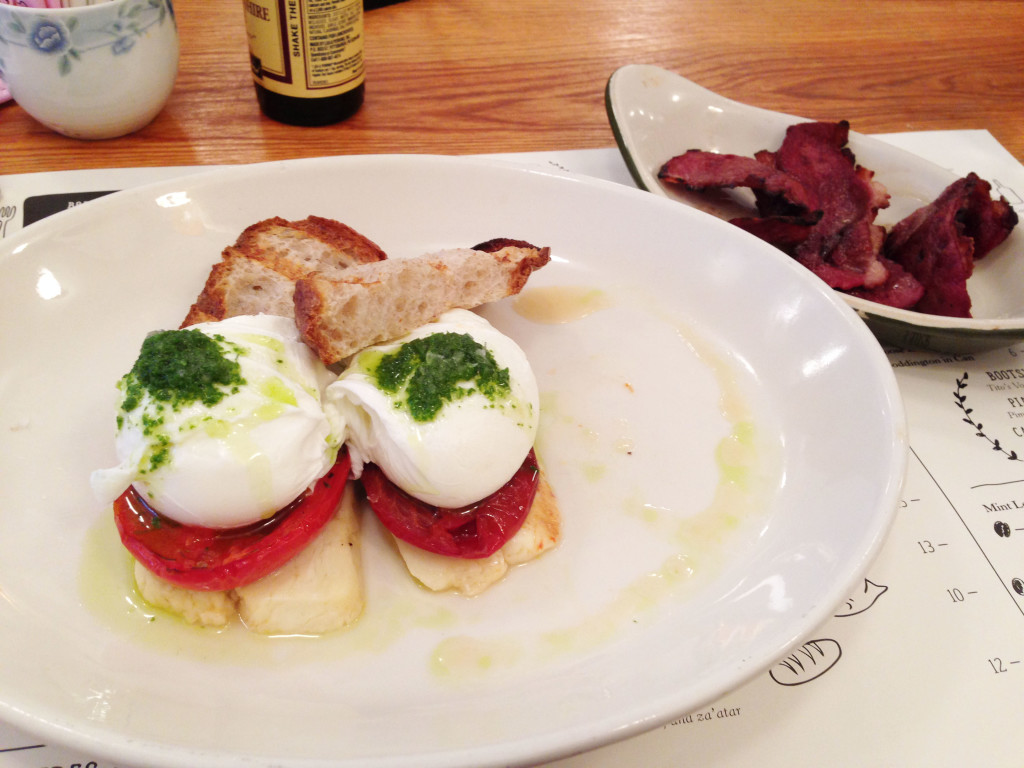 The eggs were delicious and runny, perfect for dipping the sourdough toast into, and the halloumi added a salty dimension that was not only interesting but very delicious. I'm not even embarrassed to admit that I loved this meal until the very last bite!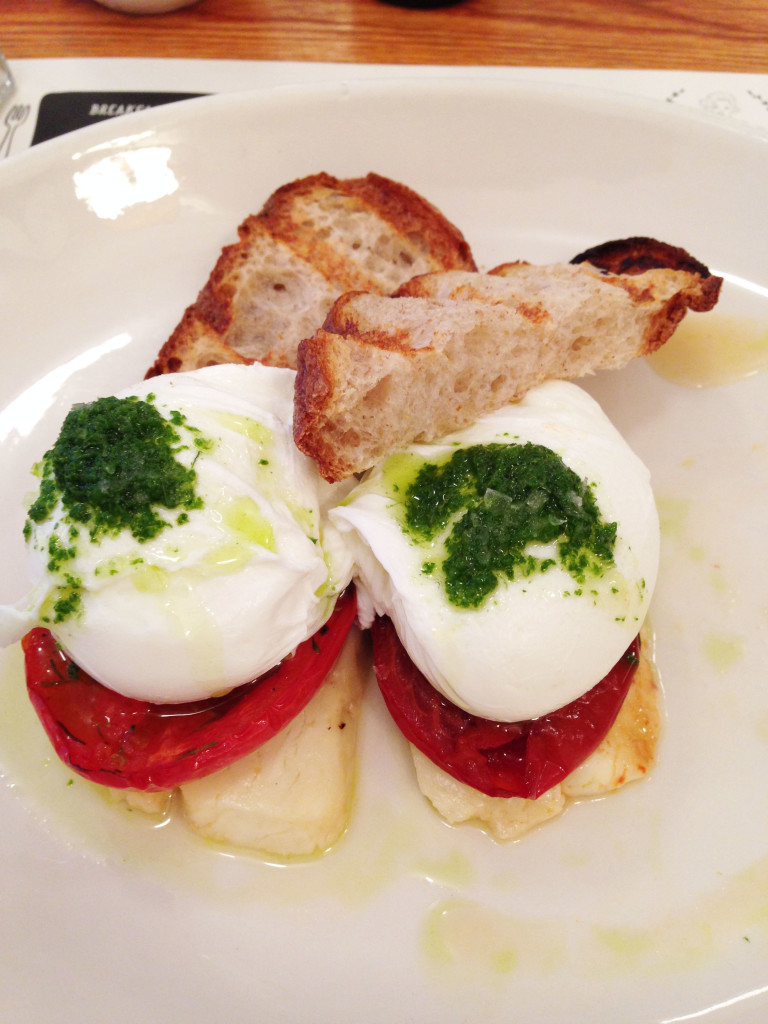 My boyfriend ordered the green shakshuka which, like it's vibrant color, was also an explosion of flavor. I'd never heard of this dish before but apparently my boyfriend's mom makes it all of the time, and so he was excited to have me try something that's such a staple in his diet. He probably got annoyed with me pretty quickly after letting me try it because I kept dipping my bread into the sauce but luckily he thinks I'm cute, so I think that I may have gotten away with it.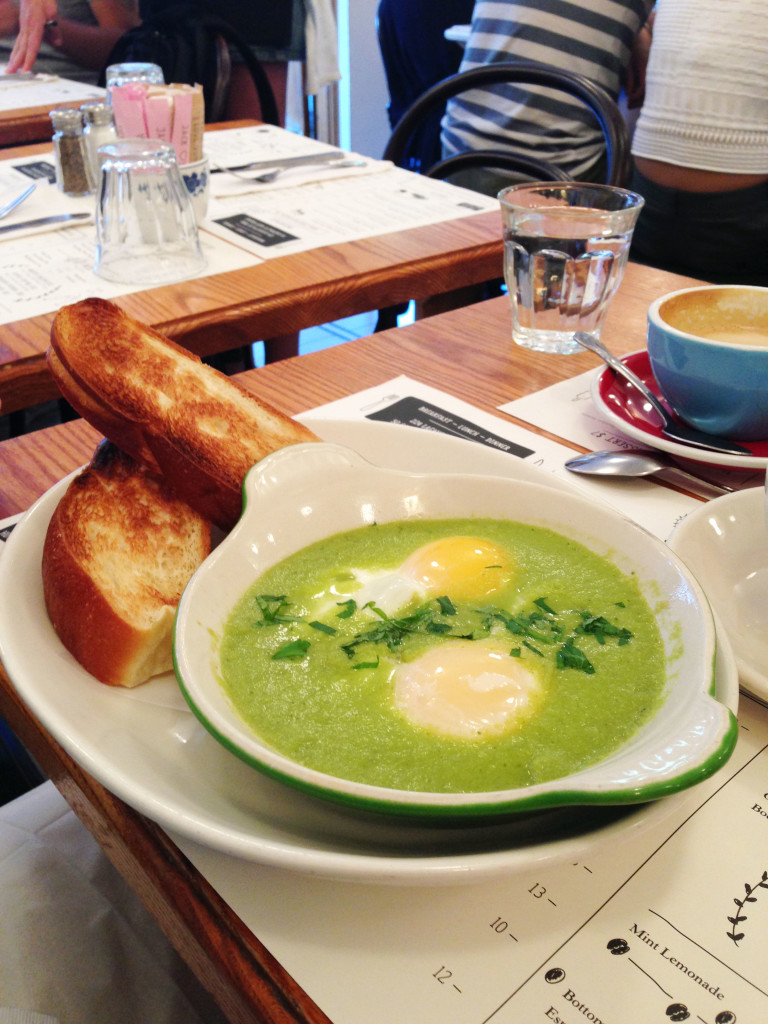 His aunt ordered the Madame Freda and although I didn't get to try it, the combination of duck prosciutto, gruyere cheese and a fried eggs sounds pretty intoxicating.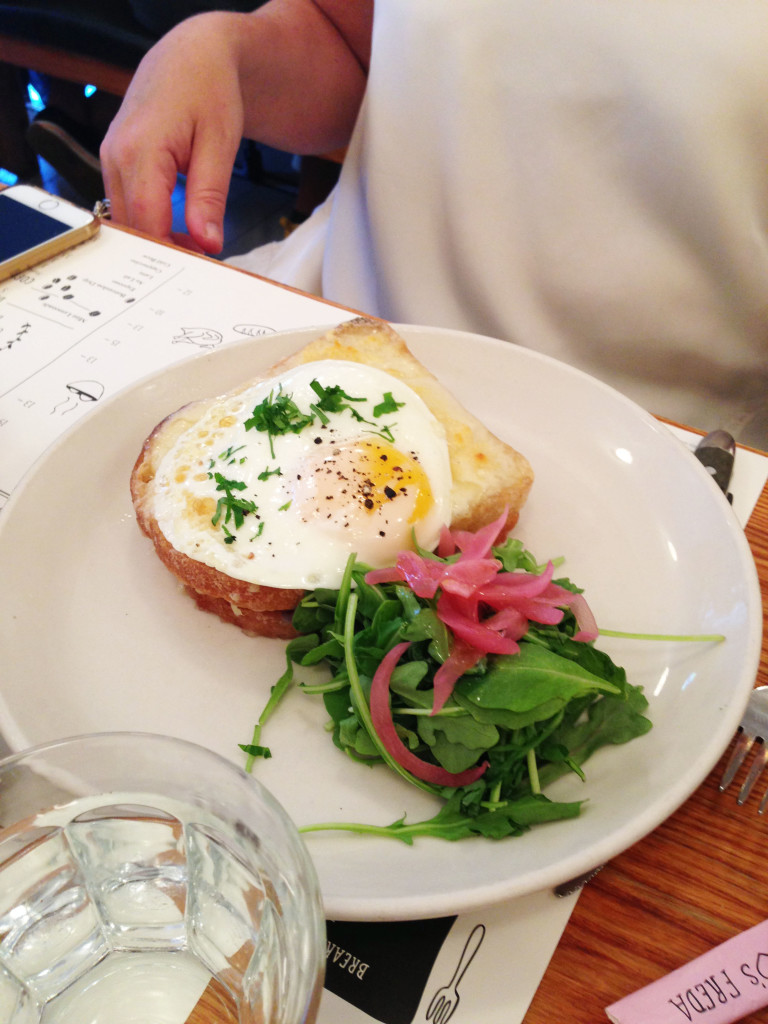 We sat huddled together, laughing, eating and just chatting about what was going on in our lives and what my boyfriend and I had planned for the rest of the day.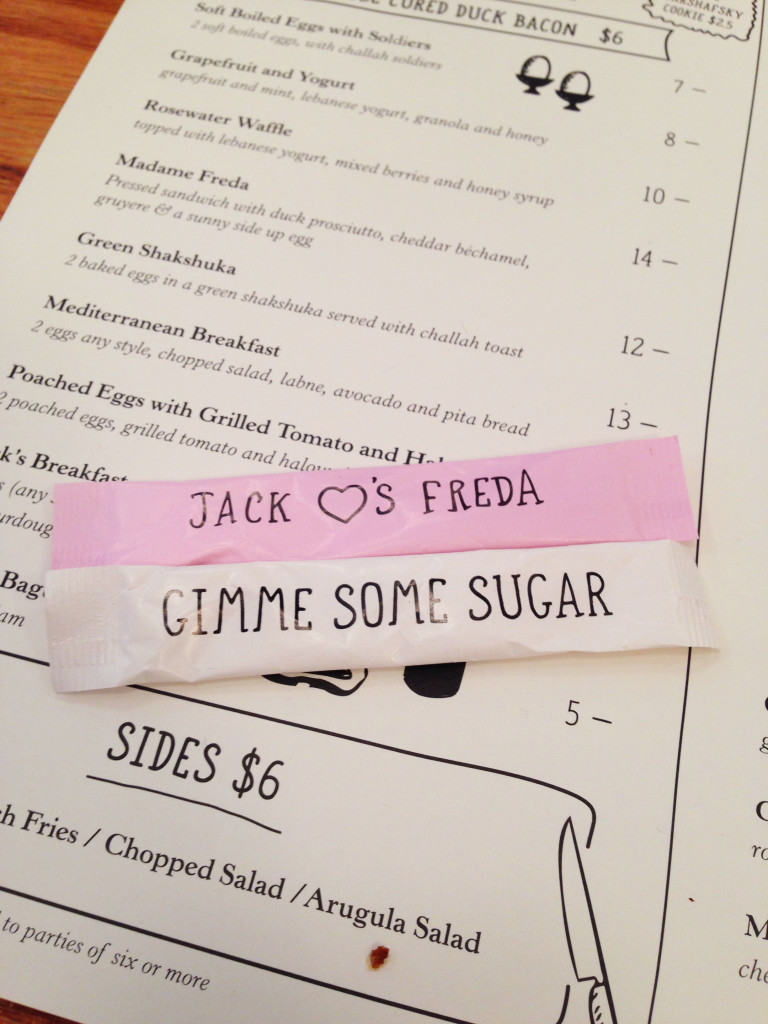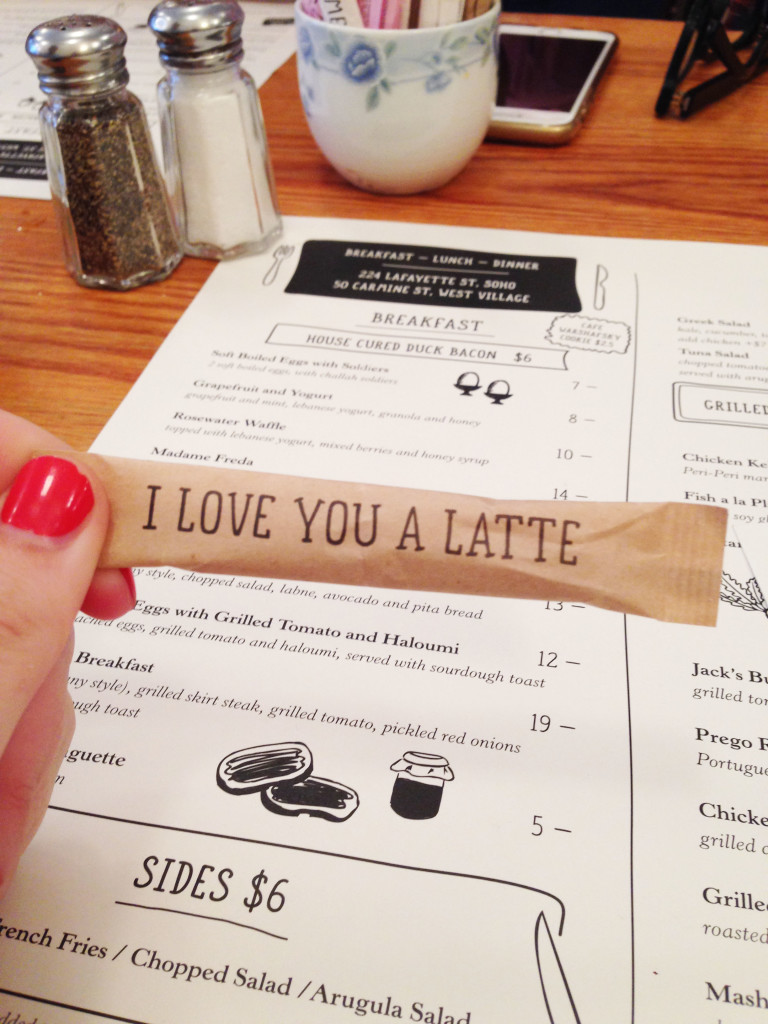 So if you're looking for an unusual brunch place with delicious food and an even better atmosphere, check out Jack's Wife Freda for one of the best brunches in the city!
224 Lafayette Street
New York, New York 10012