I love New York City. There's just something about the Big Apple that's captured my imagination and heart for as long as I can remember. This love is probably ingrained in me because my dad (and basically the entire side of his family) is a born-and-bred New Yorker. Plus I only live about an hour's train ride away now, so it's easy for me to get into the city.
So when my boyfriend and I planned a trip to New York, you can bet that I was super excited for our weekend away. What made it even better is that we got to stay in his aunt's apartment in Manhattan, just along the river. Because, confession time, I'd never actually spent the night in the heart of the city before because we usually stay at my grandparents' apartment in Queens when we visit, or I stay with friends who live in Brooklyn. So you can probably imagine that I was pretty pumped about my first ever night in Manhattan!
A few highlights of getting to stay in Manhattan included:
Coming into the city from Queens is really a commitment. First you have to get to the train station, then take the LIRR for 20+ minutes, and then catch a cab to wherever you're going. So I guess I never really comprehended how convenient it is to live in the middle of all of the action. I loved that we were able to stay for late-night at the Metropolitan Museum of Art on Friday night then and be back to the apartment before 10:30 without having to worry when the next train would be.
Another confession: other than riding the tube and (sometimes when I couldn't find a cab) the night bus in London, I don't actually have much experience with public transportation. But that weekend in Manhattan really taught me that if you know what you're doing, it's almost more convenient and WAY cheaper to take a bus around the city rather than a taxi or an Uber (although I do still love Ubers, don't get me wrong). Luckily my boyfriend's spent a lot of time in the city so he knew the ins and outs of the subway and buses, and so we didn't get lost like we probably would have if I was in charge… Which was nice because it meant that I got to focus on planning what we were going to do that weekend!
I had seen pictures of places like the Highline, Top of the Rock, and Smorgasburg on instagram before, but never thought that I'd get the opportunity to do it myself since all three destinations are kind of out of the way. But Manhattan (and especially my boyfriend's aunt's apartment) is so centrally located that we were able to spend all day at Smorgasburg on Saturday and then do the other two on Sunday. And we were even able to sneak in a meander around The Whitney Museum and a quick stop for drinks that same too! I loved the fact that we had so much free time because I wasn't constantly worried about getting home at a normal time.
Oh my goodness, can we just talk about Seamless for a second?? I'm aware that Seamless delivers to other parts of the city as well, but that was my first time experiencing it and let me just say that it was incredible. Whoever came up with the idea of Seamless is a freaking genius and I love them for it. It's so convenient to just wake up in the morning and have an egg and avocado bagel delivered to your front door in 30 minutes!
And one of my favorite parts of the entire weekend was waking up to the bustle of the city every morning and seeing the sun set behind the iconic silhouette that characterizes Manhattan every night. It's hard to believe that such an industrial city can look so beautiful bathed in pink and orange, and I'll never forget the boat ride that we took at sunset.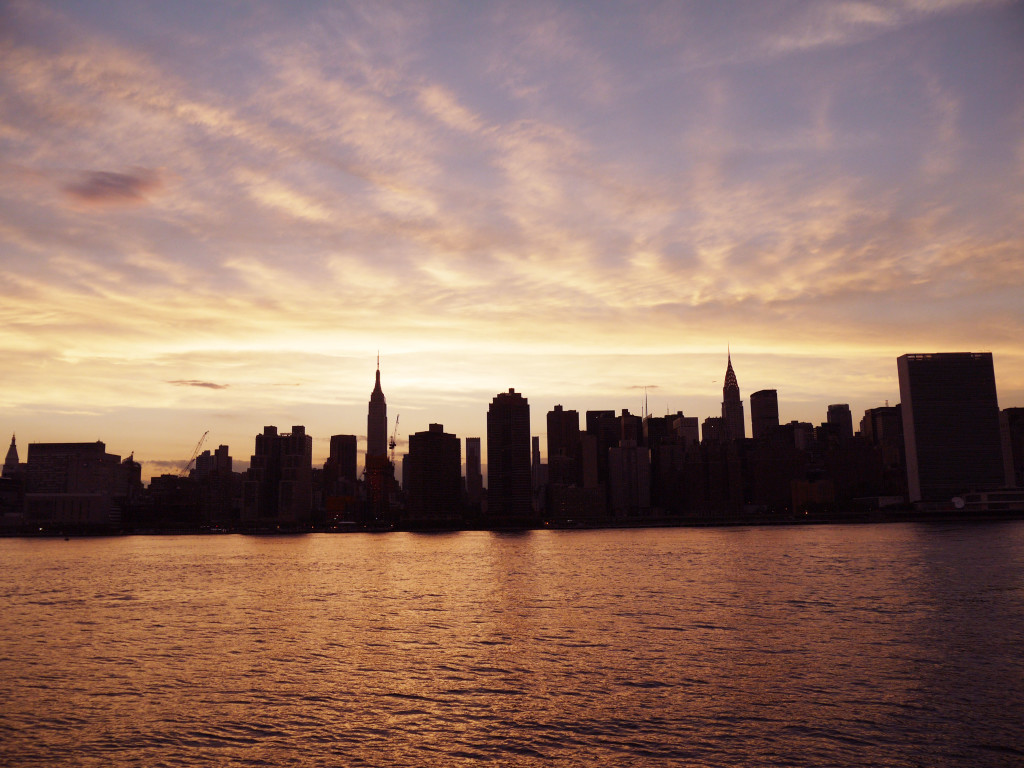 P.S. I totally forgot to add this but walking around Manhattan totally made me feel like Rachel Green from Friends! Now if I could only get my hair to look as perfect as Jennifer Aniston's hair…
What are your favorite parts of New York City or, if you've never been before, what have you heard most about the city that never sleeps?