Two weeks ago, after one of many trips to the Apple store to set up my new laptop because I'm totally inept when it comes to technology, my dad and I went to dinner at a restaurant in Charleston that I'd never even heard of before, Indaco. Located on the upper part of King Street, which tends to be somewhat less developed than the lower end where all of the art galleries are located, Indaco is much further down than I usually venture when I'm downtown. We were a little early for our reservation so they seated us outside, which was perfect since the weather has been so warm down here lately.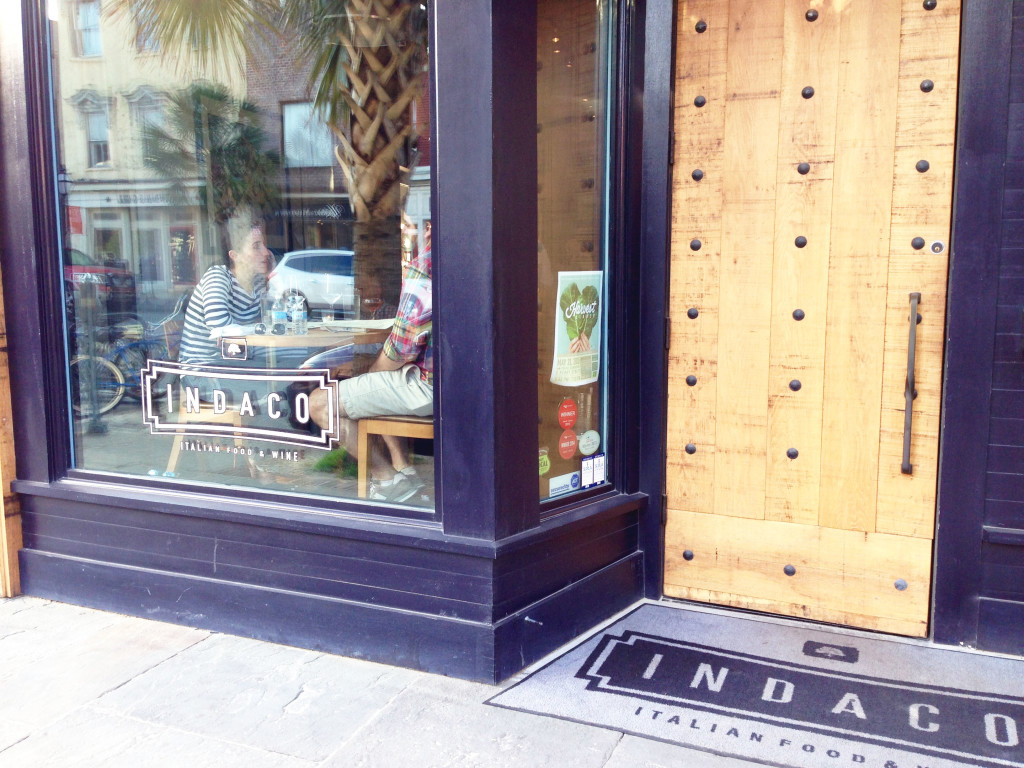 The inside was cute as well with longer, family-sharing tables thrown in together with small, more intimate tables. Very warm and inviting, in my opinion.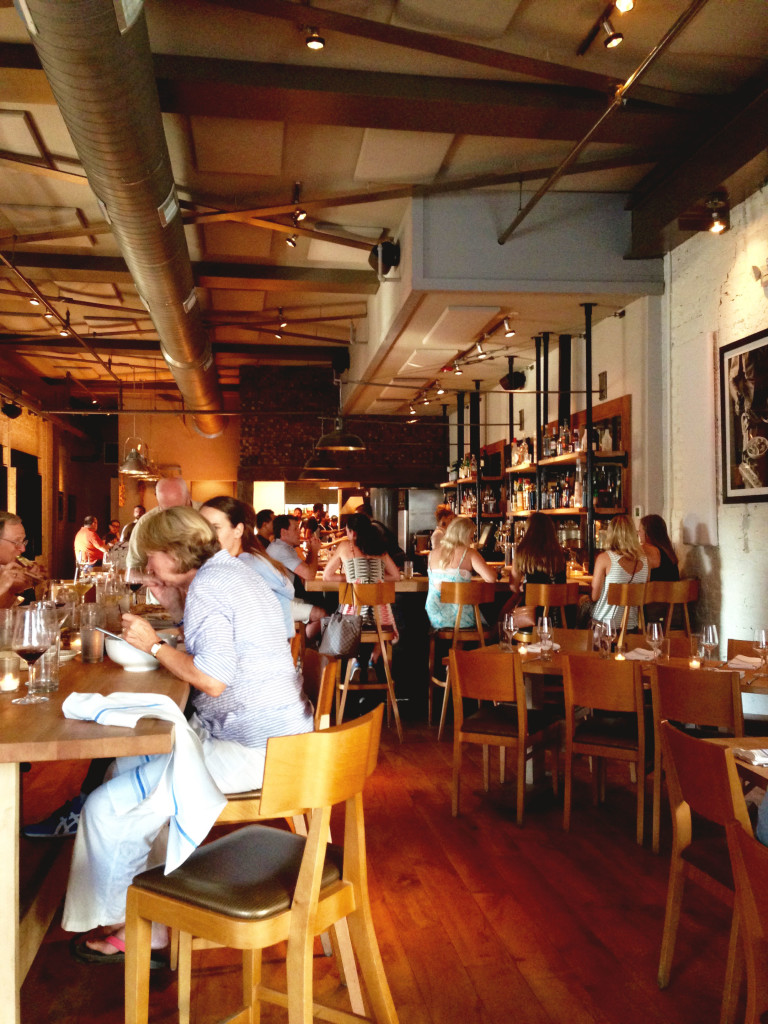 The restaurant describes its food as "rustic Italian" and I would definitely agree with that synopsis. I hadn't taken a look at the menu before dinner, which I have to admit is very unusual for me, but I was pleasantly surprised to find that everything on the menu sounded extremely delicious. I was really tempted to order the pumpkin swordfish, which the waitress informed us is actually normal swordfish but apparently they eat a lot of shrimp during this time of year and so the meat turns a slight shade of pink or orange. How cool is that!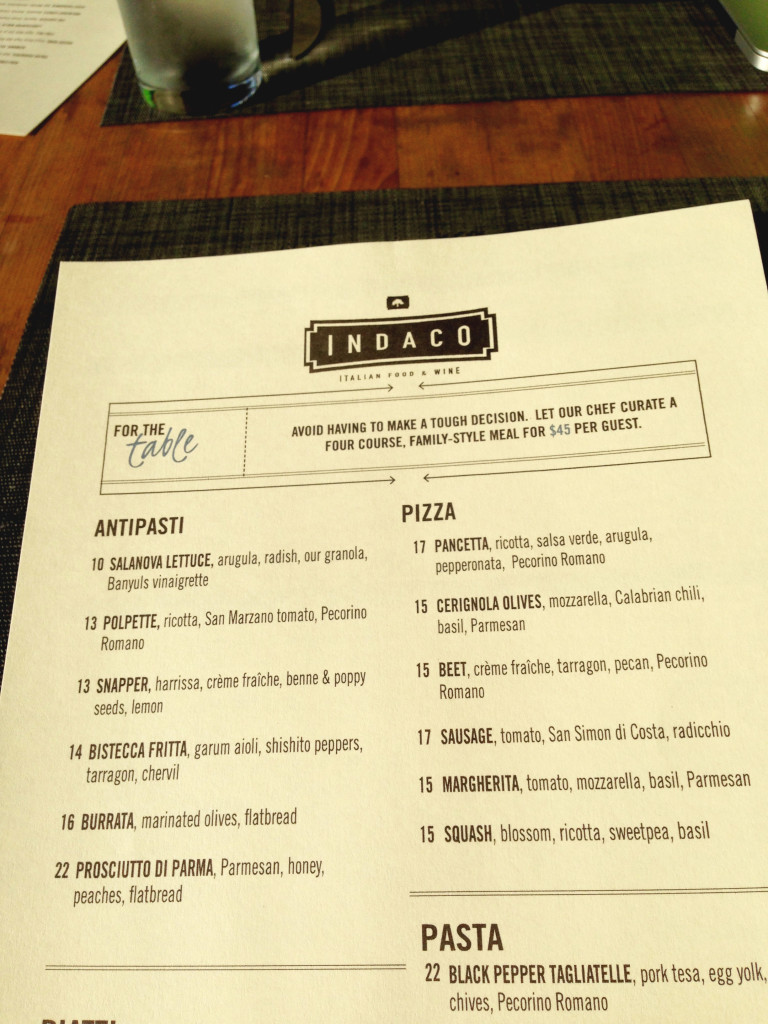 We shared glasses of a Sicilian wine and sipped as we waited for our meals to come out. I've never had a Sicilian wine before and it was actually one of my favorite glasses of red wine that I've had to date. The sun was setting just as we sat down and there were a few other large parties around us, so the ambiance was just perfect for a fun dinner.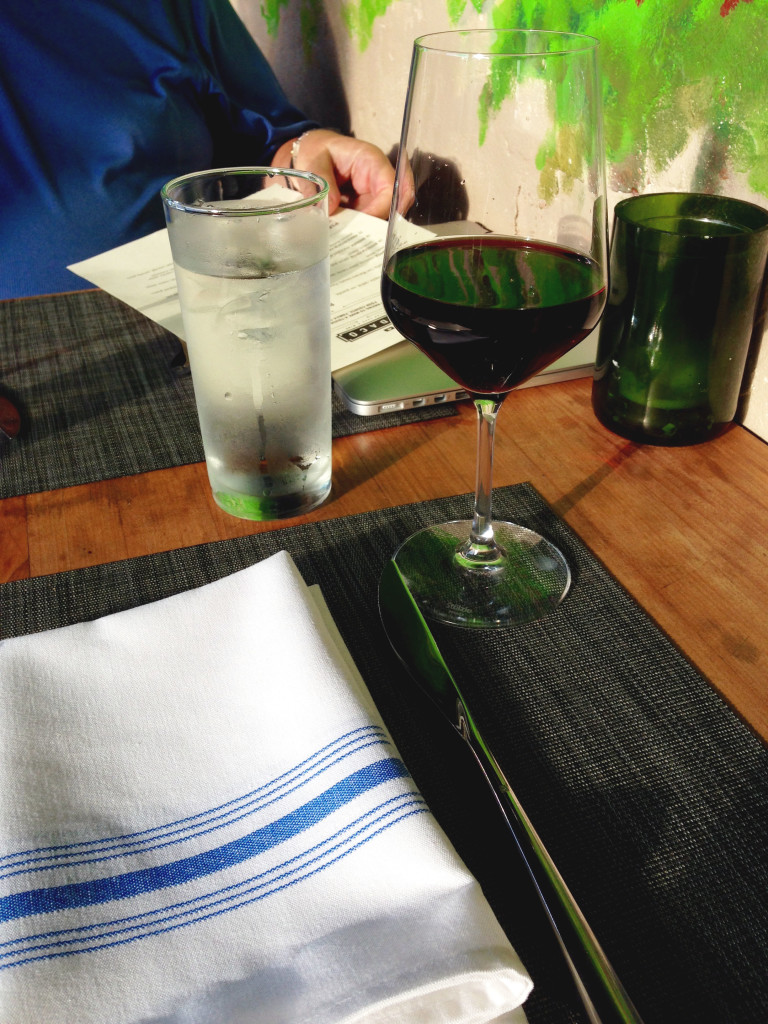 We had decided to forgo on appetizers, which ended up being a good idea because our entrees were very generous in size. I ended up going with the ravioli and dad ordered the spicy sausage pizza.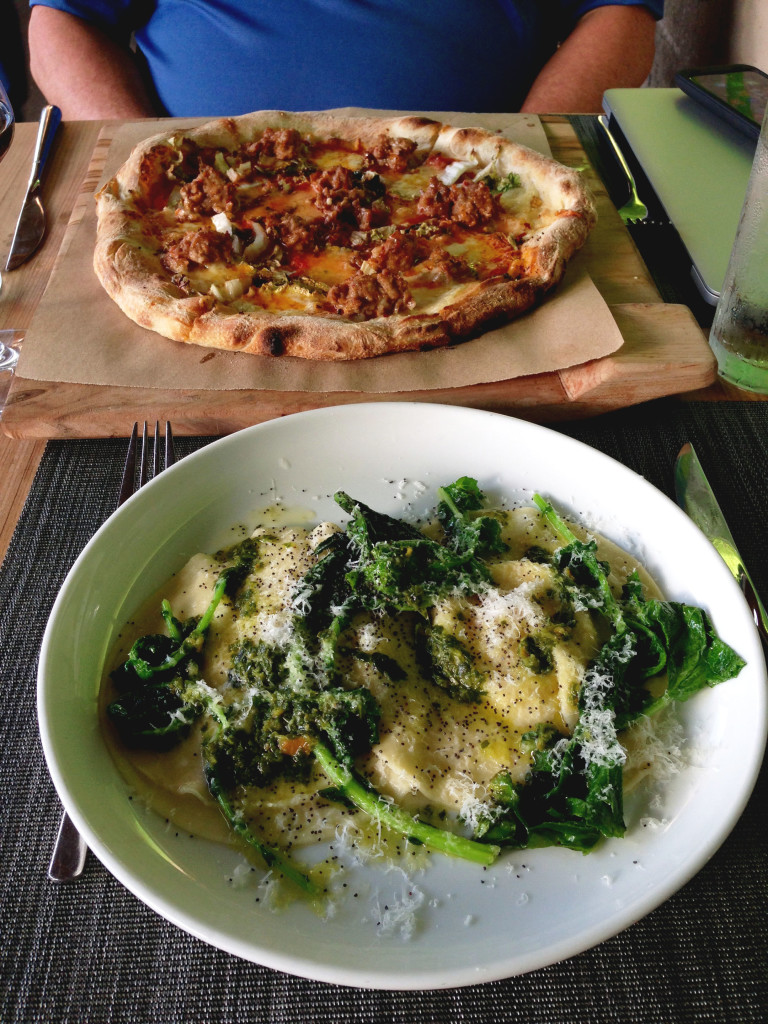 Although dad's pizza was pretty good, I have to (somewhat smugly) admit that my ravioli was definitely the better choice. Packed into the ravioli was ricotta cheese and a deliciously ooey gooey farm fresh egg. The braised greens were cooked to perfection and the freshness of the green paired very nicely with the egg. It made me feel like I was eating a meal straight from a farmer's market!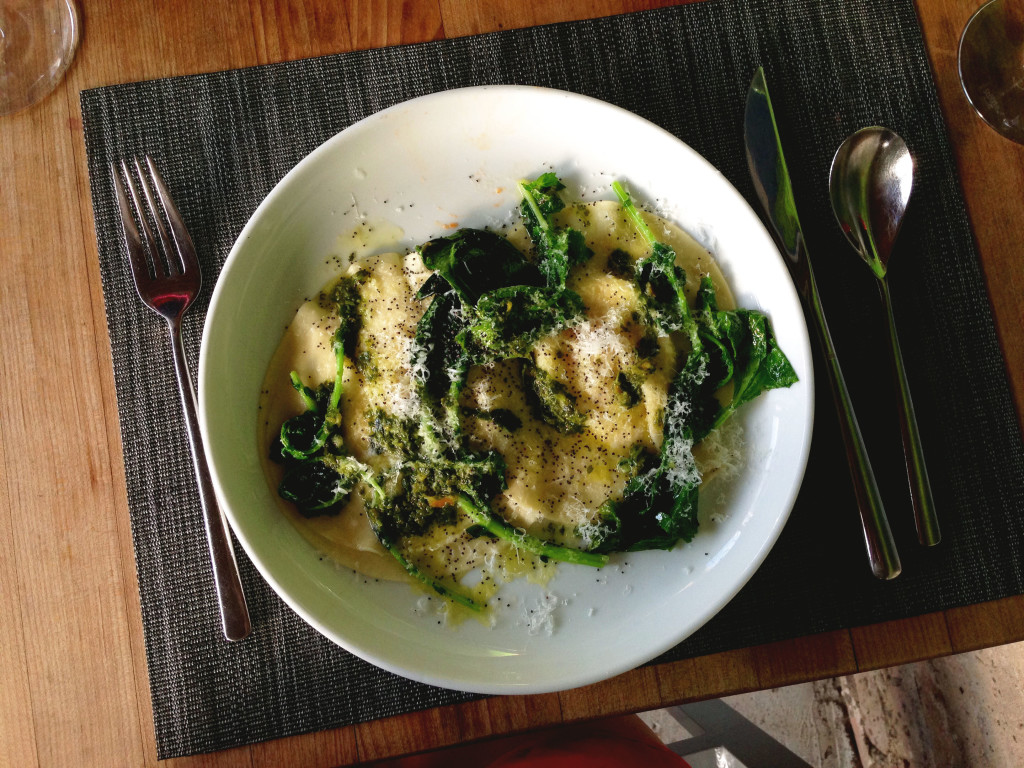 Not to seem redundant but can we just take a break to take in the absolute beauty of the egg running out of the ravioli??! I'm a huge fan of using eggs in non-breakfast dishes so this was just too awesome. Now if only I could figure out how to cook my eggs so well…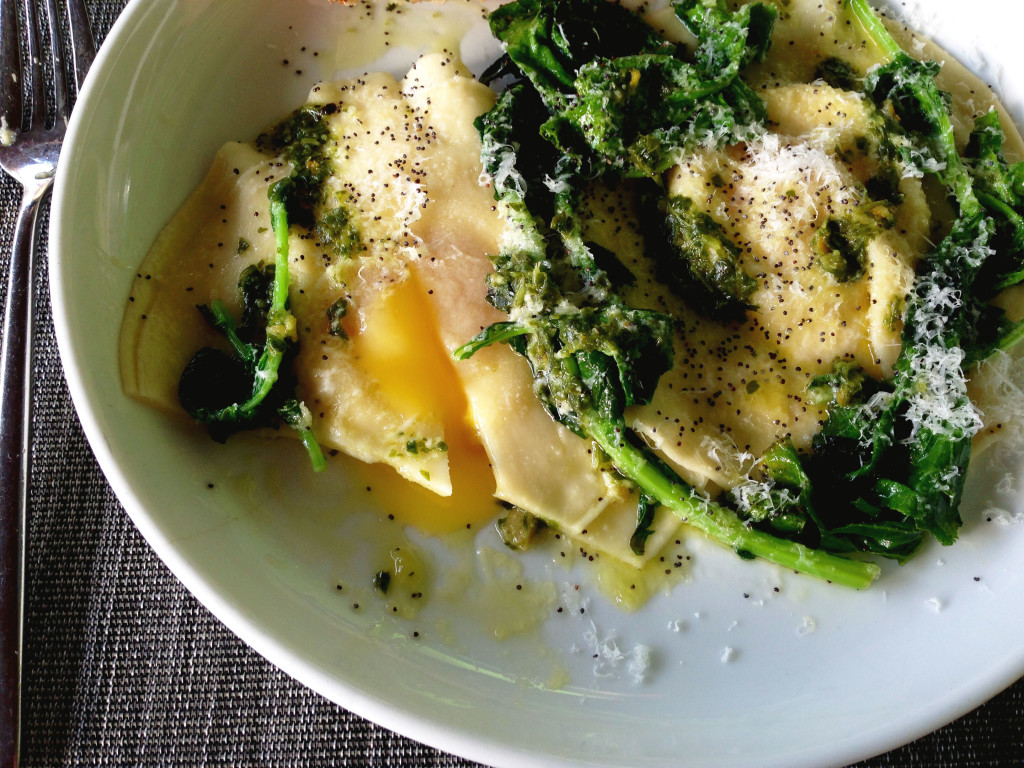 We were so stuffed after our meals that we didn't have room for any dessert, sadly.
I really, really enjoyed my experience at Indaco and I would recommend eating there if you're visiting, or live in, Charleston. The food was amazing, the staff was friendly and the service was much faster than I've become accustomed to living in the south. If you're looking for a great restaurant while in Charleston, make sure to stop by Indaco! I promise that you won't be disappointed.
526 King Street
Charleston, SC 29403