Dad and I had an early breakfast before we headed over to the City of London. A city within London, it constituted most of the early settlement of London from its settlement by the Romans to the Middle Ages. Nowadays, this square-mile area serves as the home for the financial district of London. We met up with co-workers of my father and I got to sit in on a meeting with Zurich Insurance. I even got my own identification pass to be in the building!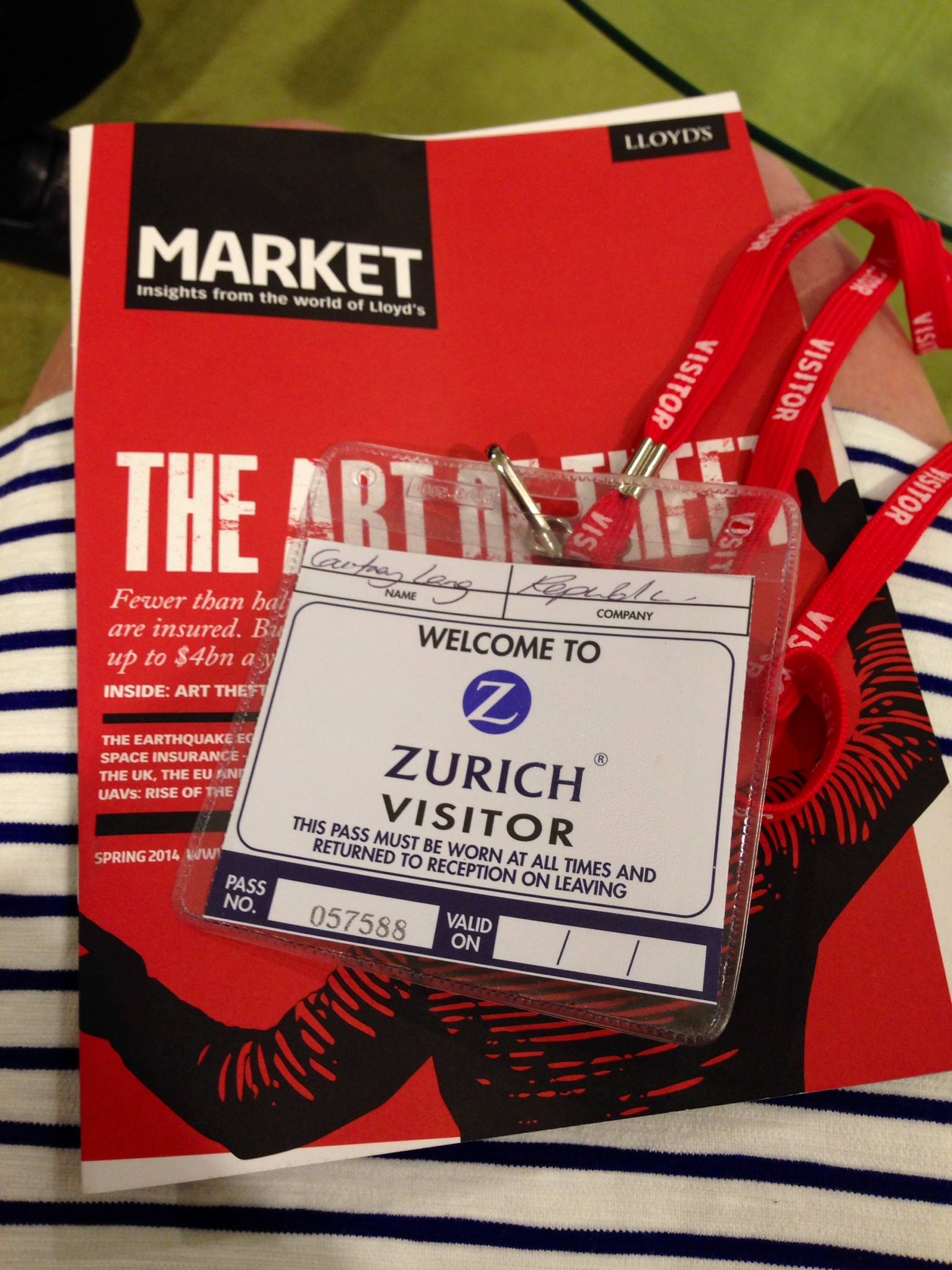 Afterward, we headed over to the Lloyd's of London building where dad and I were given a tour of the 12-story building. The building itself has a really interesting history; there is an entire exhibit dedicated to Admiral Nelson, they have this really neat tradition of opening the log book to exactly 100 years ago (so May 23, 1914), and it was designed by Richard Rogers who also designed the Pompidou Centre in Paris. I got a feel for how the relationship between brokers and underwriters plays out and I got to walk the floors and imagine myself working there. We went all the way up to the eleventh floor, though it was a little nerve-wracking to look down to the ground floor though the glass walls.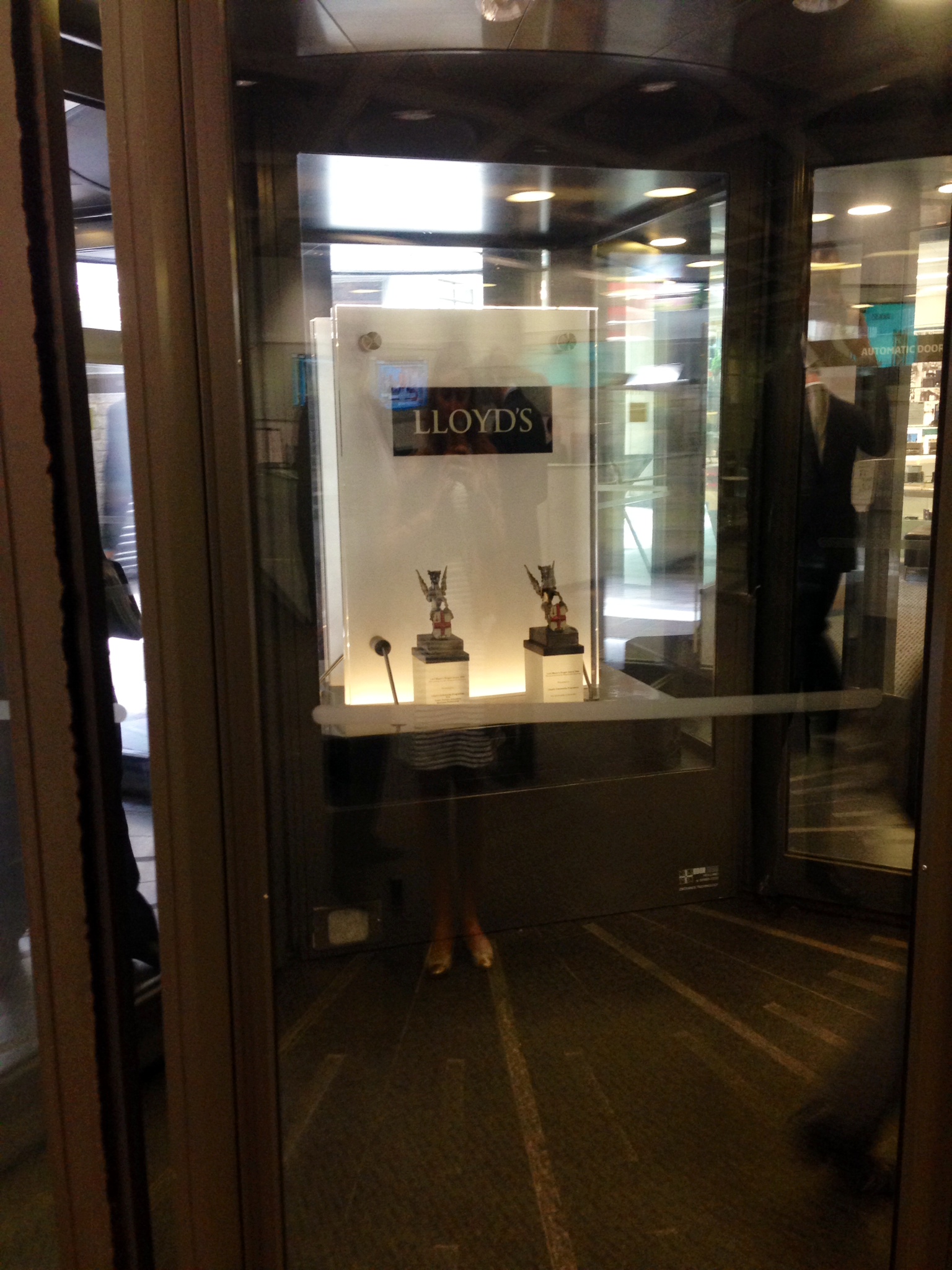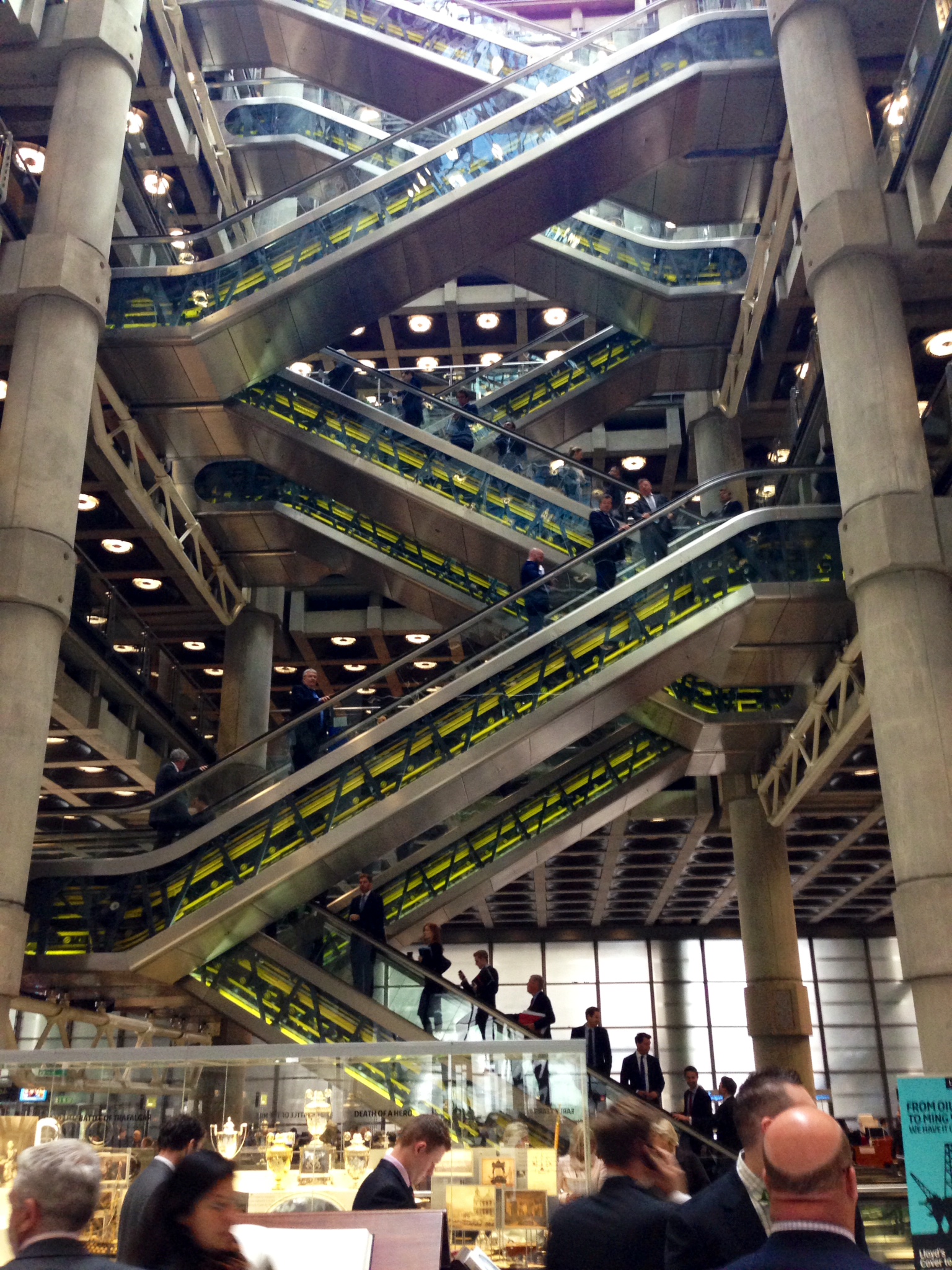 We then walked a couple of blocks down the road over to Heron Tower to eat lunch at Duck & Waffle. The restaurant is on the 40th floor, so you can literally see the entire city through the floor-to-ceiling windows. I was spoiled and got the best seat at the table which looked out onto the Thames.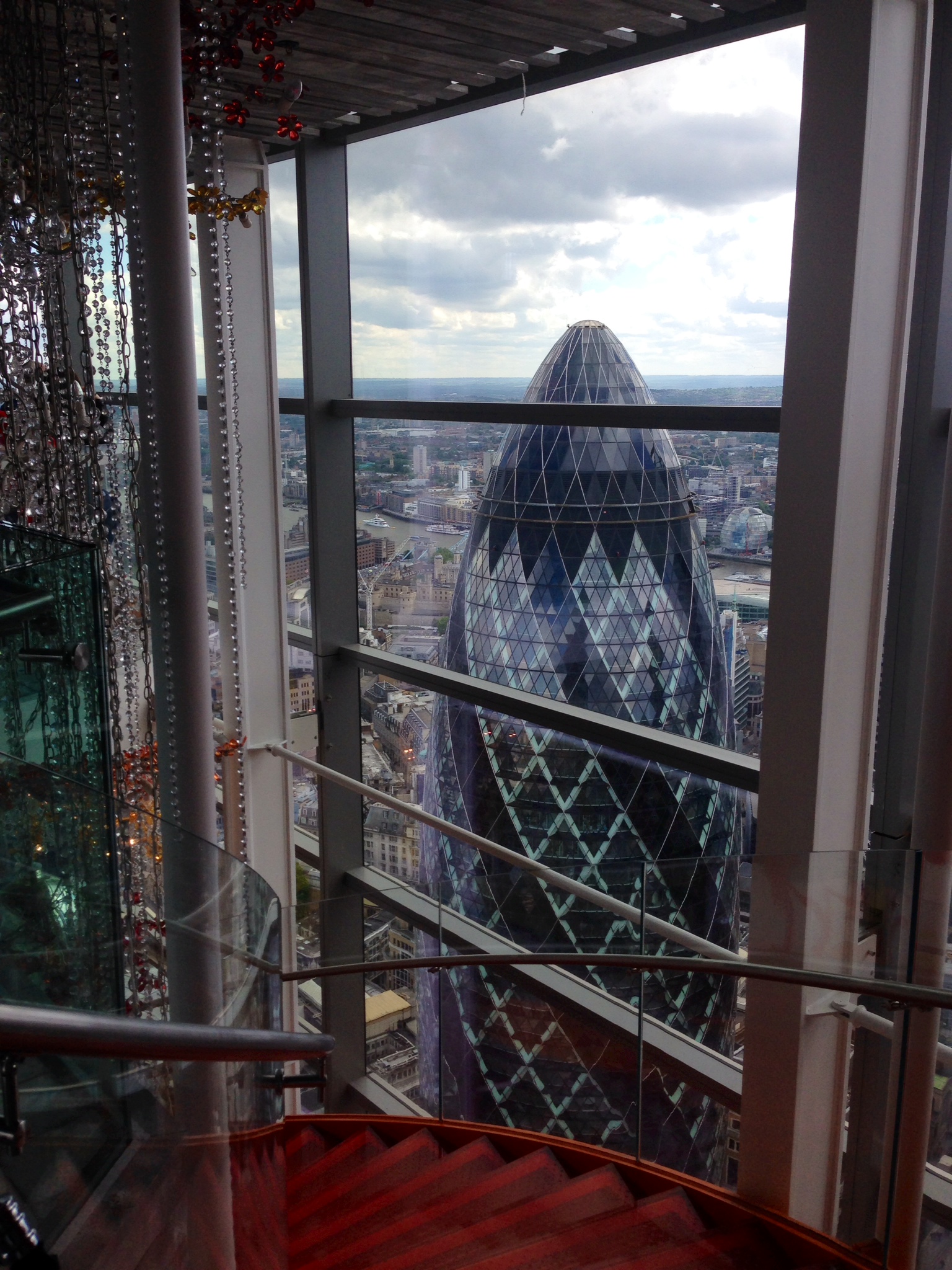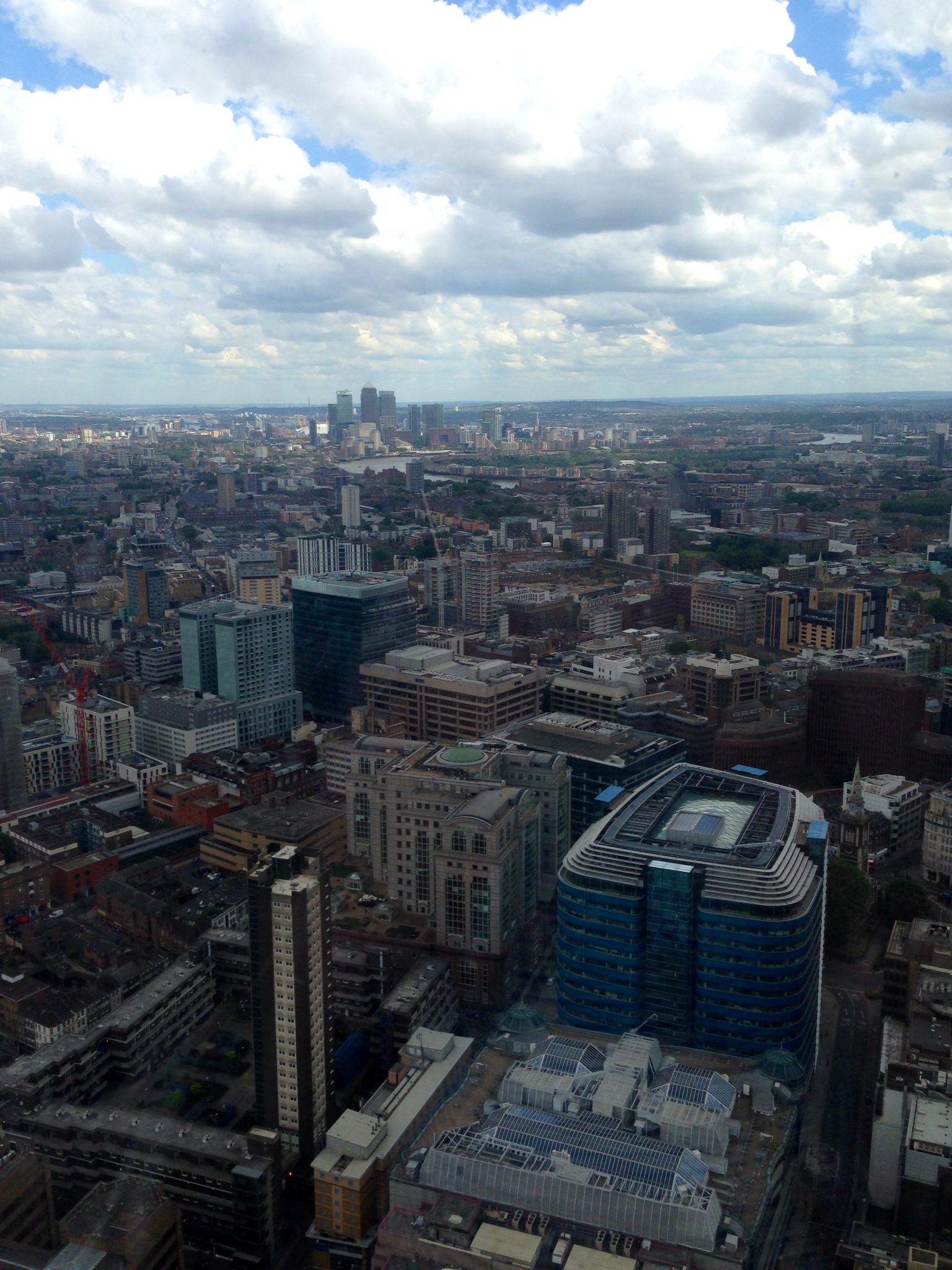 The five of us shared bottles of red wine and appetizers of spiced crispy pig ears, beef meatballs and freshly baked bread with wild mushrooms, goat cheese and thyme. Because I don't eat red meat or pork, I got to exclusively enjoy the bread which was absolutely amazing and I usually don't like the taste of mushrooms! For my main meal, I ordered the restaurant's namesake—the duck and waffle, which included a crispy leg confit, a fried duck egg, a waffle (obviously) and mustard maple syrup. I wasn't exactly sure what to expect when I ordered this but it totally surpassed any expectation that I previously had. The duck was cooked perfectly and I loved the sweet tanginess the mustard maple syrup added to the waffle. I would definitely recommend Duck & Waffle to anyone in the financial district wanting an excellent meal in a beautiful setting and lively atmosphere, although it was quite pricey.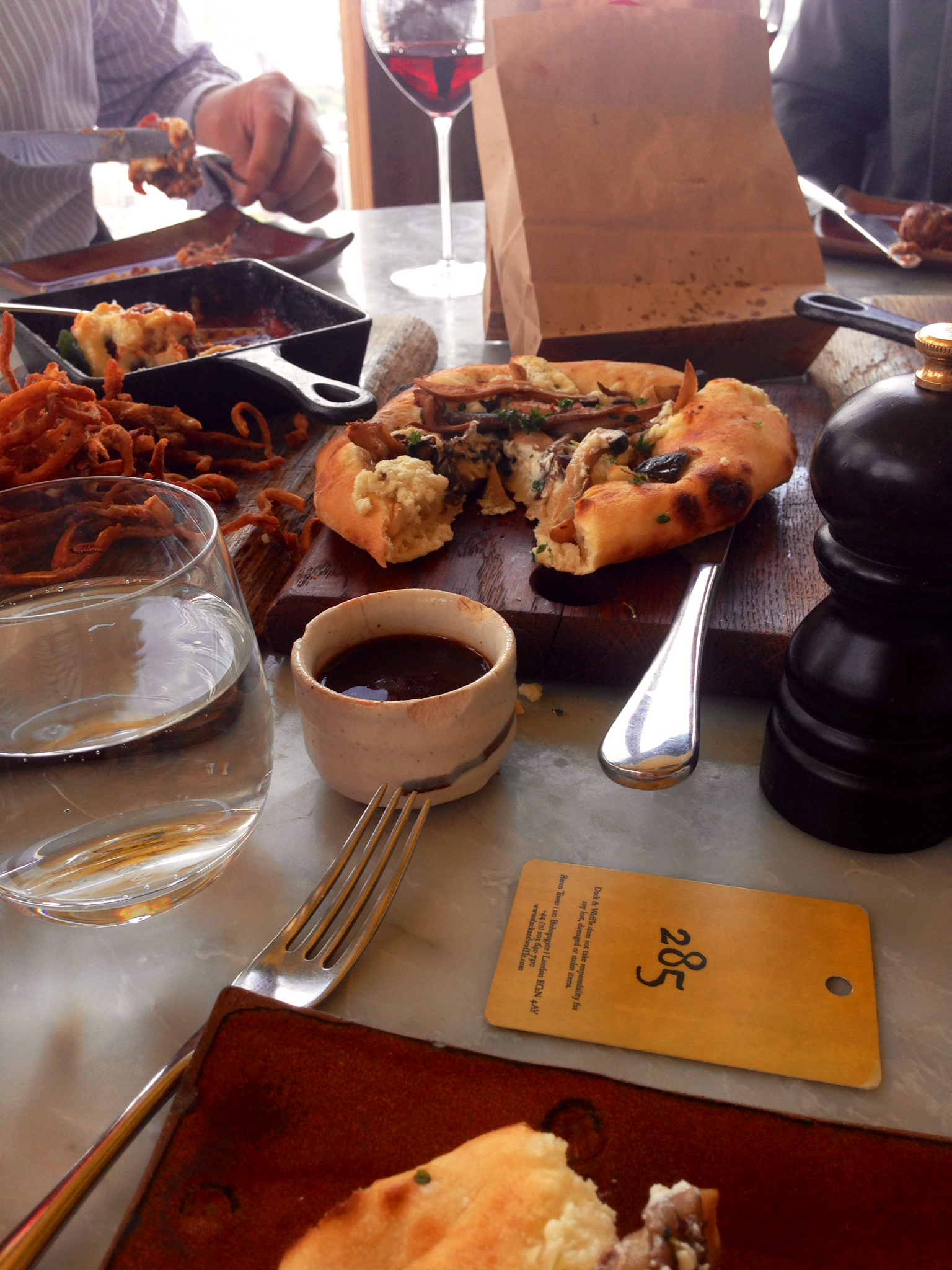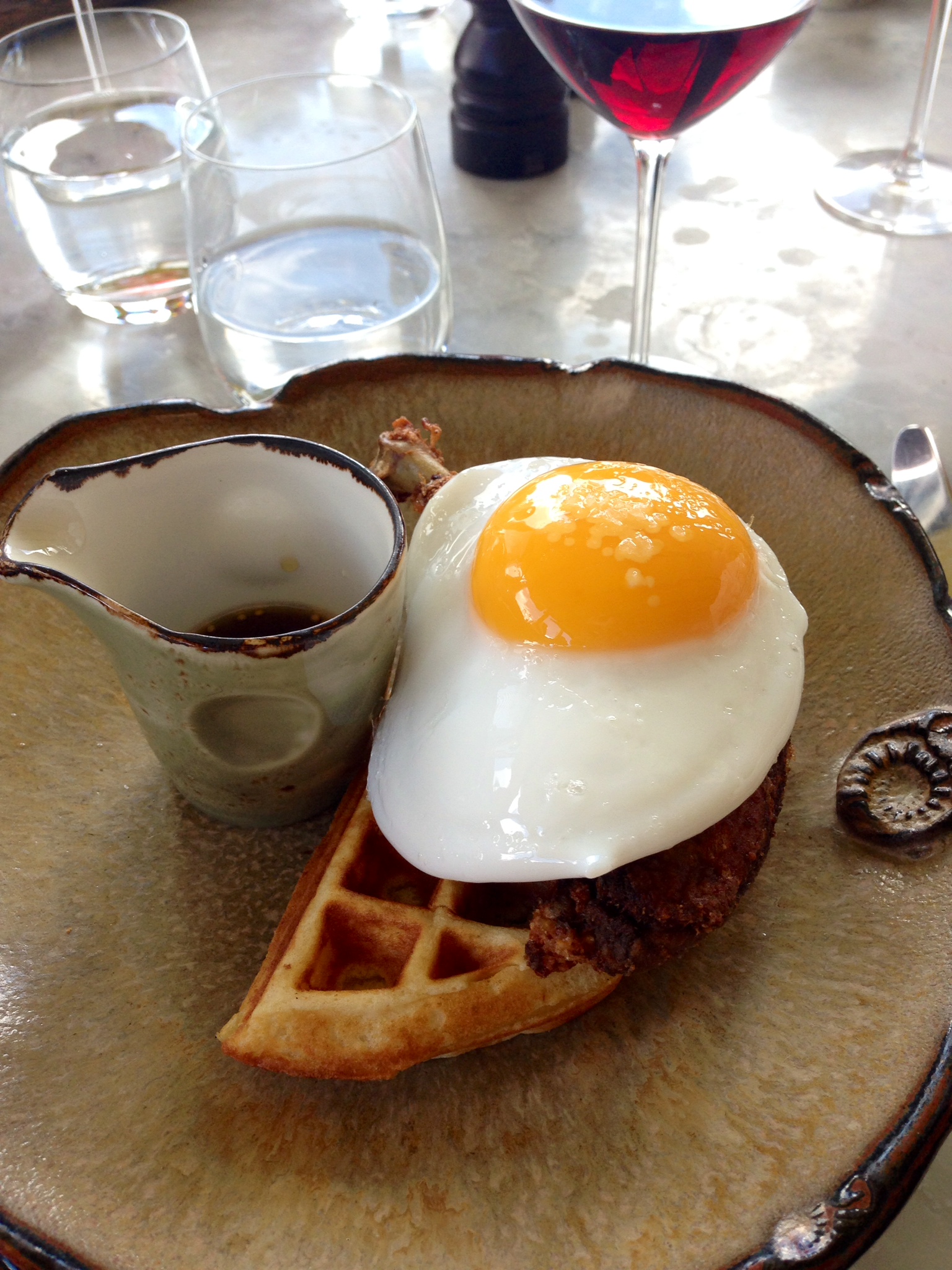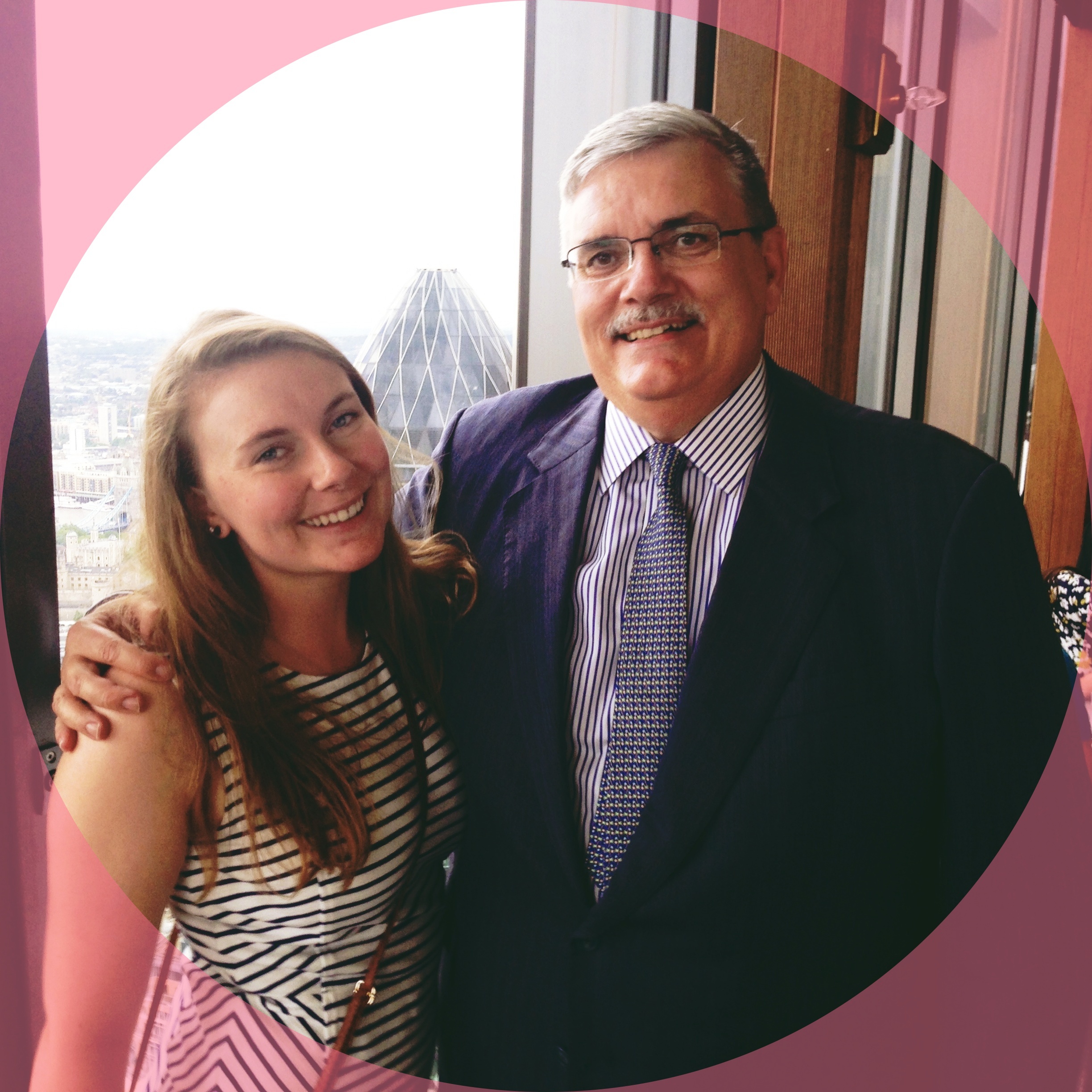 We journeyed back to our hotel and the two of us worked out and showered before walking down Park Lane to get to Nobu, where we had dinner. I've always wanted to go to Nobu so I was super excited on the walk over and I've been craving sushi lately so it was a desperately needed fix for me. We got to sit at a table that overlooked Park Lane and the vibe in the restaurant was terrific.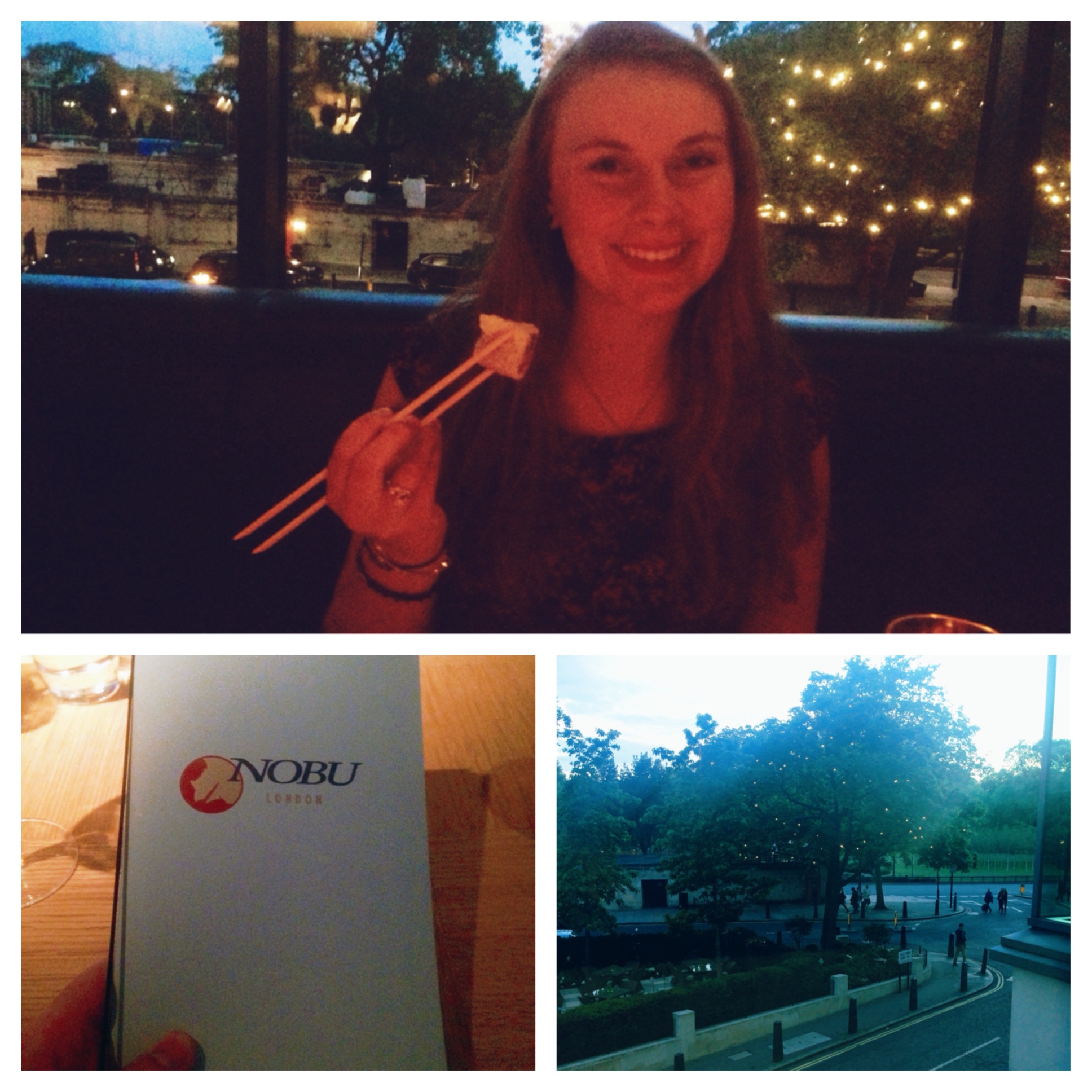 We ordered quite a few appetizers, including Hot Miso "Chips" with Tuna and Scallop, Langoustine with Red Chili Shiso Salsa, Tuna Tataki with Ponzu, and Spinach Salad with White Fish. The appetizers were very small in size, which was nice because it meant that we could sample a lot from the menu without feeling too full for sushi. We shared a Salmon & Avocado Inside Out roll and then each ordered our own dessert (I got the green tea and coconut mochi).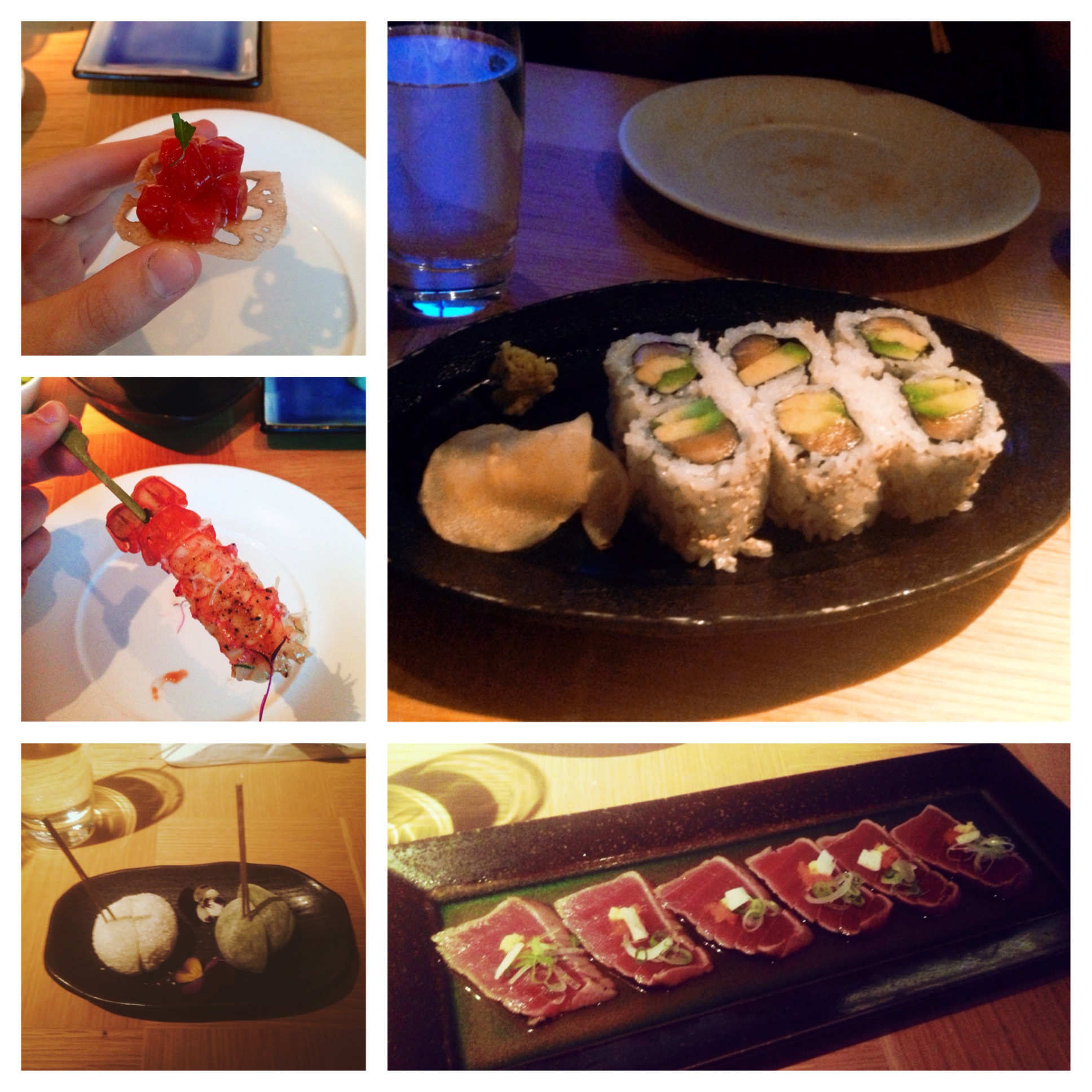 I'm happy to report that Nobu was just as amazing as I hoped it would be! All of the food was delicious and each plate was the perfect size for 2-3 people.